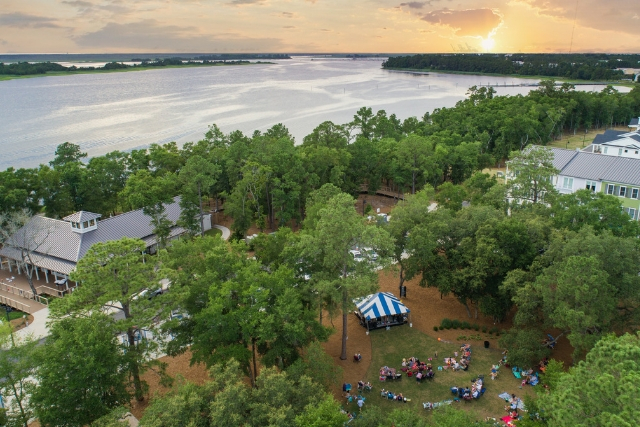 Here's How You Can Tour RiverLights From the Sky
In the Wilmington area, RiverLights has become synonymous with riverfront beauty and a community-focused lifestyle. The health-centric features, thoughtful community design, and unique amenities have certainly made a positive impression on residents. And now, you can experience the waterfront community for yourself from the comfort of your couch!
Take a virtual tour of RiverLights with this convenient online tool!
Every day in RiverLights leads to a new discovery — and that can start for you today with an independent exploration from the sky. This comprehensive aerial touring tool allows you to experience the one-of-a-kind community features in RiverLights. "Walk" down the dock, explore The Lake House and pool, and discover all that awaits in Marina Village, the community's live-work hub. You can see what it's like to lounge in the hammocks in Live Oak Commons or to drop a line off of the community dock. There are over 7 miles of walking paths and trails to wander along, as well as a 38-acre lake at the center of the community.
This virtual tour will also give you a better sense of the proximity to water, downtown, and nearby North Carolina beaches that RiverLights offers. You can even survey the RiverLights Information Center in 3-D!
Of course, you can also learn more about the hand-picked homebuilders in RiverLights and the types of homes that they provide. View existing homes and home plans, and enjoy 3-D renderings of your favorites. The wide range of homebuilders to choose from in RiverLights offers opportunities for families in all walks of life. Whether you are single and just starting out, have young children and want space for them to run, or are age 55 or better and seek an exclusive section of the community with additional amenities — RiverLights has something for everyone.
Although this virtual tool is incredibly informative and convenient, there's nothing quite like visiting RiverLights in person. Come get a feel for life along the water — feel the river breeze whip through your hair, stroll on the Boardwalk, savor the sunset and a glass of wine as the sun goes down. Once you do, you'll want to call RiverLights home.
Experience the RiverLights life for yourself with our Resident for a Day program!