The river runs right through the hearts of Jenny Wright and Richard Knight
From an historic home in downtown Wilmington with views of the Cape Fear River, to Riverlights' Riverview Townhomes in 2018, to a move across the street to Riverlights' River Row today, Jenny and Richard are drawn to be together riverside.
Richard and Jenny began their later-in-life courtship in 2007. Richard had been on a walking tour of downtown Wilmington that included a stop at Jenny's 125-year-old, 5000 square foot beautiful and historic home. He readily admits he was smitten. So was she.
They married in 2011 and Richard made Jenny's downtown home his too. Together, they enjoyed the urban lifestyle, particularly coming home to a stellar view of the Cape Fear River.
But, when Riverlights came on the scene and promised a river view without the demand of a century-plus home with an insatiable appetite for maintenance, they leapt!
In 2018, they moved to Riverview Townhomes and found a new ease and delight in living by the river. "Marina Village offered us that same easy walk to restaurants, a coffee shop and boutiques that had kept me, and then us, downtown all those years," she says. "At Riverlights, that same walkable sense of community was available, just on a smaller, more intimate scale. That suited us just fine!"
An interior designer and gifted artist, Jenny promptly set up her studio. Richard, an avid cyclist, discovered neighbors with a similar enthusiasm for long distance cycling. Together they joined others and take frequent rides to Fort Fisher, a 40-mile route to and from. The two were home and easing into a new life together by the river.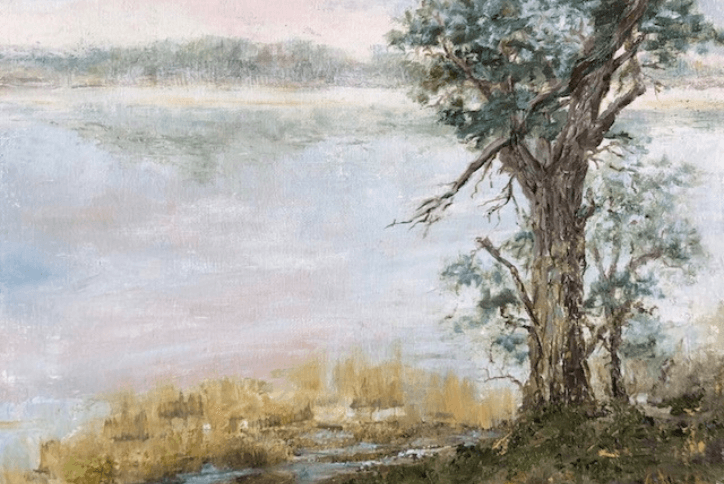 What they couldn't have anticipated was the friendships that came along with the move. "Our neighbors are our best friends," they both said at different times during their interview. "We know everybody, we have a very tight group and call ourselves the "Townies." Indeed! They have a neighborhood email chain and a robust event calendar that includes a Rod and Gun Club, with competitive meat masters, according to Richard. And a Bunco Club that sometimes meets in the pool. "Some get in, some stay out, but we all have wine," says Jenny.
Their mutual delight is obvious. But then came the surveyors to begin development of the property between the river and their view. "I cried in the morning. By that afternoon, we'd put an offer in on one of the 10 available lots!" said Jenny, laughing. And they weren't alone. Four Townie couples joined them, moving across the street to maintain their riverfront view, while staying near the neighborhood and neighbors they'd all come to love. A fifth couple, opting to preserve their up-close view of the river, moved to Hamp's Landing, just around the corner in Riverlights.
"The river brought us here. The people kept us here," says Jenny.
The landscape and river has fully informed the design of their home. Working with PBC Design + Build, the same team behind Riverview Townhomes, Jenny and Richard wanted a home that immediately drew you in toward the water. A 55-foot-long porch extends the full length of the home, with a depth of 10 feet, 12 feet in some places, to assure outdoor living is intrinsic to the plan.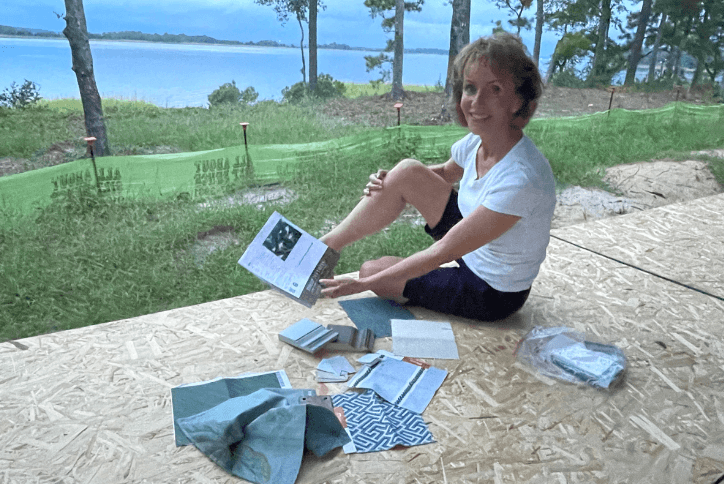 "We saw two dolphins cavorting in the river last weekend!" Jenny shares. "We always have our attention trained toward the water."
And that attention shows. Jenny's interior design is inspired by the colors and textures she sees every day. Shades of blue, gray, green and sand mingle with the sky, water, trees and earth. And her canvasses reflect it also -- those she's saved for this home, as well as those to come, created in her upstairs studio. "It's filled with light!" Jenny exclaims. "I can hardly wait to move in and claim our new home on the river's edge."