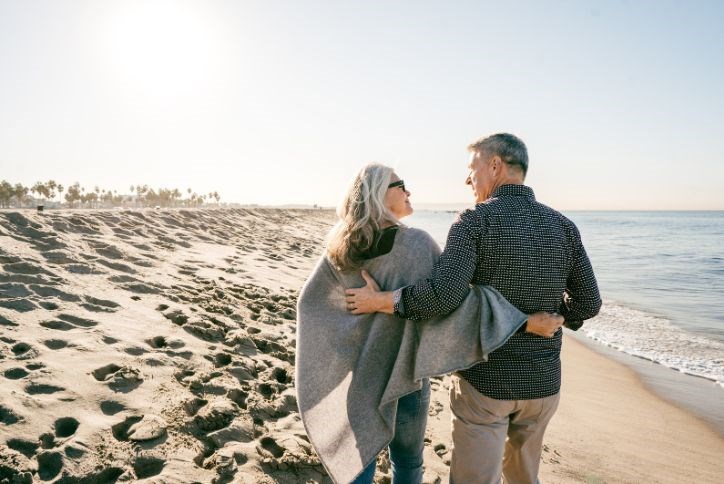 Top 5 Reasons for Retiring to Wilmington NC
Top 5 Reasons for Retiring to Wilmington NC
There are as many reasons to retire to Wilmington as there are retirees. But having talked to many who have settled here and, particularly those who have retired to Riverlights, these are among the reasons most top-of-mind. 
Location, location, location. (This might be three reasons)
First location:  East Coast ease for getting back to friends and family in the mid-Atlantic and Northeast.  Many who retire here have family there.  So, it's nice to be able to come and go. Wilmington's airport, ILM, offers daily flights to and from New York, Newark, Washington, Philadelphia and Boston, with additional flights to Chicago, Atlanta, Dallas and Orlando.   
Second location:  The climate.  It's just plain perfect.  A little hot in the summer, yes, but that's when we go to the beach and enjoy the ocean breezes.  Many a shirt-sleeved holiday season has been smugly enjoyed here.  Winter lasts just long enough to enjoy cashmere sweaters and blankets by the fire. And that leaves delightfully stretched out springs and falls.  Yeah, the climate is pretty close to perfect.
Third location:  The coast.  There is a pace of life on the coast, or maybe it's the South, or maybe it's just Wilmington.  But life here has easy going tempo. Those who move here from big cities feel it immediately, a real throttling-down.  It can be an adjustment for those accustomed to a faster pace, but one that is happily accommodated by most.  Fast walking is for exercise only, not for getting from point A to point B.
The unbeatable combo of a historic downtown near miles of beaches
The Southern charm of downtown Wilmington would be cliché were it not so authentic and well preserved. Shop, dine and stroll along streets that were settled in the 18th and 19th centuries and benefit today from a respect for that historical heritage.  Boutiques and cafes merge into a residential area marked by historic plaques, and tree-lined streets (envision Live Oaks dripping with Spanish moss). 
And it's all just minutes from Wrightsville, Carolina and Kure beaches.  Each have avoided the sky-scraper condos to which other waterfronts have succumbed.  Wilmington beaches enjoy a lower density, beach cottage vibe that offers a year-round invitation to sit-a-spell.    
Indeed, the proximity of beautiful beaches to our historic downtown checks a lot of boxes.
A vibrant arts and culture scene
Wilmington boasts a great mix of galleries and museums to balance its outdoor recreational reputation.  The Cameron Art Museum, affectionately known as the CAM, is a stimulating community gathering place to enjoy impressive exhibits, jazz concerts, educational programs and special events. The Cape Fear Museum offers an equally vibrant encounter with our area's history and natural history.
Galleries and artist co-ops offer opportunities to enjoy the fine arts and are plentiful and easily enjoyed during the year-round 4th Friday Gallery Walks. 
The performing arts also thrive here.  Thalian Hall is Wilmington's beloved historic theater and home stage to many local theater groups, as well as a destination for touring artists. Not far from Thalian is the Wilson Center, where Broadway touring productions land, along with topflight national and international entertainers. 
We also enjoy not one, but two Live Nation venues!  Live Oak Pavillion and Greenfield Lake Amphitheater present outdoor concerts (see climate above) with artists who many fans travel to see (see ILM above). For those of us who have lived here awhile, the combo of Wilson Center's Broadway shows and Live Oak Pavillion's A-list concerts is just a perfect sign that we are in the right place!
A thriving university in UNCW
Having a university nearby is always an advantage and UNCW is no exception.  From its Osher Lifelong Learning Institute and its Office of the Arts, to frequent university-led public programs and lectures, UNCW offers tremendous enrichment to the community at large. Plus, if you're a basketball fan, the Seahawks will happily give you a team to cheer for.  
Cost of Living
Of course, it depends on "compared to what or where." But the cost of living in Wilmington, NC is "4% lower than the national average. Wilmington, NC housing is 23% less expensive than the U.S average, while utilities are about 4% pricier" according to RentCafe. There are a number of sites to consider, but each recognizes Wilmington's cost of living is often far more affordable than the cities from which our recent retirees hail. 
All are among the reasons we hear often from those who retire to Wilmington from elsewhere, as well as those who have lived in Wilmington for years and stay through retirement. 
But there are so many more reasons to consider this smallish-but-growing coastal town as a place to enjoy one's later years.