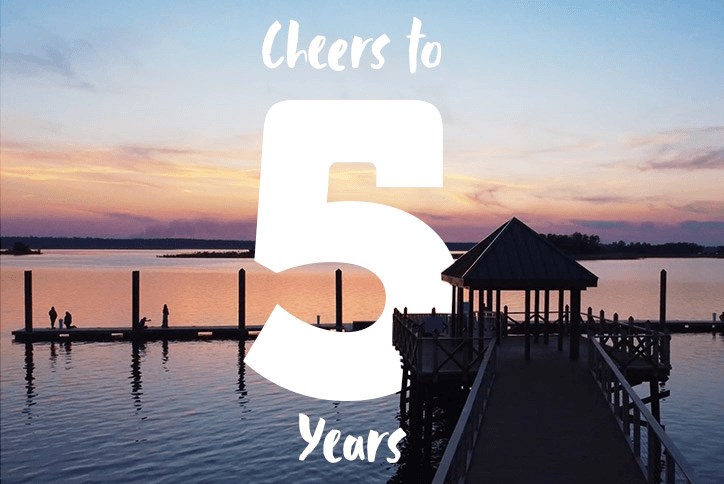 Celebrating 5 Years as Wilmington, NC's Only Waterfront, Master-planned Community
Pop the cork, blow your party horns and toss the confetti! This December, Riverlights is commemorating its 5th Anniversary!  Since emerging on the Cape Fear Riverfront in 2016, Riverlights has thrived as Wilmington's only master-planned community, creating connectivity between nature and neighbors coexisting for a year-round active outdoor lifestyle.   
Our laid back vibe, where salty air meets southern hospitality, was established with the first residents in 2016, and continues today with our ever-growing neighborhood of now 1700+ residents.   
As we reflect on milestones and memories, Riverlights' development team is grateful to our early residents who have helped shape this community into one that is setting new standards for Wilmington. 
5 Years, 5 Milestones 
1) We moved a road  
When Newland Communities purchased 1,400 acres of land and announced plans for a master-planned community in Wilmington, moving River Road was an essential first step. The new River Road made for a closer connection between commuters and the natural beauty along the Cape Fear River, and established Riverlights as a new midpoint between Carolina Beach and historic downtown Wilmington.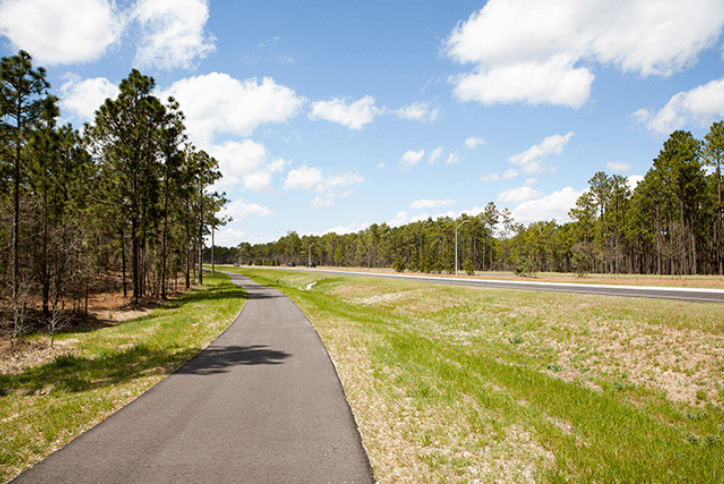 2) Lakehouse Reveal
Since the ribbon cutting event in June, 2017, our Lakehouse has become more than a community center; it's become the social center for all-things-Riverlights. Here, residents can zip around the water slide, swim laps, stay fit, lounge on the lakeside or feed friendships around the fire pit. In this work-from-home era, it's become a remote office suite, and for family celebrations, it's become the event suite. Outdoor concerts, movie screenings, barbeque tastings and cocktail sipping -- it's all happening here!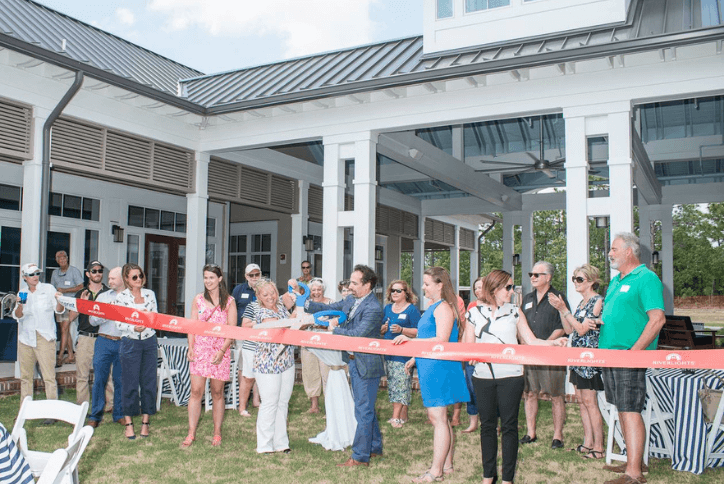 3) 38-Acre Man Made Lake  
Riverlights' central lake provides a setting for waterfront homes with seductive views. Shore birds are frequent visitors, with fountains (14 in all!) adding to the display. By connecting smaller existing ponds into this central water feature, Riverlights' developers introduced more opportunities for water-side living, created a lush shoreline for parks and nature trails, and offered an amenity to welcome kayaks and stand-up paddleboards. The lake's three-mile surrounding path invites early morning walks for the calorie burners, late-afternoon strolls for friendly chats, and a sun-up to sun-down destination for cyclists. 
 4) Del Webb Amenity Center
The Del Webb Amenity Center officially opened in the summer 2018. Overlooking the 38-acre lake, this 15,000 sq. ft. amenity center is the Del Webb community hub. Offering indoor/outdoor pools, a fitness center, pickle ball, tennis and bocce courts. The community's full-time lifestyle staff plans all types of social and recreational activities to keep residents active and engaged in famous Del Webb fashion.  
 5) 500 Homes
In 2020, Riverlights built its 500th home! Now, just a year later, the community has completed another 200 homes and welcomed more than 1700 residents.  We are now halfway to completing the master plan originally envisioned, with five years remaining and a total of 3,000 front doors by 2026. 
Great Things to Come! 
The community has made major progress with new home construction over the last five years, offering a tremendous variety of home styles and plans from nine local and regional builders. Thoughtfully selected, our current builder teams offer a collective portfolio of more than 60 floor plans from which to choose. Laurel Town Homes, Trusst, Legacy by Bill Clark, AR Homes, PBC Design + Build, Charter, and recently announced, New Leaf Builders are creating a combined stylebook that both reflects and drives the Riverlights' lifestyle – colorful, outdoorsy, easy-going and front-porch-friendly. 
So much accomplished, but so much more to anticipate!  Here are some of the highlights ahead: 
A new phase of 

single family homes,

 

townhomes

 and 

duplex homes

 are opening in 2022. Our current builder teams are creating a new model row for a brand new view into Riverlights' future.

 

More amenities are coming!  In 2022, Riverlights will deliver the highly anticipated dog park and children's playgrounds – hard to say which will get more action!

 
More shopping opportunities! In late 2022, 7Bridge, the new commercial district on the southern end of Riverlights, will break ground, bringing more service-oriented businesses, restaurants and retail offerings to the community.

 
This five-year milestone offers a perfect point to reflect and look ahead, with the original vision only taking more permanent shape.  Riverlights is creating a place for families to live, work, play and thrive with connections among neighbors and within nature while setting a new standard for living one's best life in Wilmington.  
 Did You Know? 
The original River Road still exists and can be driven on in our new phase? A little piece of history still exists in the community. 
In the past, Wilmington was a site of Native American battles, a center of commerce, and a hideout for pirates, including Blackbeard himself. The RiverLights community was largely named for the little lighthouses that helped guide ships safely through more than 20 miles of dangerous shoals to reach the Wilmington port. Only the ruins of one river light still remain. It's the Price's Creek Lighthouse that can still be seen near the shore as you travel toward the ferry landing on the Fort Fisher ferry.  
Our boardwalk, located in Marina Village, spans over 1,000 sq. ft. along the Cape Fear River and has earned the distinction of offering Wilmington's most stunning sunset views.