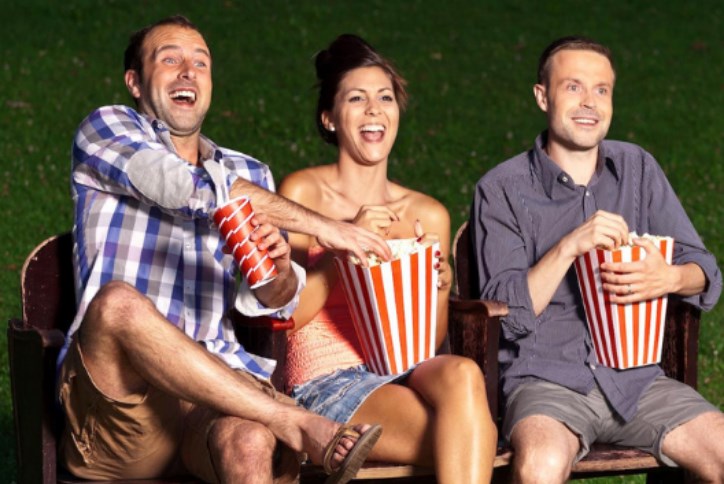 10 Movies Shot in Wilmington
Wilmington, or as the film industry calls it, Wilmywood, is known for being a location where many famous movies and television shows have been filmed. We decided to compile a list of 10 movies that were filmed right here in Wilmington for you to watch after that Thanksgiving turkey hangover, or if you simply need an activity to do with family and friends. See if you can spot some of the Wilmington landmarks while watching! 
"This is one of my favorite films," says Riverlights Community Representative, Jillian Butler, "it's such a beautiful story and though I have seen it several times, I had no idea it was filmed in Wilmington." If you are a fan of this film too, or want to watch it for the first time, see if you can spot Wilmington locations such as different houses on Wrightsville Beach, the boardwalk, Betsy's Crêpes in downtown Wilmington, Old Books on Front St, and the Cotton Exchange in this romance-drama. 
2) The Choice 
Everyone loves a good Nicholas Sparks romance film, and it's even cooler when filmed right where you live! The Choice is a film about two love-birds in a coastal town, so it's no wonder Wilmington was used as their location. Filmed at Wrightsville Beach, you can spot Dockside restaurant, Masonboro Island, Airlie Gardens, and Fort Fisher State Recreation Area in this romantic film.  
Fan of the horror genre? Wilmington has been a filming location for plenty of those too! The Conjuring, a favorite among horror fanatics has locations such as the First Baptist Church on Market St, St. James Episcopal Church, The Carolinian Inn, Carolina Apartments, and Screen Gems Studios all right here in Wilmington! 
It looks like Nicholas Sparks sure loves the Wilmington area! And we can't blame him, there are some beautiful locations to shoot a film here such as different homes in Wilmington's historic neighborhoods, the galleries in Cameron Art Museum, the Union Station Building, St. Mary's Catholic School, and the Temple of Israel, all used for his romance movie, The Longest Ride.  
5) Iron Man 3 
Does your family love action? Then you may be familiar with the Iron Man movies. What you may not know is that Iron Man 3 was filmed right here where you live! With shots by the Cape Fear River, Wilmington International Airport, New Hanover Regional Medical Center, Stevens Ace Hardware, Screen Gems Studios, and the State Port at the end of Shipyard Blvd, you can be sure that Iron Man will be protecting our beloved coastal city! 
While We're the Millers is a comedy about a funny, family road trip, this movie is not family friendly. But we wanted to include it as it is another one of our Community Representatives favorites. This comedy is great to watch with friends or other adults if you need a laugh after your dinner. There are so many great Wilmington locations in this movie such as Port City Java downtown, Pender's Café, Carolina Apartments, River Rd, Brunswick Forest, Cheetah's, and the Murchison Building. See if you can spot them all! 
7) A Cinderella Story: Once Upon a Song  
If you are looking for a more family-friendly film, we have got you covered! A Cinderella Story: Once Upon a Song is appropriate for all ages, and tells the classic tale of Cinderella, with a twist. You can spot locations in Wilmington such as the exterior and interior of the beautiful Graystone Inn. 
8) Tammy
In need of another laugh? Tammy, starring Melissa McCarthy is another favorite rated-r comedy with tons of Wilmington shots that you can spot, like Blue Post bar downtown, The Carolinian Inn, The Grille on Main St, Smith Creek Bridge, Dawson St, and houses around the Wilmington area.  
9) Safe Haven  
STILL cannot get enough of Nicholas Sparks romance films? Then we have one more you, Safe Haven. This beautiful movie about a young woman bonding with a widower in Southport, NC has some fantastic film locations you will definitely recognize. Look for the Fort Fisher Recreation Area when the couple shares a kiss, on Pleasure Island. You may also recognize the Wilmington Convention Center, during the bus station scenes, as well as the Wilmington Riverwalk, and downtown Southport.  
If you are looking for an older film with Wilmington roots, then Weekend at Bernie's, has got you covered. The beach house seen in the film was built on the beach right behind our beloved Fort Fisher Aquarium. Most of this movie was shot at the mouth of the Cape Fear River in Bald Head Island, the same Cape Fear that we see right here in Riverlights. Other locations of this movie you might catch were shot at Wrightsville Beach, Carolina Beach State Park, and the Fort Fisher Recreation Area.