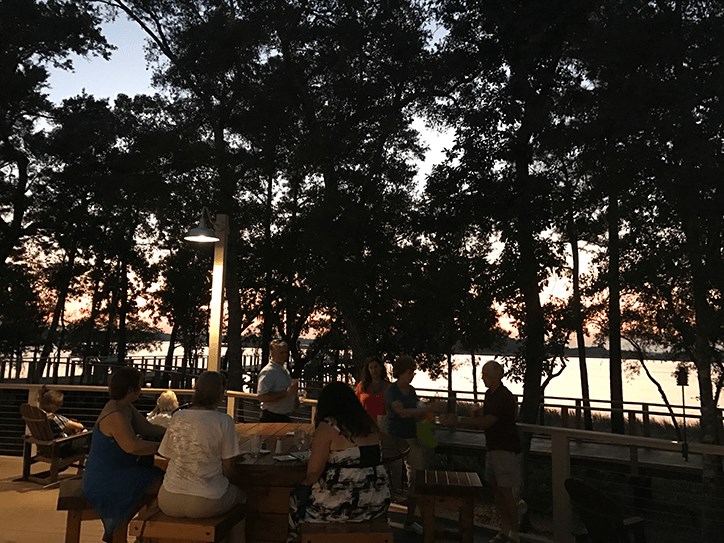 Local Waterfront Dining Hotspots
One attractive characteristic of living in a coastal town like Wilmington, is the beauty our bodies of water have to offer. Pair nature's beauty with waterfront dining and you have one stellar experience to share! With many waterfront dining options in Wilmington, it is hard to choose just one ideal location. Leave it to our foodie team to find the top waterfront dining options for when you are in town, or now have made roots here! Check out the top 10 local waterfront hotspots that locals frequent! 
1) Stoked 
Stoked is located on the Carolina Beach Marina, which allows you to dock your boat and dine in! They have an elegant dine-in space as well as their water-view patio for waterfront dining. They serve lunch and dinner, as well as brunch on the weekends. Stoked also has tons of events such as live music, and wine dinners. If you decide to check out Stoked, be sure to try their ahi tuna, and clam chowder, which are two very popular dishes on their menu. 
2) Dockside 
Dockside restaurant, located on Wrightsville Beach, has been serving their customers right on the water's edge of Wrightsville Beach for over 30 years! Their commitment is to use "only the freshest and highest quality local and regional ingredients whenever possible" and because of this, Dockside has developed a reputation of having the best seafood on the Intracoastal Waterway. A cool fact about this restaurant, is that it was used to film the famous television show, "Dawson's Creek!" You may recognize Dockside as the restaurant "The Icehouse" in the show.  
3) Michael's on the Waterfront 
This restaurant can guarantee a great waterfront dining experience because it's in the name! Michael's on the Waterfront is one of Wilmington's newer restaurants. This gastropub style restaurant, located in Wilmington's downtown area, serves American cuisine while also taking inspiration from many cultures. Michael's has a modern, but family friendly atmosphere with a beautiful outdoor patio so you can gaze at the Cape Fear River.  
4) Elijah's
Located in the heart of historic downtown Wilmington, Elijah's waterfront views on the Cape Fear River give some of the best sunset scenery Wilmington has to offer. Open since 1984, Elijah's is one of Wilmington's most beloved restaurants among many of the locals, and was also used in the television show "Dawson's Creek!" They have an array of delicious seafood options such as crab cakes, salmon, and oysters as well as plenty of desserts and options for children, so it is family-friendly! Elijah's has spacious, cozy indoor seating, and a beautiful outdoor deck right on the river. Jillian Butler, Riverlights Community Representative recently celebrated her birthday there and shared "it was a wonderful experience with delicious food, and cocktails."
You don't have to go far from home to have dinner with a view! Riverlights offers a wonderful waterfront dining experience right here on our property at Smoke on the Water. Located right on the Cape Fear River, Smoke on the Water has made a name for itself for their fresh-catches, tasty seafood menu, and popular items like their Pork Skin Nachos. They have amazing sunset views and a large bar where you can grab a craft beer or cocktail and watch the scenery!
If you are looking for a more inexpensive option for waterfront dining, check out Hurricane Alley's in Carolina Beach. All menu items are priced below $10 with seafood, wraps, burgers, and a kid's menu, so it is a wonderful place for the whole family as there is an option for anyone. Their boardwalk location provides a wonderful view of the ocean so you can watch the waves crash on shore, while eating your lunch, or sipping on one of their 18 beers on tap. Popular dishes at Hurricane Alley's include their fish tacos, and boom-boom shrimp.  
7) Bluewater Grill in Wrightsville Beach 
Bluewater Grill is a favorite waterfront dining spot among many of the locals in Wilmington. Located at Wrightsville Beach, Bluewater Grill overlooks the blue waters of Intracoastal Waterway, so you can watch the boats sail, the waves crash, and maybe even spot a few dolphins, all while eating a delicious meal. Bluewater Grill offers seasonal menus and daily specials so there is always something new to try. Their menu has a wide variety of seafood with anything from coconut shrimp to spicy calamari. Bluewater also has a waterfront bar so you can enjoy the sunset while sipping on your cocktail.  
If you have ever walked along the Cape Fear River in downtown Wilmington, you may have noticed Floriana's window balcony seating. Private tables with their own balconies, overlook not only the historic downtown streets, but the Cape Fear River as well. This cozy, independently-owned Italian bistro, has a wonderful menu full of Italian pastas, seafood, wine, and desserts. Some popular dishes are the Black Gnocchi, Burrata Ravioli, and their Seared Scallops. It is the perfect restaurant for a romantic evening, or to sit above the street and people watch.  
9) EAST Oceanfront Dining in Wrightsville Beach  
EAST Oceanfront Dining, located in Wrightsville Beach, is an award-winning restaurant reflecting the dishes of Chef Cabo who you may have seen as a semi-finalist in Gordon Ramsey's show "Hell's Kitchen." EAST's menu is coastal based, including fresh local seafood, an excellent selection of wine and beer, as well as fresh produce grown locally from their own garden and other local growers. EAST serves breakfast, lunch, and dinner as well as a jazz brunch on Sunday's. Some favorite dishes among guests include their lobster's, and fried cauliflower appetizer. 
Gulf Stream gives you the best of both worlds with locations in Carolina and Wrightsville beach. This restaurant has been serving locals for 40 years and still running, so you know it's a good one! With menus for breakfast, lunch, and dinner they offer something for anytime of the day you want to enjoy a waterfront dining experience. It was named the go-to spot for breakfast in Carolina Beach, and it is a beloved landmark for the Wrightsville Beach community. This restaurant has an upscale, but casual setting with a wide array of breakfast foods like omelet's, pancakes, and grits, sandwiches, burgers, and salads for lunch and dinner, and many seafood options such as flounder, shrimp, and oysters.