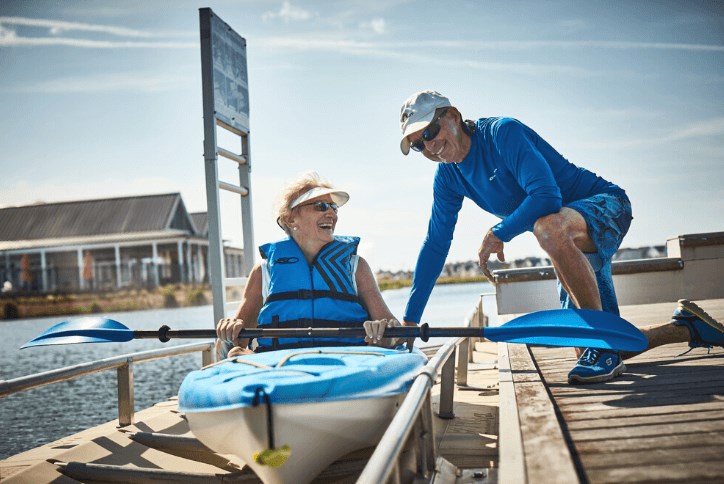 Cape Fear Retirees Find Plenty of Options for Play
Retirement often ushers in uncertainty as to how one might fill an endless calendar of days off. Given Wilmington's outdoor recreation vibe and accommodating climate, many retirees are finding opportunities to pursue "the active adult lifestyle."
Golf is an obvious draw, as is tennis for those who have played for a lifetime, or not. But newbies will find the Port City welcomes them with sports clubs, fitness facilities, and abundant natural resources to inspire cycling, swimming, paddleboarding and pickleball, which has taken the region – and the age group -- by storm.
For those just looking to connect with others, move and have fun, there's a new game in town, Sports City Rec. Welcoming all "free agents," Sports City Rec coordinates adult teams, leagues and events for kickball, volleyball, dodgeball, wiffleball and corn hole. Fun for sure!
Biking in the coastal plain does have its flat-out advantages as the frequency adult touring groups would suggest. Cape Fear Cyclists is a social riding club offering a full calendar of events, tours and destination rides for cyclists of all abilities.
The Greater Wilmington Tennis Association offers competitive and beginner tennis players alike lessons, ladders and lots of opportunity for play. Adult lessons and clinics are available year-round, with courts available at public parks and racquet clubs throughout the region.
Municipal Parks & Recreation programs can offer good points of entry with a variety of options depending on the time of year. Carolina Beach Parks & Rec offers adult leagues for softball and basketball with lessons for beginner tennis and pickleball. Wrightsville Beach offers adult leagues for basketball and flag football, and lessons for tennis and pickleball, in addition to line dancing and shag dancing. OK, we'll call that a sport! The YMCA offers lap swimming and water aerobics year-round, along with 50+ basketball play, yoga and yep, pickleball lessons and play, while the YWCA offers lap swimming and year-round water aerobics.
The Wilmington Senior Softball Association offers men 55+ and women 50+ the chance to play on slow-pitch softball teams. While the Pleasure Island Soccer Association is underway developing a new adult soccer league.
Wanting to take full advantage of the area's beautiful waterways and natural resources, many retirees are discovering watersports as an easy-on-the-body alternative to high-impact athletics. Stand Up Paddleboarding, or SUP, supports senior fitness given its focus on balance, and anatomical positioning. If you can ride a bike or balance while standing on a bus, you can SUP, maybe not in the ocean but in the area's tidal creeks and waterways. Any one of a number of outfitters offer opportunities to give it a try.
And, then there's pickleball. This popular hybrid falls somewhere between tennis, badminton, and ping pong with a court that is smaller than that for tennis, but larger than a ping pong table. Teams, leagues, lessons and places to play are all found at Cape Fear Pickleball Club. And, it just might be the place to find new friends too. Haven't you heard? Everyone's doing it!
For more on the area's outdoor recreation, things to do and place to go, visit Wilmington's tourism authority. After all, if you're retired, you can be a tourist every day!