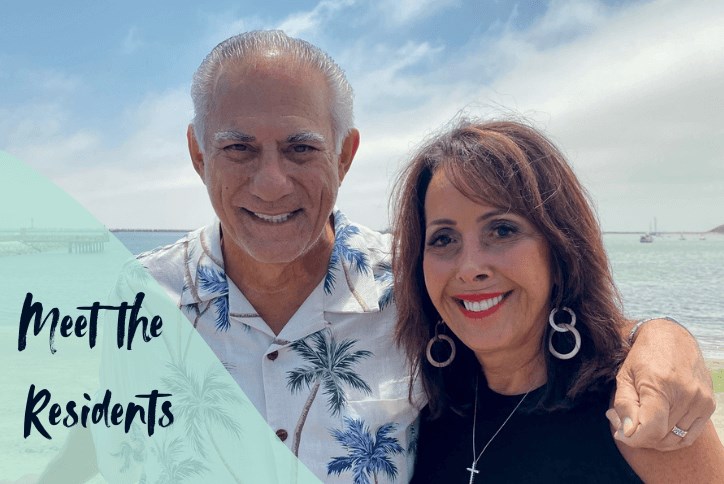 Meet the Residents: Kathy and Tony Merlo
Riverlights is a great place for the young and young at heart, but don't take our word for it.
Kathy and Tony Merlo have been Riverlights residents for over 2 years and answered a few questions about why they love living here.
Q: What do you like most about Riverlights?
Kathy: Oh my gosh! The people! They are truly amazing and so welcoming. We have made so many great friends here!
Tony: I have many neighbors that get together for Monday Night Football during football season. We just hang out, talk trash and bust each other's chops. Such a nice group of guys. All football season, we just carry on with our Monday night tradition doing something different all the time.
Kathy: We have always lived in nice neighborhoods with great neighbors and we have always enjoyed good friendships with our neighbors. But, this is just a different feel. It's almost like growing up again, that feeling you had when you were a kid – people always outside on their porches, walking their dogs, and taking the time to stop and chat. It's just so easy to meet people in this community.
Q: What drew you to Riverlights?
Kathy: Well, we were already drawn to Wilmington because we had family here that we came to visit. Not to mention that we absolutely love the ocean and beaches. Our son and daughter-in-law decided to stay here once they graduated from UNCW, got married and we knew they would be starting a family. As a realtor, I knew this neighborhood was up and coming, it checked all the boxes for us and the rest is history!
Tony: The priority for me was the house and the location -- being close to our family and having a golf course near by.
Kathy: Yes, we love this location; it's perfect. Riverlights is very close to our son and daughter-in-law, close to Downtown Wilmington, Wrightsville Beach, Carolina Beach and just so much more at our fingertips.
Tony: Plus, our home faces the water. Such a beautiful view every day and night. We both are golfers and it's only a nine-minute drive to Pine Valley Country Club. We love the whole thing.
Kathy: We just really enjoy it all – the pool, the walking trails and community sidewalks, the green space, the nature you see, the lakehouse, the beautiful sunsets, the option to be able to kayak and canoe and having your own golf cart – Riverlights has it all and we use it all. Having grandchildren in our near future, we also have the playground and play areas that we will utilize as well. All of this drew us to Riverlights!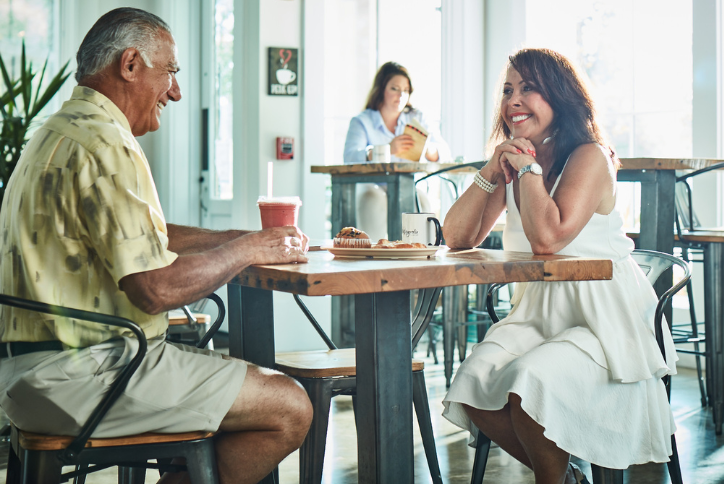 Q: When did you two move to Riverlights?
Kathy: We moved into our new home two years ago in April, but we have been scoping out Riverlights for four or five years. Our son attended UNCW, so we started spending a lot more time in Wilmington and exploring our options.
Tony: I have been retired for a while and I was a little concerned because we lived in an area where a lot of stuff was happening all the time. Now, I'm going to a new place and thinking: how long is it going to take to get into a group that plays golf and find a group of guys to hang out with? But, it was immediate! Neighbors pursue you because everyone here is new and everyone wants to build their crowd. It's even better than I thought it would be.
Q: Riverlights is still growing. What are your thoughts about the continued development?
Kathy: I think 7Bridge will be a great addition. I love the cool and unique concept. It will really add a lot to the convenience of living here. Also, the new Harris Teeter that is near completion less than two miles away on Independence and Carolina Beach Rd will also bring a lot of new restaurants, boutique shops, pubs, and more. We will also have a Fire Station outside of our neighborhood. Riverlights is truly like having our own little town! There are already so many choices of place to go. We go downtown for dinner often, and always enjoy Smoke on the Water.
Tony: When we're at Smoke it's just one big happy family.