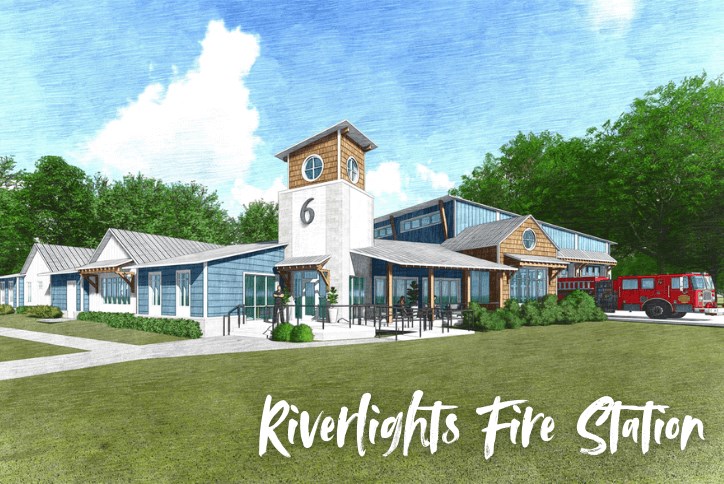 Preview of Coming Attractions: WFD Station No 6, Better Known as Riverlights Fire Station
The Wilmington Fire Department is in the process of completing the design for what will officially be WFD Station No 6.  While we'll affectionately be calling it the Riverlights Fire Station, it will also serve a portion of Independence Boulevard and the Echo Farms community.
This will be the City's first fire station constructed in a residential neighborhood and it has been thoughtfully designed with consideration of the Riverlights community in mind. The materials, color palette, architectural details – all have been inspired by the Riverlights style and vernacular.
The location reflects the growth of the county. "The department is constantly collecting data to help determine when and where a new fire station is needed. That data shows response time, call volume, the distance from fire stations and the neighborhoods they serve and the areas where the department receives a high volume of calls," said Rebeka Thurston, public information officer, for the WFD. The Riverlights Fire Station will have three apparatus bays which will allow room for future growth and for storage of reserve units.
The department also hopes to achieve a minimum of a Silver LEED Certification reflecting its adherence to measures that address carbon capture, energy and water efficiency, waste disposal and reuse, as well as transportation, materials, health and indoor environmental quality. Projects go through a rigorous verification and review process by a third party and are awarded points at a certified, silver, gold or platinum level.
True to the TV, film and literary depictions of fire houses everywhere, the Riverlights Fire Station will be a home-away-from-home for its assigned firefighters. A career only department, they don't have any volunteers. But they will have seven bunk rooms for sleeping, a kitchen for family meals, a gym with fitness equipment, a large training room, and several offices for the officers. Expectations are that there will be three people per shift when the fire station opens.
The project has an estimated price tag of $5.7 million and is funded in the fiscal year 2022 budget as part of the City's Capital Improvement Fund.  The WFD anticipates the new station opening in 2023.
We look forward to welcoming them to the neighborhood!