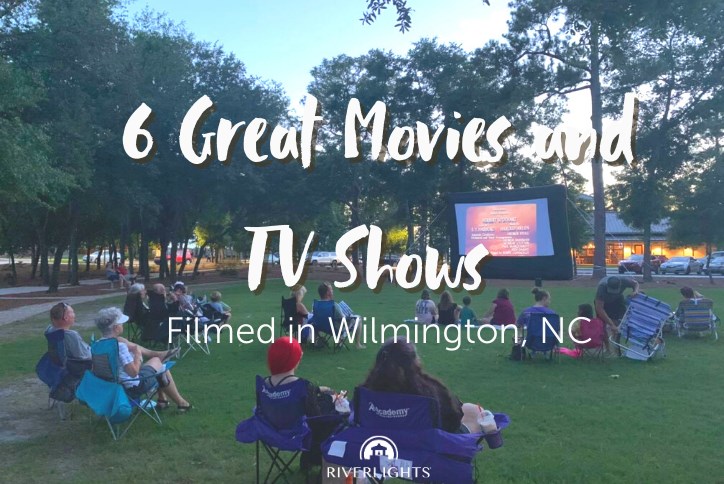 6 Great Movies and TV Shows Filmed in Wilmington
Often referred as "Wilmywood", Wilmington's film industry, has always been a prosperous location for movies and tv shows, and this year has been no exception. Wilmington NC has developed a reputation as the ideal backdrop for blockbuster films in various genre's. While you are searching for your next binge worthy show, or movie here are the top six most recently filmed around the Port City. See if you can recognize familiar locations while watching!
1) Along for the Ride
Along for the Ride highlights a girl spending her last summer before college in a beach town with her family, where she meets a boy, and they embark on romantic adventures together. This movie was shot in and around Carolina Beach, only 15 minutes from Riverlights! See if you can spot any familiar sights, like the Carolina Beach Boardwalk, New Hanover County Courthouse, Russell's Quik Stop, Jungle Rapids Family Fun Park, Carolina Smokehouse, Pleasure Island Rentals, and more while watching.
2) The Summer I Turned Pretty
The Summer I Turned Pretty is a teenage love story about heartbreak, adventure, and finding yourself. This tv series was filmed right here in Wilmington! See what familiar spots you can recognize in this show, such as beachfront homes and Crystal Pier in Wrightsville Beach, Porters Neck Plantation, Cape Fear Country Club, Russell's Quik Stop, Papercut Books, Padgett Station, and stunning shots of the Cape Fear River in Southport.
3) Echoes
This thrilling Netflix miniseries tells the tale of two identical twin sisters that share lives and many childhood secrets. The limited series was filmed in Southport with additional scenes shot in Wilmington, Los Angeles, and Paris. Local Wilmington production company, Screen Gems Studio, brought this series to life and even cast Cape Fear residents. Local spots you may recognize in Echoes are Southport Market, Jess James + Co., South 17th Street, and locations on Orange Street!
4) The Black Phone
This horror movie, starring Ethan Hawke, was shot across the Port City, and surrounding areas. In this film, a child is abducted by a serial killer and receives calls from previous victims on a mysterious black phone. This movie was has already been nominated for several awards.
5) Line Sisters
This Lifetime movie was filmed around Wilmington and its island beaches. Shot 2021, this movie is about a group of sorority sisters who meet up for a beach weekend. Everything is going great until some spooky occurrences start happening in their beach house. Featured on Amazon Prime.
6) One True Loves
Based on the novel by Taylor Jenkins Reid, One True Loves is a drama about a woman caught in a love triangle between her husband she thought was dead and her new fiancé. The film features scenes from Wrightsville Beach and South Live Oak Parkway.
It is unique to have several movies and tv shows shot around the Port City with many locals cased in support or speaking roles. The thriving film industry is just another perk of living in the Wilmington area and sometimes if you are lucky, you just happen to stumble upon a celebrity.