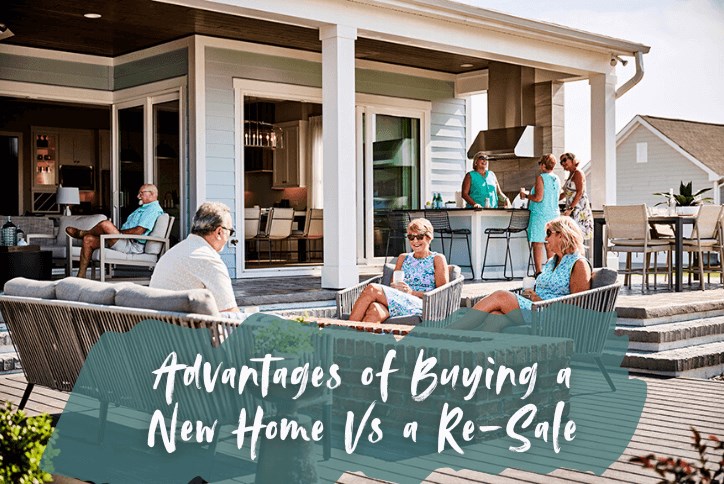 Weighing the Advantages of Buying a New Home Versus a Resale
Those in the homebuying market have a number of choices with each property considered.  But the overriding choice of new versus resale is a key consideration to inform one's search. 
Certainly, "new" brings the intrinsic value of being the home's very first owner, with all the delight that suggests: you get to make all the choices for finishes, colors, fixtures and such.  Appliances are fresh, clean and under warranty. 
But, beyond the "pretty" factors are other attributes to new construction, chief among them, maintenance, or rather, the lack thereof. With new building materials and up-to-date-everything, a new home generally requires far less maintenance than one with more than a few years of "lived experience."  Everything from the electric systems, to HVAC, appliances and building materials will wear with age and use.  Starting fresh is an advantage for the maintenance-averse. 
Newly built homes are also designed for today's lifestyles. Gone are floor plans with small closets and too-few-bathrooms. Today's new homes often feature at-home workspaces reflecting the burgeoning remote-work dynamic. For example, in Pulte's Newberry and Continental plan offered at Riverlights, there is not only an option for a lower level office, but their integrated drop zones offer ample desk space for a remote call or homework station. 
Likewise, outdoor spaces are often celebrated in today's plans, with fire pits, kitchens or dining areas or both, and larger porches with reinforced beams for suspended swings.  AR Homes, offers spacious outdoor living opportunities. The Seascape Model has two sets of telescoping doors to open the indoor and outdoor space to be the ultimate entertainment space.
New technologies are another requirement in new construction with new homes wired for high-speed internet, extra cable outlets, and more. The advent of smart home technology is also prevalent in today's construction which can include smart lighting, smart appliances, doorbells and smart locks, security cameras, emergency alert systems, smoke and carbon monoxide detectors, and smart darn-near-everything that enables one to call family, order groceries, or just put the whole world on do-not-disturb.  
Kitchen storage has made old-fashioned drawers and cabinets seem, well, really old-fashioned, with new solutions that accommodate everything from coffee corrals to condiment stations. The Trusst Roanoake kitchen plan offers hidden storage built into their island design to accommodate that additional glassware. A caution to those who merely tour new kitchen designs – it will leave you wanting!
And, not to overlook the environmental impact of one's home is to acknowledge the energy efficiency of better windows, newer heating and cooling equipment, higher quality thermal insulation – all attributes of new home construction.
Finally, a consideration not often acknowledged about new home construction is that it is often in a new home community. So neighbors are moving in and creating a neighborhood at roughly the same time. And, at Riverlights we pride ourselves as the ultimate community where one can find their state of shine! Really, see for yourself!  That is perhaps the nicest, if immeasurable, value of new home construction overall.