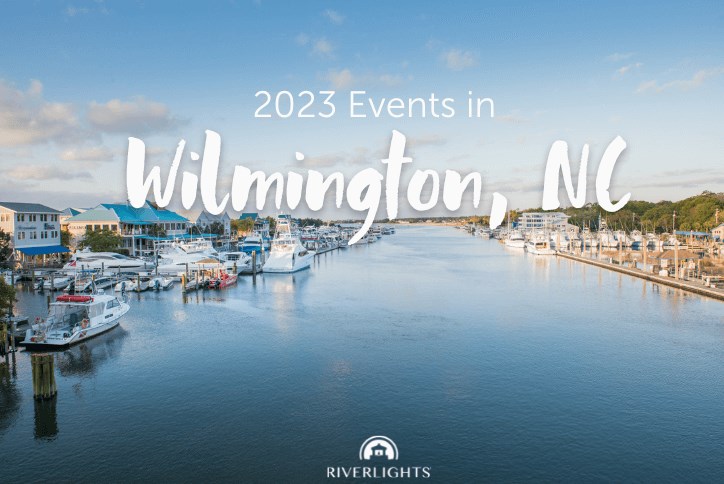 2023 Events in Wilmington
The new year is finally here, and Wilmington is packed with events all year round with nothing but fun, and memories to share for you and your family. Ranging from markets, concerts, festivals and more, check out our top events happening in the Wilmington area in 2023!
February 
43rd NC Jazz Festival | February 2nd-February 4th
One of the largest jazz festivals in the southeast will be hosted right here in Wilmington at Hotel Ballast! This 3-day festival features jazz musicians from around the world including singers, piano players, trios, and concerts with several sets. Patrons will also have an opportunity to play with professional musicians.  
Port City Taste Restaurant Week | February 20th-March 6th
Attention Foodies! Port City Taste Restaurant Week offers participants two weeks to experience the delectable culinary dishes from various restaurants in Wilmington. From downtown to seaside cuisines at the local beaches, this is the ideal time to try out something new. Each participating restaurant will prepare unique selections highlighting their specialties.  
March 
St Patty's Day Parade | March 11th
Wilmington's St. Patrick's Day Parade, has been recognized as one of the "top 10 St. Patrick's Day parades in America's small cities." Downtown Wilmington will be transformed by the sounds of Celtic music, Irish dancing, food trucks, bagpipe performances, and of course lots of green!  
April 
Cape Fear Community College Boat Show | April 1st
For over 20 years, The Cape Fear Community College Boat Show has entertained boat enthusiasts. Hosted on the Cape Fear River, this boat show features 10 categories of boats that are judged from wooden boats, kayaks, skiffs, fiberglass boats, and different boat building materials from around the region. Guests can speak to the boat builders and boat dealers about their creations, and even participate in a hand knot tying challenge. 
Poplar Grove Herb and Garden Fair | April 1st-April 2nd
The Poplar Grove Herb and Garden Fair is the longest running garden event in Wilmington and is perfect for nature lovers! The grounds of Poplar Grove will be filled with dozens of plant varieties including herbs, shrubs, vegetables, native plants, flowers, houseplants, and more! Not only will you have your garden ready to plant, but you can also enjoy the spring festivities including nature-related exhibits, garden art, garden accessories, natural made products, and more! 
Spring Pop Up Market | April 8th
The popular Groove Market will host a series of pop-up markets right here in Riverlights. Spend the day at Marina Village, and shop from over 30 local vendors while enjoying live music, and food trucks beneath the canopy of live oak trees. While you are here, grab a drink or a bite to eat at our three restaurants, check out the unique shops and take a scenic walk on the boardwalk along the Cape Fear River. 
May 
Island Arts Festival | May 5th-May 6th
This 2-day festival at the Community Life Center in Carolina Beach is a fun-filled weekend all about art! Shop and stroll the artist vendors displays, and feel inspired at the artist performances, demonstrations, and a kid friendly interactive art area. This festival is free for spectators and is an enjoyable event for the entire family. 
Wilmington Greek Festival | May 19th-May 21st
Whether you are Greek yourself, or want to learn more about Greek culture, check out the St. Nicholas Greek Orthodox Church Greek Festival, for authentic Greek food, traditional music, dancing, cooking demonstrations, a market with vendors, and more.  
June 
Carolina Beach Music Festival | June 3rd

Visit Carolina Beach Boardwalk to attend the "biggest and only beach music festival actually held on the beach on the North Carolina coast" and one of the longest running beach music festivals in the country! Dance in the sand, float in the ocean, or surf the waves while listening to live music performed by the most popular beach music bands of the south! These bands play a variety of genres from rhythm and blues to deep roots. 
Riverlights Summer Concert and Pop-Up Market | June 24th
The British Invasion is coming back to Riverlights, as we welcome the Beatles tribute band, Beatlesque, back to our community! Join us for a nostalgic evening of The Beatles music as Beatlesque replicates the sound and look of The Beatles to the closest detail. Before the show shop from 30+ vendors hosted by The Groove Market in Live Oak Commons. 
 July 
4th of July Firecracker Cruise | July 4th 
Celebrate Independence Day with an evening out on the water! This 50-minute cruise hosted by Wilmington Water Tours, will take guests along the Cape Fear River so they can get a front row seat for the 4th of July fireworks! This scenic cruise will also offer snacks and drinks so you can celebrate the 4th right.
Riverlights Summer Concert | July 22nd
Enjoy a fun-filled evening here in Riverlights during our July Summer Concert! Bring a chair to Live Oak Commons, grab a drink, get up and dance, or sit back and relax to our live music underneath the trees. More details on this event are coming soon! 
August 
Riverlights Summer Concert and Market | August 26th
Riverlights will have a day full of fun in Marina Village! In the morning, stroll around Live Oak Commons while shopping from over 30 local vendors selling products ranging from art, clothing, jewelry, and more! As the sun sets, pull up a chair or put on your dancing shoes, and jam out to a live music performance. More details on this event will follow as we get closer to the date. 
September 
American Craft Walk | September 16th
Head to historic downtown and explore Wilmington's largest outdoor art show and sale. Peruse over 100 talented local artists, in a variety of art mediums from paintings, sculptures, jewelry, photography, drawings, and more. Talk to the artists, buy their work, or just window shop! 
Carolina Beach Dragon Boat Regatta and Festival | September 22nd-September 23rd
Join in on the fun at Carolina Beach waterfront and Marina for the Dragon Boat and Regatta Festival. Friday, 9/22, the festival will kick off with a party and live music! On Saturday, 9/23, join the race by sitting afloat a colorful 45ft long dragon watercraft with your team or watch the race and cheer the boats on while enjoying food, drinks, music, and vendors. 
 
October 
Harvest of Homes Tour and Market | October 14th
Visit the Riverlights community at our Harvest of Homes Model Home Tour and Pop-Up Market this fall. Head to our NEW model row and tour our beautiful model homes all designed by the area's best homebuilders. After touring, head to Marina Village and browse or shop from 30+ vendors hosted by The Groove Market selling an array of handmade products, goods, and décor at our fall pop-up market! If you are hungry, grab a bite at Smoke on the Water, Girls with Dough, or The Getaway Café in Marina Village. 
November 
Cape Fear Kite Festival | November 3rd-November 5th
This colorful event in the sky, held at the Fort Fisher State Recreation Area provides a delightful display of colors from professional kite flyers. Bring a beach chair, cooler and look at the sky for a seaside event.  
Wilmington Antique & Vintage Market | November 3rd-November 5th 
If you are a fan of vintage jewelry, furniture, clothing, art, home décor, and more, then this event is for you! This antique and vintage market is one of the oldest in North Carolina. Walk around the market and browse old antiques that are sure to bring back fond memories and nostalgia.  
10th Annual Taste of Wrightsville Beach | November 4th 
If you are a foodie, head to Wrightsville Beach to attend a true culinary experience. Featuring Wrightsville Beach's unique and delicious dishes with over 35 different food options, and beer tasting your stomachs will leave full! 
December 
Island of Lights Christmas Parade | December 1st
The smell of salt air and Christmas lights may be new to some, but a traditional holiday parade is something everyone can look forward to. Known as the Island of Lights, Carolina Beach provides multiple holiday events all season with the parade kick off and Santa himself. 
Festival of the Trees | December 2nd 
Riverlights invites you to our 3rd Festival of Trees event this December! Join us in Marina Village for a festive holiday pop-up market during the day, and as it gets dark await our magnificent tree lighting ceremony! With live music, food trucks, performances, and a chance to meet Santa, this family-friendly event is a packed day full of fun that you do not want to miss. Keep your eyes peeled and follow Riverlights on social media for more holiday fun-filled details as we get closer to this event.