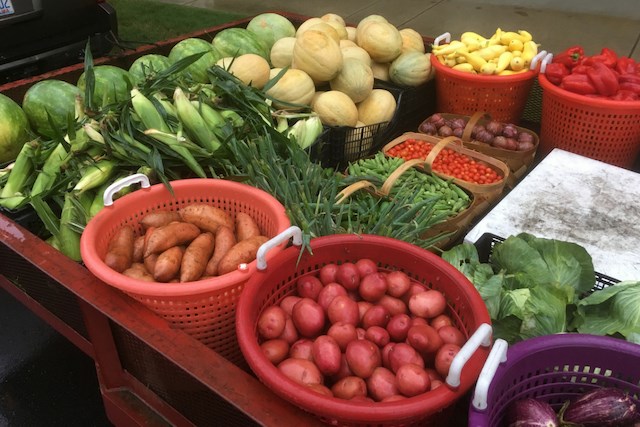 Local Goods & Unique Treats Await at the New Marina Village Marketplace
Local Goods & Unique Treats Await at the New Marina Village Marketplace
Warm weather means many things in the RiverLights community: bright chatter from residents walking along the Boardwalk, kayaks adding color to the Cape Fear River, and refreshing afternoon dips in the pool. And, it means perfect weather for perusing the new Marina Village Marketplace! This farmers market is all-new to the Wilmington area, and it's already a favorite Friday-morning activity.
Start your weekend by soaking in some sunshine and "shopping small" for locally grown produce, fresh breads, artisan pastries, local artwork, handmade jewelry, home décor, and so much more. From dresses to radishes to crocheted purses, you never know what you might find! Whether you're looking for healthy dog treats or a custom painting to hang over the mantle, you'll find all kinds of unique treats at the market. Mingle with neighbors, support merchants in your community, discover a new treasure, or simply scope out all the cute puppies in attendance — there's something for all ages.
The best part about the Marina Village Marketplace events is that they take place in Live Oak Commons, right in the heart of RiverLights. Enjoying the light breeze coming off of the river is an added bonus that makes the RiverLights farmers market stand out from the rest. You can spend a couple of hours poking through the vendor stands, followed by some well-earned lounging on the nearby hammocks or by taking in the magnificent river views from the Adirondack chairs at Ember Park. Perhaps you will take your newly purchased goods for a picnic down by the water at Ember Park.
Better yet, refuel after your morning of shopping by popping into the Magnolia Social Café for a pick-me-up. Your options are endless, but one thing's for certain: Each and every Marina Village Marketplace event offers one-of-a-kind products and memories.
WHAT:
Marina Village Marketplace — a farmers market happening in the heart of RiverLights
WHEN:
Friday, July 6 | 9 a.m.-1 p.m.
 Following the June 1 market event, the market will be held on the first Friday of every month now through November:
August 3rd
September 7th
October 5th
November 2nd
WHERE:
Live Oak Commons in Marina Village, 4410 River Road, Wilmington, NC 28412
Community partners include: 
Tastebuds Popcorn Carolina Beach
Mommy's E-Z Baking (Bread, spice blends, cheese spreads, & dressings)
PorchTime Products (Natural products for home, dogs, body, bath, &aromatherapy)
Marlene McDonald (Sea-inspired glass art jewelry)
Castle Hayne Farms (Fresh-cut flowers &vegetables)
Kritter Couture & More (Handmade pet collars, leashes, bow ties, bandanas, toys, & more)
Out of Chaos (Wind chimes &jewelry)
Red Tail Farm (Eggs, pork, lamb, &rabbit)
Carolina Peanuts (Boiled peanuts, fried peanuts, peanut butter, & peanut brittle)
Mesmerizing Mermaid (Coastal décor & jewelry) 
JK Castaway (Beer candles, painted tiles, coasters, & photography)
West James Road Arts (Watercolor paintings, drawings, prints, & tie-dyes)
Coastal Focus Art (Coastal-themed artwork, panels, & prints)
Our Mom's Best (Relishes, pepper jellies, & pesto)
Panacea Brewing Co. (Kombucha)
Cravings (Healthy baked goods)
Coastal Tides Soaps &Candles (All-natural goods)
Sunny Soaps (Body products) 
2 Chicks with Scents (Upcycled crystal candles)
Alchemy Ranch (Free range eggs and organic meats)
Botanic Synergy (Aromatherapy products)
Cabin Girl Designs (Bags made from repurposed boat materials)
Carolina Peanuts (Peanut products)
Isidori Treasures (Jewelry, wall art, wind chimes and bird houses)
Libation Lamps (Recycled adult beverage lamps)
Mushpa + Mensa (Organic hand printed gifts)
My Own Creation (Dressings and sauces)
Pickett Product (Produce)
Port City Art (Painting and prints)
Product Bob (Produce)
Soul Anchor (Products made from photos, t-shirts, etc.)
Sweet Life Honeybee Farm (Local honey products)
The Bearded Heart (Hand-designed, screened t-shirts)
The Roadside Wildflower (Teas, jewelry, macramé, wall décor)
Victorian Magpie (Steampunk jewelry)
Wholesome Greens (microgreens)
Save the date — we'll see you at the market!