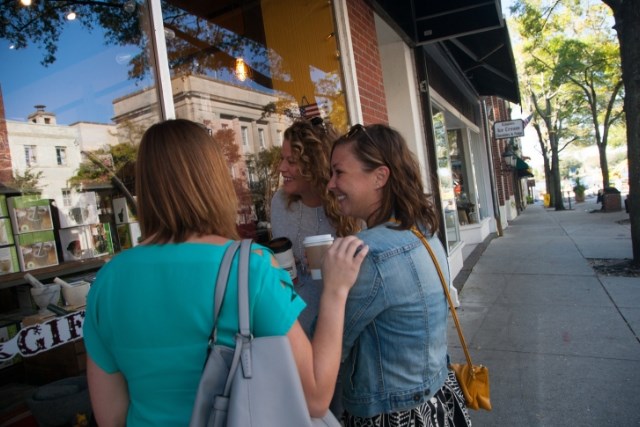 Top 20 Things To Do In Wilmington, NC
Wilmington, North Carolina — sometimes called the Port City — is one of the most unique cities along the East Coast. It's beloved by visitors and locals alike, and for a variety of different reasons. With its rich history, thriving arts and culture scene, and quirky charm, it's no wonder why Wilmington hosts so many visitors annually.
Whether you're new to the Wilmington area, checking out the city as a potential new area to live or staying through the RiverLights Resident for a Day experience, don't miss your chance to explore all that this waterfront town has to offer. Below, we've rounded up our top 20 favorite things to do in Wilmington. 
Visit the arboretum. Explore the vast gardens, learn a thing or two about plants, take part in one of the many kid-friendly events and so much more at this FREE extension service of North Carolina State University.
Check out a local farmers market. Every Saturday this year through November 17th from 8 a.m. to 1 p.m., you can meander through the Riverfront Farmers' Market for handmade goods, fresh produce and crafts.
Walk through historic downtown Wilmington. There is no end to the fun you can have in historic downtown. From markets to museums to fine dining, just strolling through the city is a fun adventure.
Catch an epic sunset from the Boardwalk at RiverLights. What better way to wind down the day than with a beautiful sunset overlooking the Cape Fear River with the best seat in town?
Grab a Britt's Donut from the Carolina Beach Boardwalk. These treats are delicious, decadent and totally Instagram-worthy
Take in an outdoor summer concert. With such a wide range of ages and musical tastes, the Wilmington area features live music that includes everything from country to classical! You can even catch a summer concert at RiverLights — view the full lineup of events here.
Stroll along the downtown Riverwalk. Soak in the incredible sights of the river and experience ultimate people-watching places. Experiencing the Riverwalk is a fun, free family activity.
Go aboard the USS North Carolina Battleship. It's all hands on deck to learn about this iconic World War II battleship!
Visit Airlie Gardens. Explore 67 acres of natural beauty, pristine gardens and historical structures. You're sure to find a unique experience in this one-of-a-kind setting.
Explore Fort Fisher. History buffs will enjoy exploring this Civil War fort, a site where the defeat of the Confederate army helped seal its fate.
Take a ferry ride from Southport to Fort Fisher. While the action may have happened at the actual fort, you'll see some incredible sights just by taking the ferry
Catch a concert at Greenfield Lake Amphitheater. This massive venue attracts big-name stars!
Walk around Greenfield Lake. The park surrounding Greenfield Lake is one of the best spots to take your dog, play on the playgrounds or have a picnic.
Explore our many breweries. Wilmington is widely known as a craft beer hub. Sip and sample the taste of the area on one of the many brewery tours available.
Rent a kayak on the Intracoastal Waterway or Cape Fear River. Wilmington wouldn't be what it is if it were not surrounded by water! Explore it up close and personal by renting a personal watercraft like a kayak or canoe and seeing the city from a new perspective.
Walk the loop at WB. Enjoy walking along this loop for a fun and free way to see all that the Wrightsville Beach area has to offer.
Watch an outdoor movie. Head to the lake in Carolina Beach on Sunday nights for a free outdoor movie night that the whole family can enjoy. Bring your lawn chairs!
Take your 4x4 on the North End. Hop in the truck and head to the northern end of Carolina Beach, where you can drive your car and even camp out on the beach.
Rent a paddleboard in Wrightsville Beach. Easily rent a stand-up paddleboard and explore the many inlets and canals nearby.
Visit the North Carolina Aquarium. Connect with nature and explore a whole new world of marine life at the Fort Fisher branch of the North Carolina Aquarium.
While you won't be able to hit all of these hot spots in one day, this list should prompt some ideas of how to spend your free time while you're in Wilmington. Of course, it doesn't cost a thing to lounge in a hammock under the oak trees in Live Oak Commons. So get to know RiverLights and the Wilmington area a little bit better — sign up now to become a Resident for a Day. You'll get to experience life along the river, walk through 15+ model homes, explore amenities like the Boardwalk and The Lake House, and so much more. Plus, you'll save on accommodations during your Wilmington stay if you book through the RiverLights program. We can't wait to show you what makes this area so special — sign up today!
BE A RESIDENT FOR A DAY