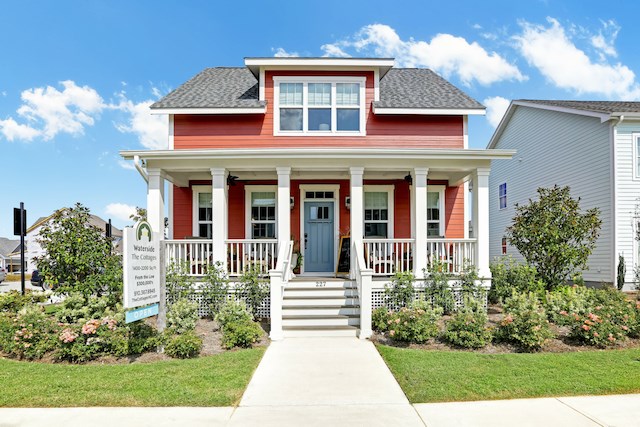 Builder Spotlight: The Cottage Building Company
From researching the best locations to picking paint colors to deciding on doorknobs, the homebuying process is full of exciting — and sometimes overwhelming — choices. In RiverLights, we are committed to easing that challenge by offering each person a home that's perfectly suited to their needs — and that begins with the builder. Each of our hand-selected homebuilders provides a unique home offering and years of expertise to help guide you. One builder on the RiverLights roster that's here to help make the entire homebuilding process go smoothly is The Cottage Building Company.
If you were to sum up The Cottage Building Company in one word, "family" does the trick. Family is at the foundation of the company, and it influences what is built — and why it is built. This group of close-knit professionals works diligently to build custom communities that celebrate the charm and elegance of the cottage lifestyle. Known for elegantly recreating the 1920s-style Craftsman home with a modern twist, The Cottage Building Company creates designs that stand the test of time. In one of these homes, families can grow, make memories, and live their lives to the fullest in style and comfort.
Every cottage this company designs is built to blend the classic style of a vintage Craftsman cottage with the modern amenities that today's homebuyer craves. While the world around us spins faster and grows more complicated every day, The Cottage Building Company chooses to design homes using uncluttered and straightforward design principles that have inspired artists and architects for nearly a century.
Features of the homes include:
Welcoming, wide front porches that are perfect for socializing with friends and enjoying warm summer evenings
Gas fireplaces with custom-crafted surrounds that are perfect for cozying up with your loved ones during those cold winter nights
Abundant windows that allow the outside beauty of nature to enhance the interior beauty of the home
Modern kitchens with quality appliances and well-organized workspaces
Lush, abundant landscaping that beckons neighbors to come enjoy a conversation among natural beauty
The Cottage Building Company creates tailor-made cottages to fit the owner's individual needs and dreams, ensuring the homes are as unique as the buyer. This builder's commitment to offering an open floor plan and a relaxing place to unwind is an ideal match for the inviting community feel that dwells in RiverLights. Experience the simple comforts of the cottage lifestyle along the Cape Fear River — it's all waiting for you in RiverLights.