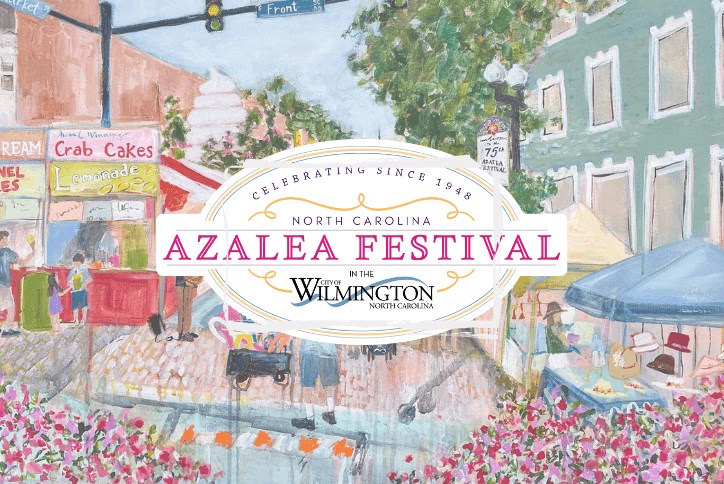 Wilmington's Azalea Festival Is Back and Bigger than Ever!
This year marks the 75th anniversary of the North Carolina Azalea Festival. This annual springtime celebration showcases the beauty of Wilmington's gardens, along with the history and culture of the region. After two years, the Azalea Festival is back in BIG ways taking place from April 6th to April 10th. Visitors will enjoy longtime events, like the street fair and fireworks display, as well as new events, like the Azaleas on Tour Porch Parade.
Here are some events you don't want to miss:
Paws on Parade: March 19, 2022
Paws on Parade, the Official Dog Garden Paw-ty of the Azalea Festival is a fun event for dogs and their human friends! This doggy-fun day has live music, a Canine Court Pageant, a puppy kissing booth and more! The event benefits paws4people, a national non-profit that raises, trains and places Assistance Dogs with those in need.
Azalea Sun Run 5K: March 26 – April 2, 2022
The Azalea Sun Run is a virtual and in-person 5K that takes place the week leading up to the Azalea Festival. Participants are encouraged to either run individually or meet up with fellow runners during the in-person run session at Wrightsville Beach. Since this is a virtual race, you have the option to run wherever you love the sun the most.
Azaleas on Tour Porch Parade: April 4-10, 2022
The Azaleas on Tour Porch Parade was created last year as a socially distanced alternative to the traditional street parade. Wilmington residents and business owners help celebrate the Azalea Festival by decorating their porch, yard or window in a bright, spring time theme. This year, several builder partners and residents of Riverlights will be participating in this event. Visit the Riverlights Information Center to receive a Riverlight's Exclusive Porch Parade Map.
Queen's Coronation Celebration Concert – April 6, 2022
The Azalea Festival is known for attracting popular bands from across the nation. This year's headlining show will be the American folk trio, Girl Named Tom. They are the winners of NBC's 21st season of The Voice and are known for entrancing audiences with their beautiful harmonies. Tickets are only $5 for Lawn Seating and $10 for Reserved Seating.
Street Fair – April 8-10, 2022
Over 250 vendors will fill the streets of Downtown Wilmington during the DGX Street Fair. Visitors can shop and eat to their heart's content while also enjoying live entertainment at the Piedmont Natural Gas Performing Arts Stage. If you have kids, make sure to visit the Street Fair Children's Area which has family-friendly vendors and activities.
Azalea Festival Parade – April 9, 2022
Celebrate the stunning beauty of Mother Nature at the Dollar General Parade. This event is free and can be viewed along 3rd Street, from Market Street to Bladen Street. Don't miss this colorful and lively parade featuring local organizations, schools and the Azalea Queen herself!
Fireworks Display – April 9, 2022
A spectacular fireworks show will take place over the Cape Fear River on April 9th at 9 pm. We recommend getting there early to snag a good viewing spot. Watch over 600 fireworks light up the night sky during the North Carolina Azalea Festival Fireworks Show.
The entire city of Wilmington has been anxiously waiting for the Azalea Festival to come back in full force and this year's lineup of events and activities is a home run! View the entire 2022 North Carolina Azalea Festival schedule here.