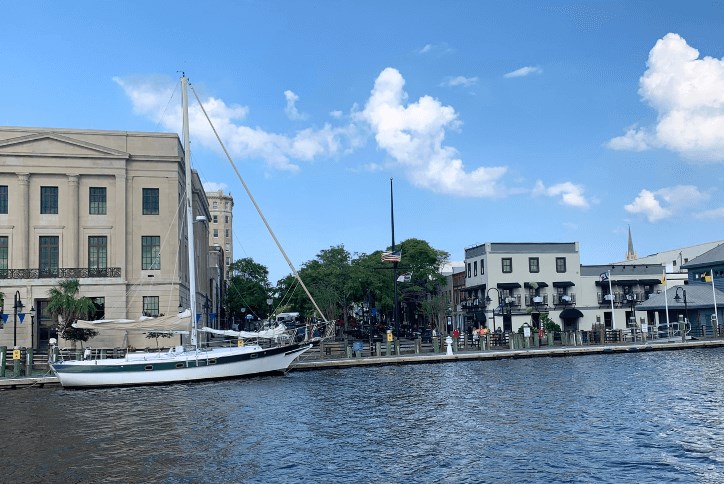 When it comes to rankings, Wilmington often tops the charts!
When it comes to receiving a compliment, Wilmington gets a lot of practice. So many accolades are directed to our growing city that those of us who live here can't help but blush!  
Our local tourism authority keeps a running tally of our earned accolades, covering attractions, food and drink, lodging, and the area in general. Indeed, there are dozens of honors bestowed on every facet of our fabulous little town. Here are just a few for those who want to keep score:    
1) When Condé Nast Traveler released its 2022 Readers' Choice Awards curated from over 240,000 ratings from readers, Wilmington was voted one of the best U.S. small cities to visit. Our city, at number 10, was recognized for its picturesque architecture and pedestrian friendly Riverwalk, with acknowledgement that the Wilmington Historic District is a national historic district and encompasses 875 buildings. 
2) Oprah agrees! Oprah Daily posted a list of the 30 Best Places for Your Next Girls Trip, and we made it! The list includes places in the US and abroad, so there! The editors cited our "scenic, walkable downtown with waterfront dining galore, stunning architecture, and convivial bars and restaurants," along with multiple beaches and film locations. Sweet!
3) The Riverwalk often shines as the star of Wilmington's revitalized riverfront. It was identified as one of USA Today 10 Best Readers' Choice 2023 Best Riverwalks. As it should! Our Riverwalk invites outdoor recreation, al fresco dining, nightlife, water tours, live music and unforgettable views of the sunset and July Fourth fireworks over the Battleship North Carolina. Suffice to say, we concur. 
4) Architectural Digest included Wilmington's Thalian Hall Center for the Performing Arts among The Most Beautifully Designed Theaters in the Country.
5) Oprah Magazine included Wilmington in its 28 Best Christmas Towns & Villages Across the World (the world!) highlighting Enchanted Airlie where 35-acres of forest and beautiful gardens are covered in one million festive holiday lights.
6) Aside from attractions, is Wilmington's overall vibe. It's the combination of all-good-things that earned this Southern Living acknowledgement in 2021: "Wilmington has stepped into the limelight with a burgeoning food scene, blossoming downtown, and enough cultural and outdoor activities to fill a weekend itinerary several times over. It's why Southern Living magazine included Wilmington and Island Beaches in its list of  The South's Best Cities on the Rise." Southern Living magazine also asked readers to choose The South's Best Cities, and Wilmington's "beautiful waterfront city loaded with historic charm" made the list. 
7) Trip Savvy included Wilmington on its list of 10 Best Places Food Lovers Should Visit and their list is worldwide! Yes! But, again, we concur. There is no end to foodie-heaven here. Enough for a blog post all its own.   
8) No longer "up and coming," the Port City's ranking was on StartupBlink's list of the best global (yes!) startup ecosystems.  Wilmington ranked No 2 worldwide, among cities with populations between 100,000 and 300,000.  But the city at the top was Cambridge, UK, so by default, Wilmington is the Number 1 startup ecosystem in North America.  
9) Also, it was also a delight to read a new analysis by LinkedIn's Economic Graph team that ranked the 15 U.S. metro areas showing the greatest increase in local tech talent over the past three years. Among the surprises: Wilmington came in at #11, posting a 27.6% growth in tech talent from 2019 to 2022. We'll take it! 
10) A recent ranking that was altogether fun came from the fashion police. North Carolina ranked as the best state in the South and fifth best in the nation in a study determining the best places for "street style," coming closely behind fashion meccas like New York and California. 
Yet, of all the rankings recently bestowed on Wilmington, the one that pleases us most is that of the North Carolina Community of the Year. That honor went to Riverlights at the 2022 North Carolina Home Builders Association Annual Awards Gala. We did not demur. On the contrary, our residents agreed with the judges exceedingly well-informed judgement!