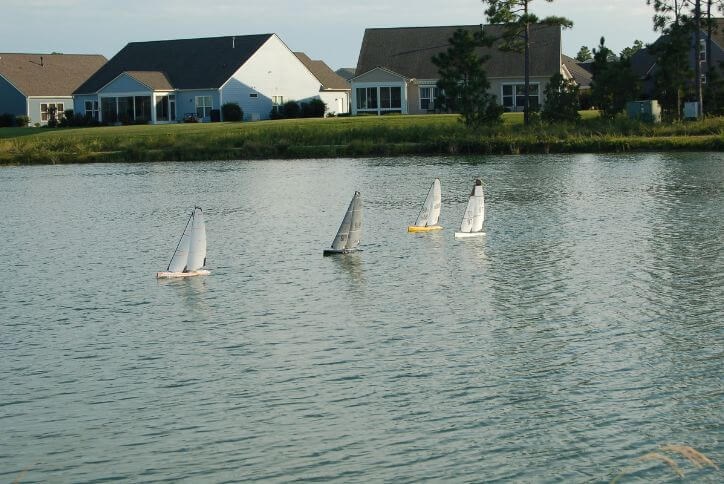 Radio-Controlled Sailing Group Sets Sail on Riverlights Lake
Every Wednesday, weather permitting, a group of Riverlights residents gathers at the lake for a little sailing.  Well, for radio-controlled sailing.  The group of mini-mariners was started just over a year ago by Del Webb residents Rob Caldwell and Steve Schwartz.  They invited others, experienced sailors and newbies alike, to join them for an afternoon sail.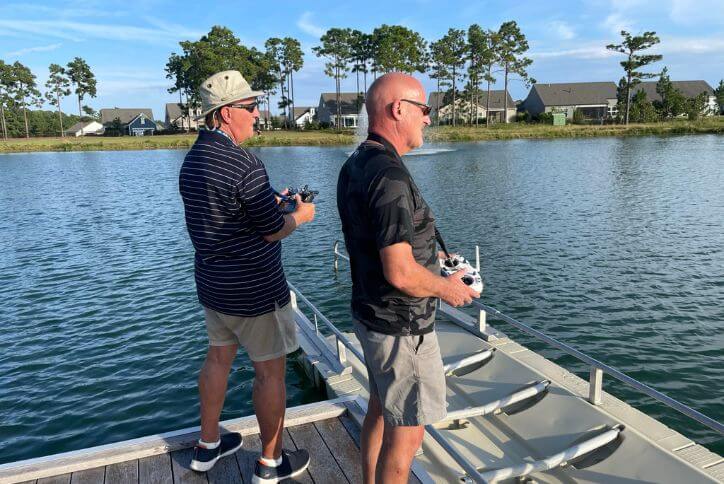 The group is now up to 11 sailors, men and women, ensuring that at least four or five are available weekly.  "We'd like to get up to eight boats in the water every week," says Rob, recognizing that most of our members are often travelling, so schedules are unpredictable. 
On a recent Wednesday, skippers Rob, John Austin, Jon Betts and Tom Jividen gathered at the Lakeside adjacent to the Del Webb amenity center.  Rob sets out buoys to establish the starting line and the windward mark, then the group enjoys practicing, coaching each other, and racing.   
"It's a lot of fun," Rob says, adding "sailing is a rich man's sport, but this one allows you to get in at just about $500." 
For now, there is no official score keeping. Fun is really all these guys are after.  But they are hoping to grow the group, establish different launch sites around Riverlights' Lake and eventually host special events such as regattas and longer races.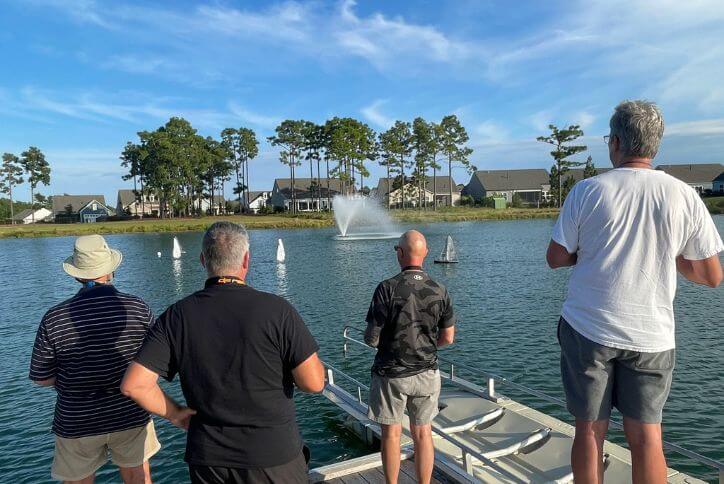 Skippers range from zero experience to some who are quite proficient. Early sessions establish basic sailing rules, how to maneuver the boat, adjust your sails and accept the whims of Mother Nature.  John Austin, who earned his skills while attending the Naval Academy, admits that ultimately, it's Mother Nature who is the true competitor.  The hand-held radio transmitters allow skippers to adjust the rudders and trim the sails only -- there are no motors onboard. 
Assembling the boats is another good team-building exercise.  They come as kits and members gather to share insights on proper assembly.  Skipper Jon Betts is still an avid competitor and racer (IRL!) with the Carolina Yacht Club.  "He upped everyone's game when he joined," laughs Rob, who adds that Jon also advises members on periodic adjustments to keep their boats in competitive shape. 
Tom Jividen is the newest to join and his boat sat idle for longer than he might have liked during a recent sail. The group, however, was nothing but encouraging, coaching him and proudly sharing his growing skill as a mini-mariner.  Indeed, Tom has already recruited the next guy, "So, I'm no longer the newest one!" he admitted.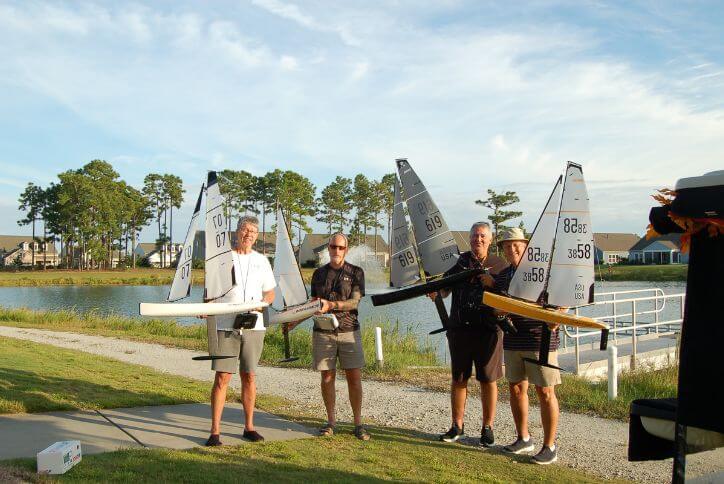 If you'd like to learn more about the Riverlights Radio-Controlled Sailboat Group, reach out to Rob Caldwell at robothesailor@aol.com or 214-701-0331, or Jon Betts at lazyeiger@aol.com or 505-930-0229.  The group enjoys a cold beer after each gathering, offering a good opportunity to learn a little more and get acquainted.