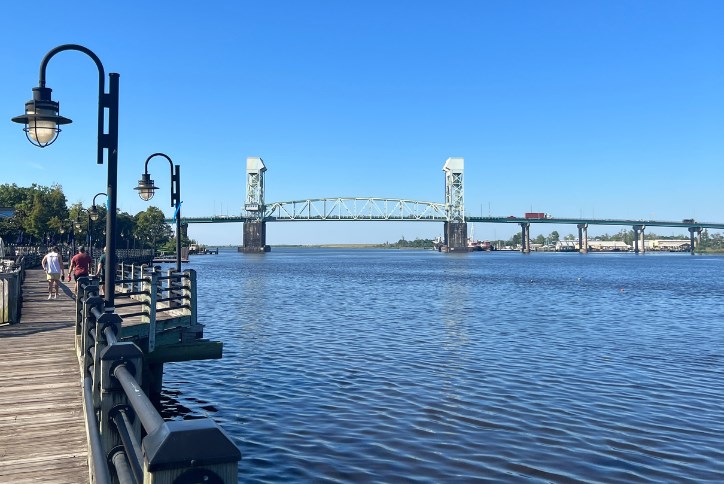 Uncovering Wilmington's Hidden Gems
It's no secret that Wilmington is welcoming more and more visitors and residents alike. But even with our many accolades fully on display there are still surprises and hidden gems to convince those who need it that the Port City offers the full package.
Here are a few recently uncovered.
In the category of food and drink:
The recently opened German biergarten, Prost, offers an almost-authentic experience (according to a visiting German family!).  The German spelling of menu items was the first good sign, along with an inviting interior that offers indoor and outdoor bars and a rear patio designed for good times. Beers on tap come from local brewers, some in German styles, and are available in 10, 16 and 20 oz pours.  The menu?  Think: spaetzle, schnitzel and pretzels creatively prepared.  The day we were there, futbol was playing on a large screen TV, but an occasional oompah band could only add to Prost's (German for "cheers" or "bottoms up") atmosphere.
Live at Ted's provides a listening room for live performances of local and regional musicians.  A quaint cottage perched beneath the Cape Fear Bridge and beside the Cape Fear River, Ted's offers a cozy performance space for generally acoustic performances -- fully amped bands are just too loud for the intimate space.  Ted's is a great place to catch folk, Americana, blues, bluegrass and jazz acts.  Check their scheduled shows before heading out as their open hours are show-dependent.  Best to buy tickets in advance since the space is small. 
Perhaps the best included on a list of secret spots is Bitty and Beau's, a coffee shop that employs people with intellectual and developmental disabilities.  It's no secret because Bitty and Beau's has earned tons of coverage and numerous awards (they were CNN's 2017 Hero of the Year!). The secret is that they opened their first café here in Wilmington, which is home to founders Ben and Amy Wright, and their children, two of whom, Bitty and Beau, have Downs syndrome.  They now have 24 locations in 13 states and Washington DC, but their flagship is here and serves a healthy helping of feel-good delight with every cup.
Wine Knot, a members-only sky bar and lounge located in the historic Murchison Building downtown, offers a fun and exclusive venue for casual get togethers, celebrations and parties.  Membership includes discounts on wine and event tickets. With breathtaking views of the USS Battleship North Carolina and sunsets over the Cape Fear River, Wine Knot's menu of specialty wines, local beers and charcuterie boards offers a relaxed alternative to the typical bar scene and a great pre-game stop before heading to Live Oak Pavillion, Wilson Theater or Thalian Hall, all within walking distance. 
For a take-out treat, try Salita Pizza in the Cargo District.  Salita's is actually a take-out window offering 10-inch pizzas, salads, soft-serve and bagels on weekends.  Those categories, however, hardly do justice to the inspired menu this family of foodies has prepared.  Seasonal and fresh, the offerings will reflect the seasons and the chef's whims.  For some, the Cargo District is its own hidden gem, so leave time to wander before or after enjoying Salita.
Outdoor Surprises
Wilmington and the Cape Fear region can boast no shortage of outdoor delights, but there are a few destinations that are a bit under the radar. 
Visitors to Fort Fisher often head straight to the NC Aquarium or Civil War historic site.  Both are absolutely worthwhile, but so too is a quiet little trail known as the Fort Fisher Hermit Trail.  This 1 mile hike is easy except during the dog days of summer when heat and mosquitos can diminish the fun. The trail wanders through maritime forest, tidal marsh and along an unspoiled beach to a wooden observation deck with great views of the Cape Fear River and Zeke's Island, making it a great spot for bird and boat watching. Along the way is an abandoned WWII artillery bunker where Robert Harrill, aka the Fort Fisher Hermit, lived for 17 years.
Did you know that Wilmington (along with an approximately 75 mile radius) is the only place where Venus Flytraps naturally occur?  True!  The Stanley Rehder Carnivorous Plant Garden is a beautiful place to spot these rare plants along with Pitcher Plants – and in abundance. Part of the Piney Ridge Nature Preserve, this garden is open and free year-round.  But it's best enjoyed in the spring when the wetlands burst forth and the carnivorous plants are at their finest. Check out the Flytrap Frolic, which supports the NC Coastal Land Trust, a nonprofit organizations that manages the garden in partnership with the City of Wilmington.
Leave a note, share your feelings and respond to others in the mailbox at the end of Shell Island on Wrightsville Beach.  In 2003, Bernie and Sidney Nykanen placed a bench next to a mailbox in which they provided journals and pens, inviting anyone to "leave a note." Over the next 11 years, strangers did just that – filling over 200 notebooks with thoughts and meditations, love notes and proposals, prayers and confidences. The Nykanens faithfully maintained the mailbox until they passed the torch to UNCW student ambassadors who continue the tradition of this cherished time capsule overlooking the Atlantic.  Watch the story here. 
Alt Entertainment
Looking for something completely different to do? Right on trend, Wilmington has its choices of escape rooms and axe throwing establishments. But defying any category is the Sorrow Drowner, an entertainment-based drinking and dining destination.  Looking to create a sense of global adventure, the décor has a distinctly Polynesian vibe, but in the hands of designers from Disney and Universal theme parks there's so much more to meet the eye than a tiki aesthetic.  There are four distinct rooms, each with its own adventure theme. Periodic special events and third Thursday world trivia nights provide fun alternative entertainment, while the menu rounds out the theme with globally-inspired libations and Polynesian cuisine. The Sorrow Drowner welcomes kids 13 and older before 7 PM; thereafter, younger patrons must be at least 18.
Enjoy the many facets to this fabulous coastal town – adding these few hidden gems into your agenda.  They won't disappoint!