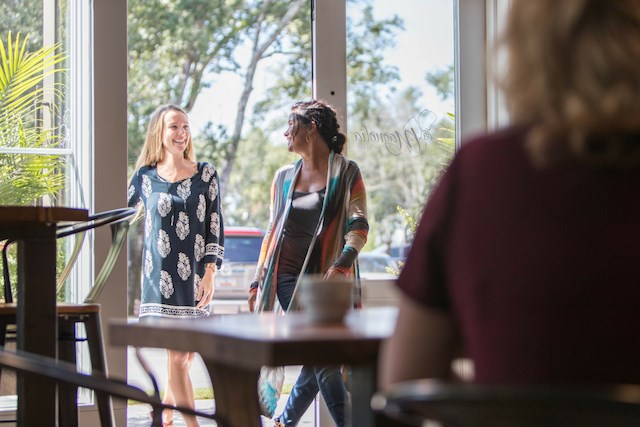 6 Ways to Plant Your Roots in Your New Community
Starting a new chapter in your life is exciting but it can also be nerve-racking. Not knowing how to get from one place to the next, where things are located in your new grocery store – it can all seem overwhelming, especially when you don't have a tribe to support you in this new community. Here are six ways we suggest to become acclimated to your new life here in the South. 
There's an App for That
Don't know where to start? There's an App for that. Download the MeetUp app available in the iTunes or Google Play store. Developed around the simple concept that when people get together, they get together to do things that matter to them – whatever that may be. Join groups of all sizes based on what you are interested in doing. From biking to paddleboard to watching football or trying the latest fad brewery, MeetUp probably has a group for that. And if they don't, you can create your own group and other's can join! Oh, did we mention it's free?
Attend Local Events
From sports, music and outdoors festivals to literacy and art shows, in Wilmington, events are happening almost every day. But easier than facing the traffic and crowds of popular events, look right out your window here at RiverLights. We offer a myriad of activities for you to stay active and get to know your neighbors.
Give Back To Your Community!
Getting involved in community service is a great way to meet new people and help out the area. The Cape Fear Volunteer Center offers an ample amount of options for anyone interested in volunteering. Some of their more well-known community opportunities include Good Shepherd Center, A Bike for Every Child, Addict Lives Matter, and First in Families. Check out their website for more of the opportunities presented by the Cape Fear Volunteer Center.
Shop Locally
You would be surprised how many people you can meet just by shopping at local businesses in the community. What better place to shop locally than in Downtown Wilmington? Downtown Wilmington is less than 5 miles from RiverLights and offers shops for almost anyone's interest. By shopping at the local stores, you are guaranteed to not just receive excellent service but also make a few friends along the way.
Join a Club
Wilmington offers a number of clubs for people of all ages who are seeking new friends or just searching for something to do. A few of the groups that meet in Wilmington include the Sierra Club, Senior Men's Club of Wilmington, Loblolly Garden Club, Cape Fear Sail, Cape Fear Camera Club, Wilmington Singles Club, and a couple of different American Legions. These clubs are always looking for new members and love meeting people with similar interests as them.
Play With Puppies
None of these strike your fancy? Consider volunteering at the local Humane Society. The Wilmington Area Humane Society relies on its volunteers to help feed, care and socialize with the dogs and cats. What could be more fun than getting to know others while helping helpless animals? 
Are you ready to start the next chapter of your life meeting new people and experiencing new things? Give us a call today to learn more about what your life would be like living at RiverLights.