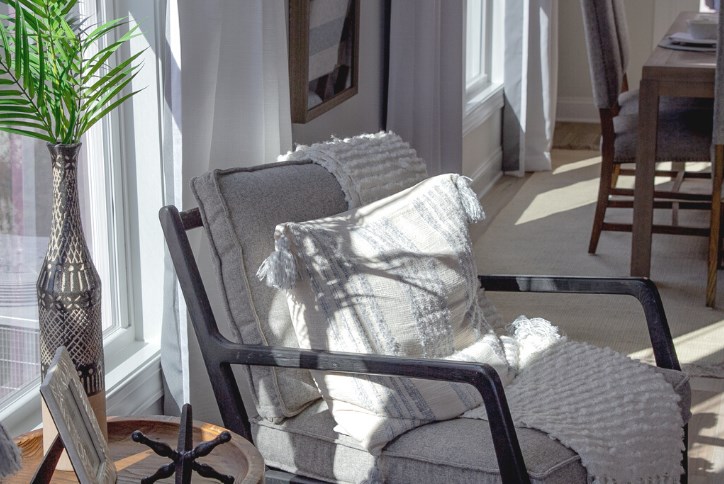 Six Quick Tips to Brighten Your Home This Summer
Summer is right around the corner, and you may be considering brightening up your indoor spaces. Whether you're looking to lighten up a room that just feels a little dim, or maximize the light in an already bright space, we have some great, cost-effective tips that will help bring that sunshiny summer feeling inside all year round.
Replace your light bulbs.
Your lighting could be giving off a yellow tint, and it's time to upgrade your bulbs! Head to the store and purchase some white LED bulbs to maximize the brightness coming from your lights and lamps. If your space is dark in general, try adding a table lamp or tall standing lamp to amp up the brightness even more.
Switch the curtains up.
Thick or warm-colored curtains may block out more light than you think, or give the room  a yellow hue. Sheer curtains, especially white, can have a large effect on how much light is let into the room.
Add plants.
Plants truly freshen up the space, while also improving the air quality in your home. Whether you have a green thumb or not, there are plenty of plant options for spaces with bright natural light, or even little to no light. Adding greenery or bright flowers to a space will help brighten the room, and even boost your mood!
Hang mirrors.
While also making small spaces appear larger, strategically placed mirrors will help brighten up your space. Place mirrors across from light sources in darker rooms to reflect any light throughout. Have a darker room? Add a larger mirror!
Cover floors with bright area rugs.
Adding a light-colored rug will not only add some brightness, but will also bring in some softness and texture. This trick is especially helpful if your flooring is dark, so going for a white rug or one with warmer hues will do wonders.            
Paint!
We saved the most time-consuming project for last! While there are several tricks to brighten a space before you resort to painting, it may be the most effective. Embracing white walls or adding a fresh coat of a brighter paint color can transform the room completely.