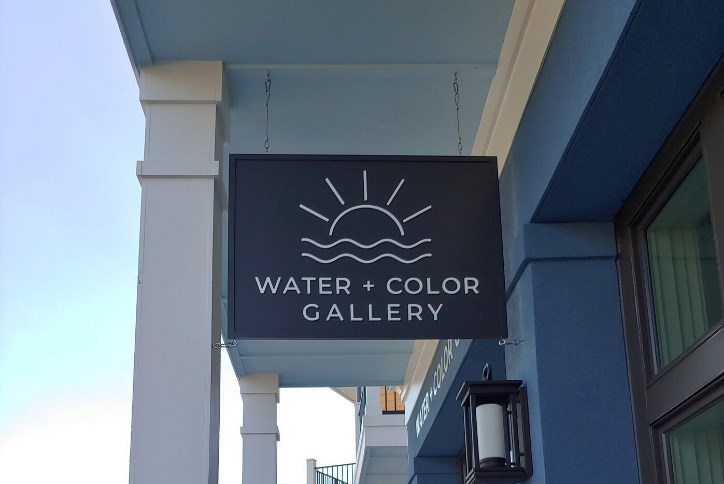 Bringing Local Art a Little Closer to Home
Research has shown that art affects our fundamental sense of self. For some it is merely a hobby, for many a cursory appreciation, but for others it is a great and profound love; Susan Buteau is one of these dedicated lovers. As a Wilmington native who found her way back home six years ago, her love for art is rooted in her childhood and having grown up surrounded by it. After pursuing a degree in art, she eventually transitioned into a life-long career as a dedicated nurse, but never lost touch with her devotion and passion for creative expression. "Art is my comfort zone," she said about her dream to own a gallery, now having the time to dedicate to owning and operating Water + Color Gallery in Riverlights. 
Her "opening act" features 32 artists, many of which are local to the Wilmington area, one of which is even a resident of Riverlights. The paintings and art installations vary in focus and medium, but many of them depict life along the Cape Fear and the southeastern coast. She has pieces inspired by views of the Cape Fear, functional art pieces created from driftwood pulled from the river, and even paintings depicting Riverlights homes situated along the lake. Susan's primary focus for her art gallery is, and always has been, to give hard working artists a platform to display the work they pour their time, effort, and love into. All art is a work of passion, often times for little or no monetary gain, and it is Susan's ambition to allow these artists a space where their art can be admired. She will also offer small classes and tutorials where people can dive into learning a new art or expand on their creativity. 
When you step inside of Water + Color Gallery there is a sense of belonging, and the energy and vibrancy with which Susan regards the art adorning her walls is palpable. She knows many of the artists personally and the love she feels for their work is almost tangible as you roam through. For Susan, art is an emotional investment that more of us should immerse ourselves in. Susan lives by the idea that "life is better with art," and Water + Color Gallery located in Riverlights wants to help bring more beauty to the world through the impact of art. Be sure to stop by Water + Color Gallery to meet Susan Buteau and some of the best art inspired by the beauty of the coastal south.