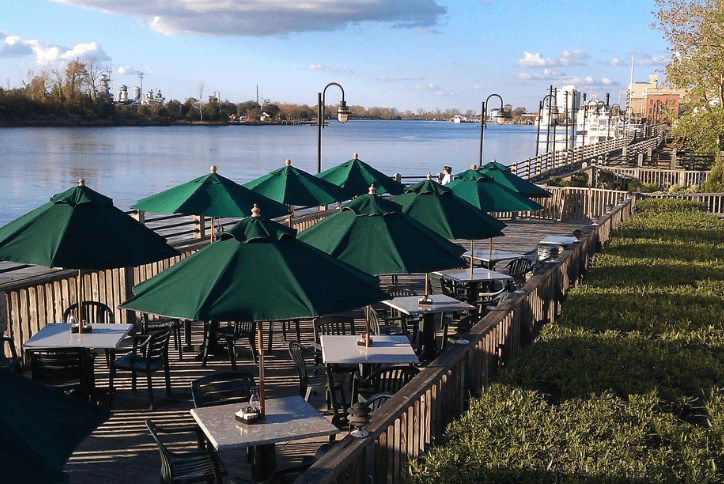 Searching for Seafood: Cape Fear Choices are Fresh and Abundant
Wilmington, North Carolina has earned its spot on many "Best of" lists lately and among the praises often heaped on our coastal town are those regarding food, drink, and the overall dining experience. We second that!  
Given our coastal location with truly fresh catch-of-the-day offerings, here's our list of Wilmington's, Carolina and Wrightsville beaches' best places to enjoy a memorable seafood dining experience. 
We'll start with Downtown Wilmington:
Seabird would lately top any list with Chef Dean Neff having just earned a finalist position (one of only twenty) for Best Chef: Southeast in the 2023 James Beard Awards. (Note, another of those top 20 is Chef Keith Rhodes of Catch, also on our list.  Read about both here!)  
Seabird is located in the heart of downtown and extends a lively atmosphere where seasonality is celebrated, meaning the menu reflects what was caught, harvested, picked and delivered that day.  Hint: If you can't decide, order the seafood tower. Beautiful and plentiful! 
Just a few doors up on Market Street is Pinpoint.  And don't just take our word for it, Pinpoint has its own share of accolades:  In 2016, it was among the Best New Restaurants in the South, it was featured on the Cooking Channel's The Best Thing I Ever Ate, and in 2019, it was one of the Ten Best Restaurants in the South, 
Of course, these standard bearers should also be on everyone's radar: Elijahs, which opened in 1984, and The Pilot House, in 1978, are reliable and long-time favorites, each sitting along the Riverwalk with exceptional views of Cape Fear River, the sunset and the people passing by. The restaurants are side by side, and in the historic Chandler's Wharf area downtown, with lovely shops and places to browse. You can't go wrong here.  
Moving to Midtown: 
Cape Fear Seafood Company has come on fast as a local favorite for a more casual lunch or dinner. The menu is deep with shellfish, fresh catch, and something for everyone – even land lovers. With two locations in Wilmington (Monkey Junction and Porters Neck), CFSC has already expanded to other cities in North Carolina, attesting to its acclaim.  
The Food Network's Guy Fieri would insist we add Something Fishy to our list. He loved it and featured the restaurant in his Diners, Drive-ins and Dives series. If you're hungry for down-home Calabash-style seafood--meaning everything is fried--this is your place! 
Anyone who has lived here for any period of time, or foodies who are just passing through will always make Catch a destination.  Chef Keith Rhodes is our local celebrity chef, having been featured on Bravo TV's Top Chef (season 9) and, in 2003 and again in 2022, a James Beard Finalist for best Southeast Chef. Catch specializes in modern seafood cuisine served with reimagined and organic produce and herbs. It's a feast for the senses. Catch also has food truck that circulates to events around town. It's the one with the longest lines! 
Hieronymus Seafood Restaurant and Oyster Bar is a Wilmington tradition. Step inside and their local history is evident; it just feels like the place you went on your childhood beach vacations. Fresh, local, relaxed, and fun. It's a people and palate pleaser, for sure.  
Heading to Wrightsville Beach: 
Ceviches is a local treasure authentically inspired by its owner and chef, Hunter Tiblier, who grew up in Panama fishing with his dad. Ceviches takes full advantage of this heritage with delightful parings and flavors that make it a favorite for locals. It was also a fav for Guy Fieri when he blasted through town. Guy zeroed in on the spiced braised flank steak, Ropa Vieja, which is to say, there are plenty of choices for those who aren't in the mood for seafood.  
Bluewater Grill has long been a destination for its waterfront views of the Intracoastal and passing boat traffic – which is to overlook its menu. A selection of traditional American fare, with fresh seafood makes this a reliable destination. Try it for Sunday brunch. 
The same view, but from the other side of the Intracoastal, can be enjoyed at the relaxed eateries, Dockside and Fish House Grill.  Dockside is a local pillar for outdoor dining so expect to wait a bit. But both offer a menu of fresh and fried seafood, sandwiches, platters and more.  
And, while the Intracoastal does offer a fun dynamic view, if view is really what you're after, then definitely put Oceanic on your list.  A local favorite, Oceanic sits on the beach with dining extending out on the Crystal Pier. The panoramic view of the ocean, surfers, and pelicans along with a playlist of all the accompanying sounds is simply unparalleled. The food is terrific too, but that view! 
And Carolina Beach:
One should expect outstanding seafood when visiting the beach, and Carolina Beach will not disappoint.  Michael's Seafood, known for its award winning chowder, offers a fun and family friendly atmosphere with a menu that reflects the season and today's fresh catch. Fun tiki-inspired interior and outdoor dining add to the fun. 
Speaking of tiki, Salt Fish and Tiki Bar offers an eclectic menu sourced locally and inspired by the Caribbean, Polynesia, and ports between. A casual and intimate (read: small-ish) atmosphere with signature cocktails makes Salt Fish a local favorite. But make reservations so you don't encounter a long wait. 
Fish Bites offers a combo restaurant and seafood market, including a live lobster tank. Open for lunch, Sunday brunch and dinner six days a week, Fish Bites offers fresh catch prepared as you wish and a kid's menu. Hint: that lobster tank offers free kids entertainment! 
Of course, residents here at Riverlights need only hop on their bike, or walk on over to Marina Village where they can enjoy Smoke on the Water, with a deep and diverse menu that includes steamer pots, Alaskan king crab legs and a variety of yummy shrimp dishes. And our pizzeria, Girls With Dough, offers a From The Ocean version with grilled shrimp, and a shrimp rigatoni ala vodka.  
So many choices. So much to enjoy. And here in Wilmington, fresh seafood is always in season. While this is a lengthy list, it's certainly not complete. There are rich and varied choices throughout our abundant water-rich region. Explore and Bon Appetit!