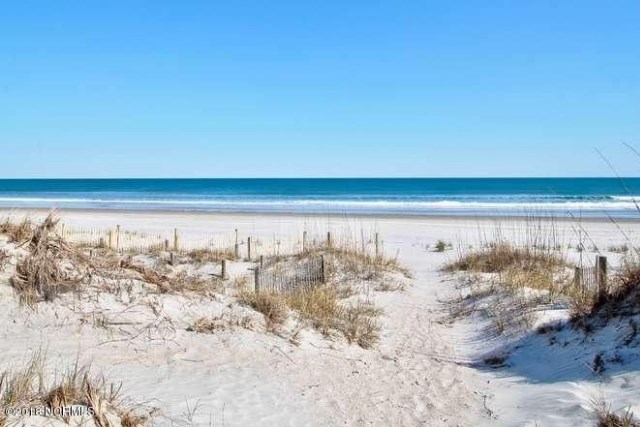 6 Best Beach-y Wintertime Activities
Just because the summer months have ended doesn't mean the beach fun has! Because of the mild year-round temperatures in Wilmington, going to the beach is a fun family outing in any season — even winter.
In addition to simply being a fun wintertime destination in close proximity to RiverLights, the beach also offers several other fun factors in winter that make going there an attractive idea. Fewer beach crowds mean that there's plenty of parking to choose from and even more room to roam along the shore. Plus, you won't have to worry as much about sunburn, since your arms and legs are likely covered up — a win-win!
Whether you head to Carolina Beach, Wrightsville Beach, Kure Beach, or somewhere else along the coast, there are countless opportunities for fun. Check out these six fun beach activities that you and your family can participate in this winter:
1.) Pack a family picnic.
Bring a big blanket, a basket of snacks, and a thermos of soup, and you're all set for a fabulous beach picnic! Sliced fruit, cheese, and nuts are easy toss-in items, or swing by the store for sandwiches en route. Pack an extra mug of coffee to cozy up with later — you'll be glad you did!
2.) Search for seashells.
There's no end to the unique treasures you might stumble upon at the beach. Go for a stroll in the sand, and you might just find a one-of-a-kind souvenir. Step things up a notch by bringing a metal detector to sweep the sand — you never know what you might uncover!
3.) Toss a Frisbee.
Some sports never go out of season, and throwing a Frisbee falls into that category. With crisper temperatures and sunny skies, you'll be able to enjoy a fun and lively game without tiring out too quickly due to high temperatures. For that matter, bring along a bocce ball set, ladder toss, or cornhole! Winter is the perfect time to play a game on the beach — you won't have to worry as much about being in the way of other beach-goers, that's for sure.
4.) Get moving.
Whether you're trying to stick to new resolutions or work off the calories for a yet-to-be-savored holiday dinner, the beach during winter is a perfect place to exercise. Go for a jog, ride bikes along the beach, go for a family stroll, or do a little morning meditation by the waves — your options are endless! Making exercise a fun part of your daily routine is a wonderful way to ensure you stick to your goals, and having a beach in such close proximity makes a healthy lifestyle even more attainable.
5.) Build a sandcastle.
There are certainly no rules that say sandcastles are strictly for summer months! Hone your sculpting skills or craft the world's best castle — the world is at your fingertips.
6.) Build a bonfire.
For some, sitting around a warm, crackling fire is the quintessential wintertime activity. Luckily, in the Wilmington area, there are several area beaches ready to make that desire a reality. In fact, in many places, campfires are allowed strictly in the winter months, and aren't permitted during the summer — that's the perfect excuse to grab a bag of marshmallows and get to roasting! Be sure to do your research before you go — a few beaches (like Nags Head) require permits, others do not, and some (like Wrightsville Beach) don't allow fires at all.
Well, what's stopping you? An entire season of beach fun awaits! Not wanting to venture out into the fresh beach air right now? There are lots of fun, family-friendly events happening closer to home this winter in RiverLights — be sure to check them out!