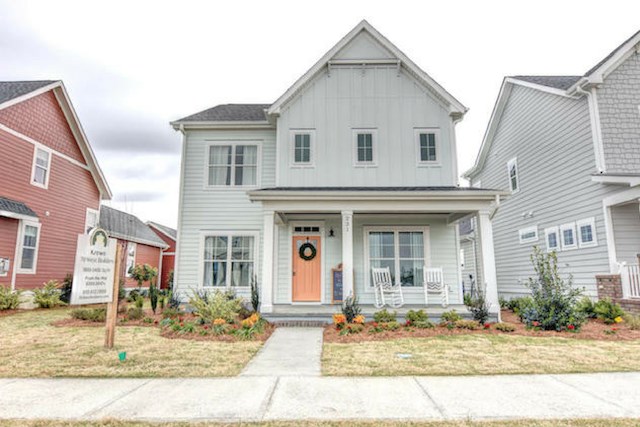 Enjoy Holiday Specials from the Hand-Selected Home Builders at RiverLights Now Until December 31
This holiday season RiverLights, Wilmington's premier coastal community, is offering exclusive specials from four home builders: H&H Homes, Del Webb Wilmington, Laurel Homes and 70 West Builders. Designed to foster a coastal, wellness-centered lifestyle, RiverLights offers the energy of a city amid miles of tranquil beauty set along the naturally magnificent Cape Fear River. Each builder offer is valid now through December 31, 2017.
H&H Homes
H&H Homes provides homes with superior standards that are built to be healthy, comfortable and most importantly, energy-efficient. The builder is offering $7,500 towards closing costs/design center credit on certain lots. Visit the Community Information Center at RiverLights for more information on eligible lots before Dec. 31.
Del Webb Wilmington
Del Webb specializes in offering adults an active community lifestyle along with high-quality, energy-efficient homes in an array of unique styles. This 55+ community within RiverLights is offering up to $10,000 off a new Del Webb Home before the end of the year.
70 West Builders
At RiverLights, 70 West Builders offers the ultimate customization for the perfect home. 70 West is offering a $5,000 "Use As You Choose" on their three spec homes that are under construction and in contract by December 31, 2017. Visit the Community Information Center at RiverLights located in Marina Village for more "Use As Your Choose" details.
Laurel Homes
Laurel Homes is the community's newest builder and specifically designed Southern Gale Townhomes for retirees, couples and young families that want to live the RiverLights coastal lifestyle. Receive $5,000 towards optional upgrades on all units in the first building. Also, receive a $1,500 lender credit upon settlement with TowneBank Mortgage located at the Marina Village at RiverLights, which can be allocated towards closing costs. Both are only valid when a contract is signed by the end of the year, December 31, 2017.
Come visit the RiverLights Community Information Center for information on all of these incredible builder incentives before the end of the year, and visit over 15 beautifully decorated model homes to help picture your dream home for you and your family at RiverLights.