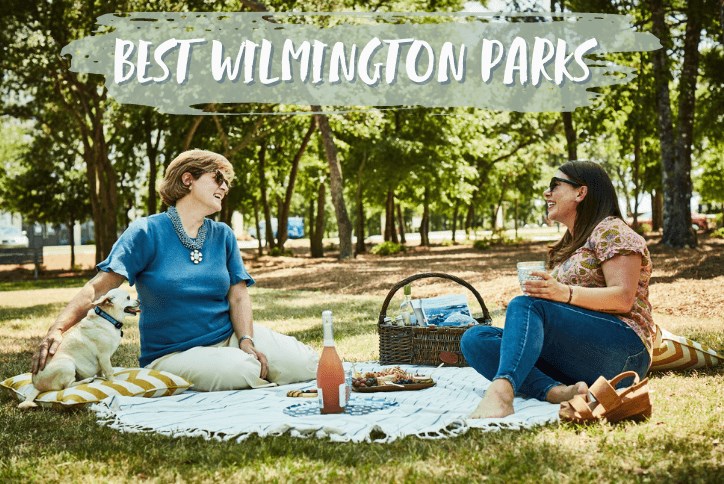 The Best 6 Parks in Wilmington, NC
With the weather finally getting warmer, we are ready to get outside and get some sun! Whether you want to go for a run, fish, or lay out and read, Wilmington has an excellent selection of parks and outdoor spaces to choose from so you can get out and enjoy this beautiful weather.
1. Long Leaf Park
Local favorite, Long Leaf Park, is located in central New Hanover County and has everything you need for any type of activity. Feeling sporty? This park has baseball fields, basketball courts, tennis courts, a sand volleyball court, ninja course, outdoor gym, and a 1.55-mile-long trail. It also features a playground, splash pad, and dog park, so it's perfect for the whole family. Long Leaf Park also has several picnic shelters where you can host events, and plenty of grassy areas and gardens where you can bask in the sun and read your favorite book. You may even spot some geese and turtles during your visit.
2. Greenfield Park
Greenfield Park, located in Downtown Wilmington, is a 250 acre park that features 2 tennis courts, 5 miles of walking and biking trails that wind through nature-filled gardens, playgrounds, grills, public restrooms, and lots of sunny areas to sit. Greenfield Park has other great amenities too, like a skatepark, kayak and boat rental shop, and the Greenfield Lake Amphitheater where tons of live music is played year-round. Popular television shows like One Tree Hill and Sleepy Hollow have also used Greenfield Park as the backdrop for many iconic moments. 
3. Carolina Beach State Park
If you love to hike or camp, Carolina Beach State Park is the park for you! With 79 different campsites, and several camping cabins, Carolina Beach State Park is perfect for the outdoor enthusiast. This park is minutes away from the beach and backs up to the Intracoastal Waterway. Carolina Beach State Park has 9 different walking trails to choose from and one of the best fishing spots in North Carolina. Park Rangers also hold educational hikes where participants can learn about the exotic plants that inhabit the area.

4. Ogden Park
A little further outside of town you will find Ogden Park. This park has 3 baseball fields, 9 tennis courts, a full basketball court, outdoor gym, playground, soccer field, football field, softball field, and a 10,000 sq ft concrete skatepark. There is a 1-mile walking trail, dog park, and plenty of space to sit by the pond and bask in the sun.
5. Smith Creek Park
A personal favorite of the team here at Riverlights is Smith Creek Park. This scenic park has a 1.3-mile-long walking and biking trail that circles around a beautiful lake. There is a dock and boat launch so you can kayak, canoe, or fish while enjoying the spectacular sunsets this park offers. There are public restrooms that are always kept clean, picnic areas, and a fun playground for kids.
6. Live Oak Commons
Spend your day in the sun right here in Riverlights! Live Oak Commons was created as a space that can host many activities — like yoga, afternoon concerts, art shows, and farmers markets. Come lay on the lawn or set up a hammock and relax. You don't have to travel far from home to enjoy a day in the park.
We are fortunate the Wilmington area has so many choices if you want to spend the day outdoors and maybe not on the sandy beach! We hope this list will help you plan your next hike, dog walk, or day of fun with your family.