A Vision Realized: Reflecting on the early land plans for Riverlights
While those who live here have long appreciated the beauty of Marina Village and its Live Oak Commons, the Cape Fear Garden Club recently and most publicly agreed, by awarding it with a Beauty Spot Outstanding Landscape Award. In recognizing beautification efforts throughout Wilmington, the Garden Club acknowledged that Marina Village is a particularly magnificent public space that is inviting, sustainable and reflective of our region's unique natural heritage.
Indeed! With ancient hardwoods and their shady tree canopy, an animated village with boutiques, restaurants and gathering spots, and our second-to-none view of the Cape Fear River, Marina Village is surely a beauty spot unique to our region.
But this award is also acknowledgment of the tremendous vision and inspired land planning that created Riverlights out of 1400 undeveloped acres along the river.
Riverlights recently sat down with Richard Collier who helped guide that vision as then regional manager and assistant VP in planning and natural resources for the engineering firm McKim & Creed. Richard and the firm still consult on land planning and resource management matters here at Riverlights. But in the early days, he and his colleagues worked with Newland Communities to maximize the property's livability in a manner that demonstrated respect for the integrity of the land.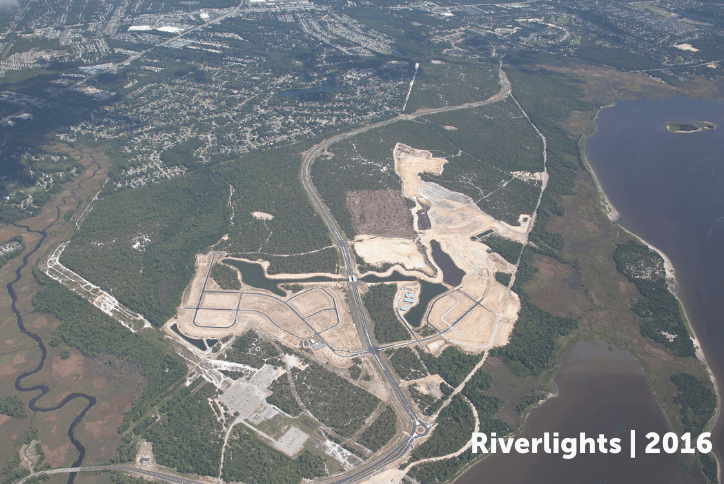 An essential requirement: 50% Green Space
There were certain and essential parameters placed on the project from the very beginning-- among the most consequential, a requirement for significant open and green space. Newland established a desire for up to 700 acres, 50 percent of the project, to be set aside. Such expectations put this project in a league of its own, said Richard, and established that Riverlights would be a project and Newland Communities would be a client committed to design excellence and conservation strategies as they created a dynamic livable community.
The first steps were a topographic map of the site and a tree survey. To all engaged in the project, it was a surprise to learn of the relatively steep sand ridges on the property – up to 60 feet tall in some places and naturally formed. Also discovered were several pockets of wetlands and bluffs, and that the existing River Road ran right through these.

River Road Realignment
In 2006, Newland got state and local approval for the realignment of River Road. By moving it further inland, the developer created more riverfront property, reduced runoff into the Cape Fear and re-established wetlands that had been cut off from the river by the existing roadway. The new road was planned to preserve the sand ridges while also creating natural corridors for wildlife moving between the river and areas inland.
Throughout this early period, Newland worked closely with the US Corps of Engineers to assure wetlands integrity and with UNCW researchers to monitor water quality.
While the wetlands provide a thriving natural habitat and are a stunning view amenity, their preservation prohibited real access to the river. So, bringing water onsite became a central and driving consideration, Richard recalls. The Riverlights lake is born out of these early plans. Fully lined, the lake does not serve for stormwater mitigation, but is an amenity only, for residents and waterbirds alike.
That said, with the Cape Fear River's water quality in mind, and the need to manage stormwater runoff, pervious surfaces were specified throughout the community, with "wet ponds" established in low lying basins.
Tree-lined streets and miles of walking paths
A defining feature of Riverlights is its inviting walkability. While achieving a pedestrian-friendly vibe is always an essential feature of Newland Communities, the developer would first seek annexation into the City of Wilmington. As Richard explained, the city has different permitting requirements than the county, accommodating narrower streets, and requiring less parking, less impervious surfaces and more street trees. The City's ordinances were simply more aligned with Newland's vision.
Today, a total of three acres of land, contained in a 4-foot wide trail, and stretching approximately 7 miles, provide walking paths throughout Riverlights – with more to come.
The trees planted some ten years ago are today creating a canopy and streetscape that is a vision realized. Native species were selected with consideration of their texture, seasonal color, canopy size at maturity, and wildlife habitat, as well as lifespan and protection against blight.
Climate change and resource management have also been guiding influences with plantings selected for their tolerance of heat, sandy soil, and dry conditions. Richard uses the term "xeriscape," to define species that are self-maintaining, indigenous to the environment and require little to no additional resources to thrive.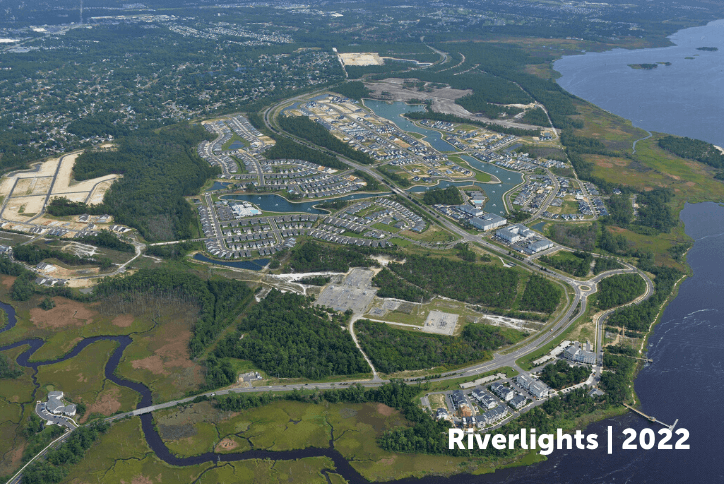 Looking back with pride to look forward with confidence
With nearly 800 homes now onsite and more than 2000 neighbors calling Riverlights home, the early visionaries behind Riverlights have reason to be proud. Today, the community stands on the precipice of continued and significant growth, but growth that will be every bit as well considered for stewardship of the land, water and natural habitat.