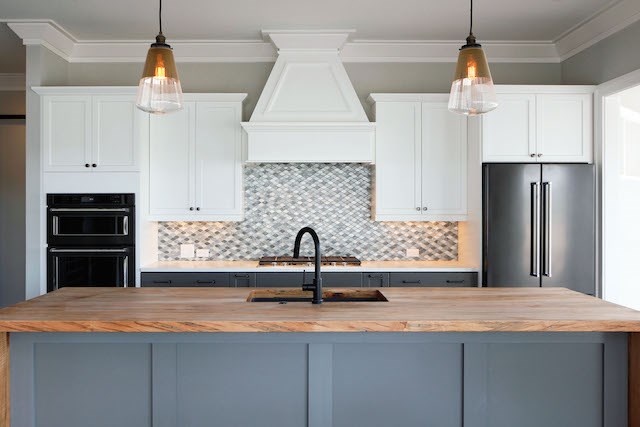 Builder Spotlight: Plantation Building Corp.
RiverLights and Newland Communities are proud to have Plantation Building Corp. as one of RiverLights' premier new homebuilders. Started in Wilmington in 1997, Plantation boasts a passion for team unity and building "cool places to work and live" that sets the company apart from the rest. Plantation is known for clean designs with a refined aesthetic that incorporates the area's coastal lifestyle.
The full-service design-and-build firm prides themselves on providing top-notch features for its custom homeowners. A few of their standard features include:
Customized RiverLights home plans designed with their client in mind

Highly detailed custom interior finishes - including 8' solid core interior doors

Tyvek Housewrap and Titanium roof underlayment

Custom decorative concrete porches

Smart thermostats with energy-saving technology

High-efficiency water heaters with recirculating pumps

Sanded and stained wide plank hardwood flooring

Soundproofing throughout all bath and plumbing walls

Individual project managers specific to clients' homes

A superior warranty-support division
In addition to bringing its homebuyers a familiarity with the Wilmington area and years of experience, Plantation believes in the importance of communication with its customers and feels that the development process should be an exciting one — not a stressful one. In the home-buying process, a homeowner wants to feel as if his or her opinion matters — and with Plantation, it absolutely does. The company enables its customers to communicate how they see their dream custom home — seeing the homeowner's vision come to life is what Plantation strives to accomplish.
At RiverLights, Plantation will be spearheading the residential components of Marina Village, the new community's central hub of activity that will feature beverage and dining opportunities, a range of local businesses, the RiverLights Wilmington information center and expansive views of the Cape Fear River. Included at Marina Village will be 40 units of new townhouse construction, all designed and built by Plantation. Upon completion, the team will then begin custom home construction on legacy lots throughout the community.
The topography and historical beauty that RiverLights encompasses perfectly align with Plantation's architectural philosophy and vision, which place priority on things like protecting the area's natural resources while catering to the community's input. The future residents of RiverLights will appreciate the opportunity to work with esteemed home builders like Plantation and will certainly love calling RiverLights home.
Plantation Building Corp. is a full-service design/build firm specializing in custom home construction throughout the Wilmington Regional Area. For more information about Plantation and its portfolio or even to take a virtual tour of its custom homes, visit PlantationBuildingCorp.com. 
RiverLights is a 1,400-acre planned mixed-use community located in Wilmington, North Carolina. Pre-sales for homes in RiverLights will be begin this summer. To sign up for development updates, click here, or follow along with us on Facebook, Twitter and LinkedIn to learn more.
Are you a Real Estate Professional interested in selling RiverLights? Join our RiverLights Real Estate Professionals Group on LinkedIn for exclusive, first-to-know development updates!
Visit NewlandCommunities.com for more information about the largest private developer of planned residential and urban mixed-use communities in the United States — Newland Communities.