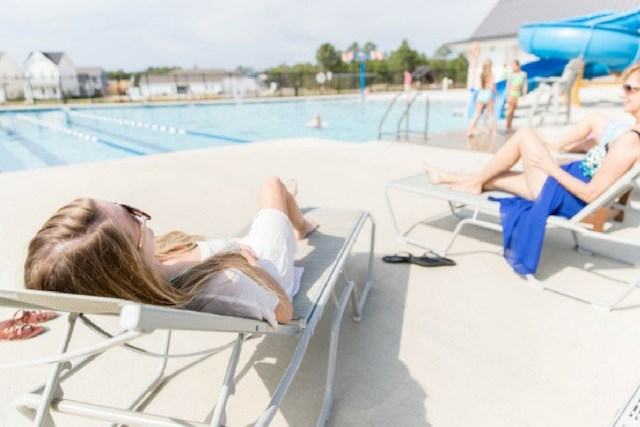 4 Ways to Keep Cool in RiverLights
4 Ways to Keep Cool in RiverLights
While sunshine and blue skies are two of Wilmington's most beloved attributes, those heated midday hours can elicit a strong desire to cool off. Some of the best places to be during the high Carolina heat — in, on, near, or by the water, of course. And luckily, RiverLights provides multiple options for residents looking to escape the blasting sunshine. From waterslides to solitaire, keep these top four ways to keep cool in RiverLights handy.
1. Take a dip.
Splish, splash and soak in fun summer memories at the RiverLights pool at The Lake House. You'll be able to soak in the sunshine on the pool deck, and then jump into a refreshing pool when you get hot. And, the kids will especially love the big waterslide and splash area — it's like having a water park right in your own backyard. Be sure to bring the sunblock!
 2. Go to the beach.
Living in RiverLights puts you in close proximity to several of North Carolina's best beaches. On a sticky humid day, opt to have beach breezes and rejuvenating waters at your disposal. Build sandcastles, fish from the pier, or let the kids expend some pent-up summer-break energy — you can't go wrong! Carolina Beach, Kure Beach, and Wrightsville Beach are all less than 15 miles from the RiverLights community, which means a last-minute decision to head to the shore is completely feasible.
3. Paddle toward the breeze.
Take (or rent!) kayaks and embark on an excursion filled with natural wonder along the Cape Fear River. You can conveniently reconnect with nature and find your peace of mind among these marshes. The Day Docks at RiverLights makes accessing the Cape Fear River easy and hassle-free. With a paddle in hand, head down a new path and discover entertainment that's entirely detached from a screen or keyboard. Opt for an early morning paddle or evening cruise to avoid the highest temperatures of the day — and welcome the occasional splash of water!
4. Escape into the AC.
Grab some neighbors and head inside to The Lake House, where you can beat the heat by playing board games, shooting pool, or sharing a snack and some good conversation. In fact, if you want to work up a sweat (without the help of the sun!), then get your heart pumping in the fitness room. Thanks to the large picture windows, you'll be able to enjoy the summer sunshine without getting overheated!
From going for a splash in the ocean at Wilmington-area beaches located just down the road to savoring a glass of icy cold sweet tea at Smoke on the Water restaurant while overlooking the Cape Fear River, there are so many ways to keep it cool this summer in RiverLights. Enjoy endless waterfront activities, outdoor adventures, or laid-back lounging — it's all ready and waiting for you here. 
Of course, you can always spend the afternoon shopping in Marina Village or lounging in the hammocks at Live Oak Commons. Explore all that awaits in the community's vibrant hub now!