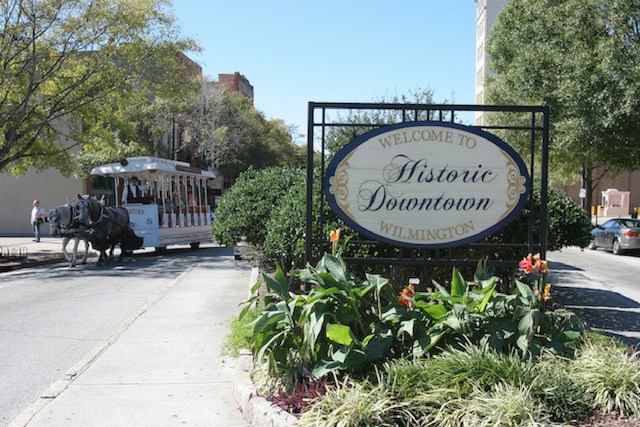 The Top 10 Places to Visit Within 10 Miles of RiverLights
Want to know the best thing about living in RiverLights? Being a part of the Wilmington, NC community and super close to all of the unique experiences it has to offer. Wilmington is one of the best beach towns on the East Coast because it provides a sense of belonging and makes you feel truly at home. The offerings in Wilmington will give you and your family something new to explore every weekend. Every RiverLights resident should check out these 10 places that are all within 10 miles of the RiverLights community.
New Hanover County Arboretum
The New Hanover County Arboretum is a unique, 7-acre park where homeowners can see the variety of plants that grow in the Wilmington coastal area as well as emerging trends in plant material. The Arboretum has a knowledgeable staff and many volunteers working every day to make the gardens beautiful and educational for all guests. The Arboretum is open every day from dawn to dusk and is free to visit. For more information, visit them on Facebook.
Airlie Gardens
Airlie Gardens is a destination spot for garden lovers throughout the world. The Airlie Gardens' goal is to showcase the natural beauty of the garden with Wilmington residents and visitors while sharing the history of the garden. The property was part of the 640-acre land grant from King George II to the Ogden brothers in 1736 and was first developed as a garden by Sarah Jones, wife of Pembroke Jones. Later the land was purchased by the Corbett family in 1946 where it was kept as a garden and opened to the public several times every year. A tradition of the garden is for the local community to visit in the spring to view the 75,000 blooming azaleas in full glory. Airlie Gardens is open daily from 9 a.m. to 5 p.m. and costs between $3 to $9 to access the grounds all day.
Halyburton Park
Halyburton Park is open Monday to Saturday from 9 a.m. to 5 p.m. The park includes a nature preserve, 1.3 miles of walking/biking trails, picnic shelters and playground areas. Being a part of the City of Wilmington Parks and Recreation Department, the park has multiple events happening throughout the year that are fun for the whole family. Looking for a fun family outing to enjoy the nice weather or to get active? Halyburton Park is your go to spot.
Hugh Macrae Park
Hugh Macrae Park has tons of amenities to keep your kids busy all day long. From baseball to the inclusive playground, the offerings for fun are endless. The inclusive playground features a Rumble & Roll Zip Slide, Arch Swing, Sky Runner and more – the purpose is to provide inclusive play opportunities for children with all abilities and of all ages. In the summer, kids can enjoy the Hugh Macrae Splashpad (open April through October from 9 a.m. to sunset), which has a dumping bucket that spills water at random, water cannons and umbrella sprayers. Living close to Hugh Macrae Park makes your kids sleep well every night of the week.
Greenfield Lake Amphitheater
Being Wilmington's premiere outdoor amphitheater for live music and concerts, the Greenfield Lake Amphitheater brings in awesome musical acts to keep life in Wilmington interesting. Looking for a night out with the hubby or wanting to see if your favorite band is headed close to you, check out the Greenfield Lake Amphitheater events calendar.
Thalian Hall
Thalian Hall is one of the oldest theatres in the United States and has been in constant use since it's opening in 1858. In 2016 they hosted over 250 shows, events and films for a total of 295 performances. Events range from musical events to ballet recitals and bring in a variety of different genres so there is something for everyone to enjoy.
Horse-Drawn Tours
Want to experience the historic town of Wilmington, but don't want to walk? Well, lucky for you, they offer horse-drawn carriage tours. Your costumed carriage driver narrates your unique adventure along the riverfront – the best part is all of the horses are rescued. So next time you need to get out of the house, take a carriage ride and learn about the history of Wilmington!
Historic Walking Tours
If horses aren't your thing, don't worry; Wilmington offers walking tours as well. Tour the town of Wilmington and learn what sets it apart from others all while staying active. It's the perfect way to get involved with the community and keep your family busy for an afternoon.
Screen Gems Studio Tours
Calling One Tree Hill fans – want to check out Brooke's house or Karen's Café? Then take a tour with Screen Gems Studio Tours because Tree Hill, North Carolina was actually Wilmington, North Carolina. From One Tree Hill to Dawson's Creek to Sleepy Hollow, Wilmington has hosted over 200 film productions over the years. Screen Gems Studio Tours brings your favorite TV shows to life and shows you where your favorite scenes were filmed. Chances are one of your favorite shows or movies was filmed right down the street.
Secret Hidden Gem of Wilmington
Have you found the mailbox on Shell Island yet? If not, that should be your next outing. We don't want to give away all the exciting aspects of this hidden gem so we will leave it at this – head to Shell Island to see the unique "Kindred Spirit" mailbox.
Want to learn more about being a part of the RiverLights community? Stop by the RiverLights Information Center in Marina Village today.