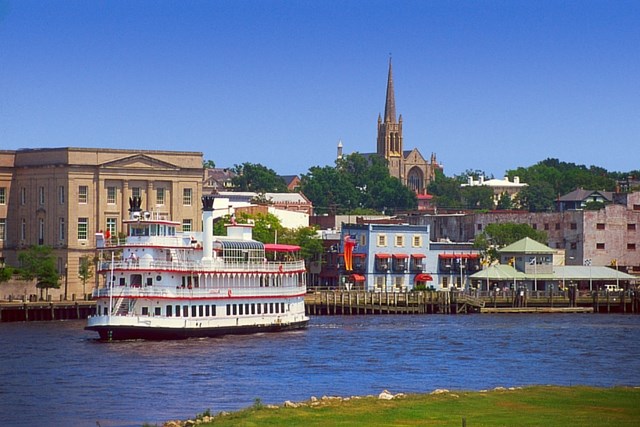 3 Sweet Reasons to Love Wilmington, North Carolina

3 Sweet Reasons to Love Wilmington, North Carolina
Since its 16th century beginnings, Wilmington, North Carolina, has transformed from a utilitarian port city to a treasured place to call home. Communities built around the region's two diverse water features — the Cape Fear River and the Atlantic Ocean — thrive due to the excellent balance between natural and man-made attractions. 
Residents enrich the area even further with their artistic creations and the preservation of historic sites. Beachside activities increase the value of living here by giving residents a place to blow off steam and make close connections with other members of their communities.
Here are a few of our favorite things about Wilmington:
Art Scene
The local art world thrives in this progressive region. You have plenty of opportunities to view inspirational art displays in dozens of galleries and museums peppered across the city. The Cameron Art Museum hosts community events every Friday night to showcase the work of new and established artists. Private art galleries, including the ever-popular New Elements Gallery, offer access to new exhibitions each month.
As you travel through the city, you will undoubtedly encounter creative sculptures designed and created by metalsmiths, glassblowers, and sculptors. For example, Southern Hospitality, the glass and metal flytrap sculpture by Paul Hill, demands the attention of all who venture down Market Street.
Historic Sites
Wilmington's well-preserved historic district draws visitors from near and far year-round. You can view the architectural marvels and ancient tree lines from the comfort of a riverboat, horse-drawn carriage, or trolley. If you travel across the river, you may also view and tour The USS North Carolina battleship, which became a dedicated memorial in 1962.
The Riverwalk, on the riverfront in Wilmington's historic district, was voted the best in the country by USA Today and 10 Best readers. The mile-long stretch boasts amazing views of the beautiful waterway and modern cityscape. As you walk down this iconic strip, you can stop by excellent locally owned restaurants and boutiques. Riverfest, a weeklong festival, occurs here each October with craft vendors, children's activities, fireworks displays, and musical performances.
Outdoor Recreation
The waterfront activities do not end at the riverfront. Wilmington features three sandy beaches — Carolina, Kure, and Wrightsville beaches — along the coast of the Atlantic Ocean. You can search for seashells, relax in the sun, or play in the waves during your visits to these fun outdoor destinations. You may even try your luck at fishing by casting off the pier or taking your boat onto the water. The beaches are also a perfect place to cultivate a new love for surfing, paddleboarding, kayaking, and other water sports.
Making Wilmington, North Carolina, Your New Home
Select one of the many single- and multifamily residences throughout the innovative RiverLights community to make Wilmington, North Carolina, your new home. With a hand-selected team of eight talented homebuilders, you are sure to find the perfect residence for you and your family. While living here, you will be within 5 miles of Wilmington's historic district and within 10 miles of area beaches. This master planned community features gorgeous views of the Cape Fear River, access to a 38-acre freshwater lake, and gathering spaces for neighbors to enjoy together.