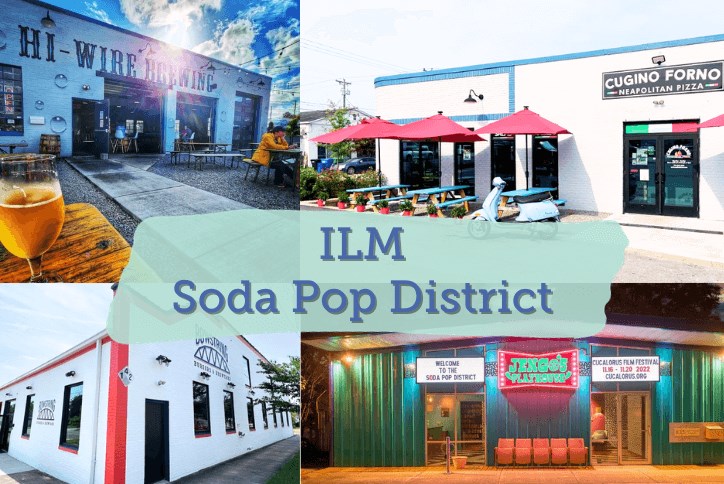 Wilmington's Districts Bring Cool Energy to the Port City Part 2: Second Stop, the Soda Pop District
While the beaches, historic downtown and relaxed recreational vibe make Wilmington an ever more popular destination, the Port City can also claim an altogether new energy and in its emerging districts.  
Last time, we explored the Brooklyn Arts District. This round, grab your friends, your out-of-town visitors, and head to Wilmington's Soda Pop District.  
Why that moniker? Because the 1920's-era building that dominates the District's Princess St. corridor is a former Coca Cola bottling plant. While the bottling activity ceased decades ago, the Coca Cola signage remained and is now part of Coca Cola Bottle Works, a 125,000 square feet warehouse and maker space. Here you will find Craftspace, a company that specializes in repurposing shipping containers; Pomona Shrub Company, an artisanal beverage business; A Safe Place, the nonprofit dedicated to victims of trafficking and Beach & Barn, a locally based clothing label that fills and distributes orders from its Soda Pop address.  
Across Princess Street is Hi-Wire Brewing.  This repurposed 1950's car dealership is now a popular 8,000 sq foot brewery that reliably – and for good reason -- draws a good crowd. Adjacent to Hi-Wire, is Cugino Forno, a pizzeria in the authentic Neapolitan tradition, and the recently opened Bowstrings Burgers & Brewyard, a second location for this Raleigh favorite that offers tasty burgers, signature cocktails, live music, and outdoor games. And, if some in your party want burgers, others want pizza, no problem! You can take your order and dine anywhere among the three venues.  
A few steps away is Jengo's Playhouse the 70-seat cinema that has long been the soul – and still is – of Wilmington's beloved Cucalorus Film Festival. Outside of the November film festival schedule, Jengo's frequently hosts screenings to support nonprofit orgs, advocacy, and artistry. (HINT: Let Jengo's frequent Friday night screenings drive your plans to visit the Soda Pop District.)  
Need other reasons to knock around the Soda Pop District? Here are several: 
The Soda Pop District is roughly between 8th and 12th Streets along Princess. It runs behind New Hanover High School and the fire station on Market Street. In fact, fire fighters are frequently jogging the neighborhood, along with the high school track and cross-country teams.  
The Soda Pop District's reclaimed architecture and repurposed buildings may, at first, seem understated and hardly destination-worthy. But that's all part of the charm of this uber-cool Wilmington district.