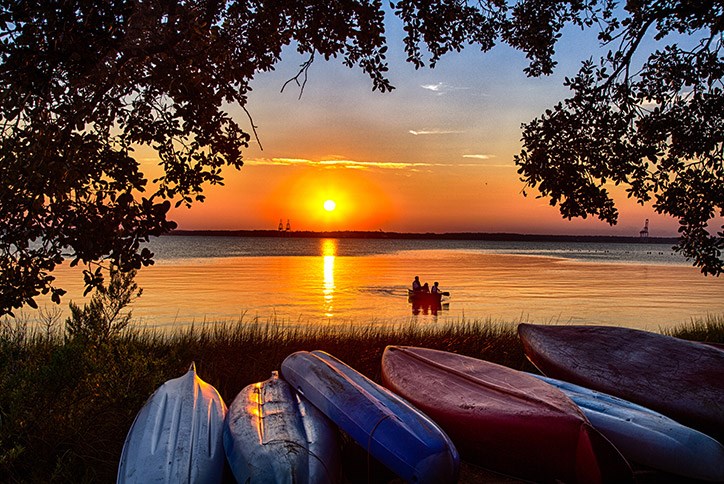 Top-Rated Beaches Near Wilmington, NC
As you drive along the coast of North Carolina, heading south, take your foot off the gas a bit. Drive too fast, and you might miss the best beach town in NC. After all, this is the home of President Woodrow Wilson and Michael Jordan: Wilmington.
Wilmington has a lot to offer, and one of the things it's best known for are the beaches. They are some of the best in the nation, ideal for both socializing and relaxing and located in one of the best places to live.
The closest beaches to Wilmington, NC are waiting for you. Let's talk about top-rated beaches near Wilmington.
The Closest Beach to downtown Wilmington, NC: Wrightsville Beach
Straight down Eastwood Road and Causeway Drive, over the South Banks Channel Bridge, you will find Wilmington's primary beach. This beach is a hop, skip and leap from downtown Wilmington. So, after you finish some lunch and shopping, simply head east.
Like many North Carolina beaches in the area, it rests on a barrier island, accessible across the channel by bridge. Wrightsville is the most tourist-friendly of all the beach towns on this list. It caters to those who like shopping and eating with a gorgeous seaside backdrop.
Wrightsville also offers water sports, in the form of rental watercraft and lessons in paddle boarding and kayaking. If you have always wanted to try out surfing, we recommend starting here. Many beaches in and around Wrightsville hold the title of the most popular surfing destinations in North Carolina.
In the evening, you'll find some of the best beach bars in Wilmington, NC. If you prefer music and socializing with the sound of the waves in the background, this is the place.
Wrightsville is an excellent place to bring the kids and the grandkids for an enjoyable weekend at the ocean.
Carolina Beach
Carolina Beach is another one of the best beaches near Wilmington for food and festivities, albeit with a more laid-back vibe. It sets itself apart from other beaches for its vintage boardwalk, which just so happens to be a historical landmark. You get your typical fare of restaurants and boutiques as well as a slice of an amusement park to entertain the kids. While here, you cannot miss the donut institution, Britts Donuts. This cash-only, donut shop located on the Carolina Beach Boardwalk has been serving their famous single-flavor donut – classic glazed since 1939. The lines are long, but it is well worth it!
If you are into festivals, then we recommend spending more time at Carolina Beach. Each year, they host the Carolina Beach Music Festival and Street Arts Festival. And even when there is no festival, you can enjoy nightly fireworks.
Residents with an affinity for fishing will be right at home, as fisherman frequent Carolina Beach in particular. You will likely meet some new friends when you cast your line out from the pier.
For those in search of a more outdoor experience, Carolina offers campsites, hiking trails, and a gorgeous marina for your perusal.
Kure Beach
If you've had enough of the people and want more of the sand and saltwater, then that's where Kure Beach comes in. Here, water sports are of the quiet variety, such as scuba diving and snorkeling. Charming, sleepy homes line the beach walk, and you can find one of the oldest Atlantic piers on the entire coast.
Aside from being more relaxed, Kure Beach also has some history to boot. Visitors should definitely check out the Civil War fort and the Adventure Reef at the aquarium. You'll get to see stingrays, sharks, and even alligators.
Every now and then, you'll find a spontaneous seafood or music event perfect for the whole family.
Masonboro Island
Want something that's a bit more secluded? Then one of the best beaches to visit in NC is actually an island, not just a beach. Masonboro Island is only accessible by boat, kayak or paddleboard, and this uninhabited island is full of pristine beaches ideal for nature lovers.
Masonboro's claim to fame includes its nature trails and undeveloped beaches. After all, this is an island reserve that serves as a barrier island for the coast. Bring your camera and binoculars in case you spot any native-dwelling wildlife.
The only folks you will find here are those looking for peace and quiet. That, and the occasional researcher or student looking to study tidal ecosystems and salt marshes.
There are some camping options, but this is not a camping-oriented island. You'll have to be respectful of the local flora and fauna, and make sure not to leave even a scrap of trash.
Topsail Island
Enjoying the island vibe? Then head to Topsail Island. This is a teeny tiny collective of three beachside communities: Topsail Beach, North Topsail Beach, and Surf City.
The locals here have chosen Topsail for one reason, and one reason only: to get away from the rest of the world. So, if you've come prepared for boisterous parties and high-energy music, look elsewhere. You will find a cluster of shopping and restaurants around Surf City, but even then, this is a place of peace and quiet.
While you are there, stay alert for loggerhead sea turtles. They love to lay their eggs in the dunes during their yearly nesting season. See if you can spot any – but don't touch the eggs.
Make Riverlights Your Home
From river to sea to island reserves, this North Carolina beach town has everything to offer. Tourists and locals alike get the perfect mix of party beach towns and nature escapes. We've covered some of the best beaches to visit in NC, but this is only the beginning of the list.
Riverlights in Wilmington, NC is the best community you'll find in North Carolina. Take a virtual tour of our properties and consider making this your home.