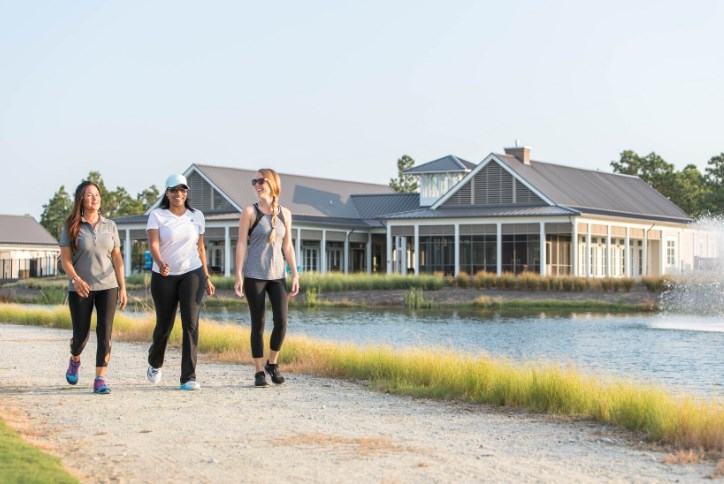 Ways to Get Fit at Riverlights
It's a brand new year and a time for setting resolutions for ourselves. One of the most popular resolutions each year is the goal to get in shape or become more active. If this is one of your many determinations for 2020, then Riverlights is the ideal place to get started and here's why:
With 1,400-acres of land with over 400-acres set aside as green space for our residents, there is a ton of space to participate in your favorite physical activities. With nearly 8 miles of trails to explore throughout the community, you can spend your days getting more active by walking, running, or biking the trail system.
Looking for a little upper body and abdominal workout? Launch your kayak or paddle board into our 38-acre lake at Boat Builder Park. Feeling a little more adventurous? Use the shore launch of Driftwood Park in Marina Village and coast directly into the Cape Fear River! These are the perfect spots to get those arms and abs working. If group activities are more your style, a game of volleyball with friends or neighbors at Port Side Park is just what you need. Try a game of bocce ball for a low-impact activity.
Do you prefer to workout in the air-conditioning? We share your sentiments. Head over to the fitness center located at the Riverlights Lakehouse where you'll find all the gym equipment you're looking for: treadmills, ellipticals, stationary bikes, free weights, and so much more. End your workout with a cool-down stretch in the yoga studio that overlooks the saltwater pool. With everyday access to this top-notch workout facility as a Riverlights resident, we make setting and achieving your fitness goals that much more convenient for you. 
As a Riverlights resident, your perfect workout is just steps outside of your front door. From trails to boat launches, a fitness center to outdoor games, we have everything you need to help get you inspired to achieve a healthier lifestyle in 2020.