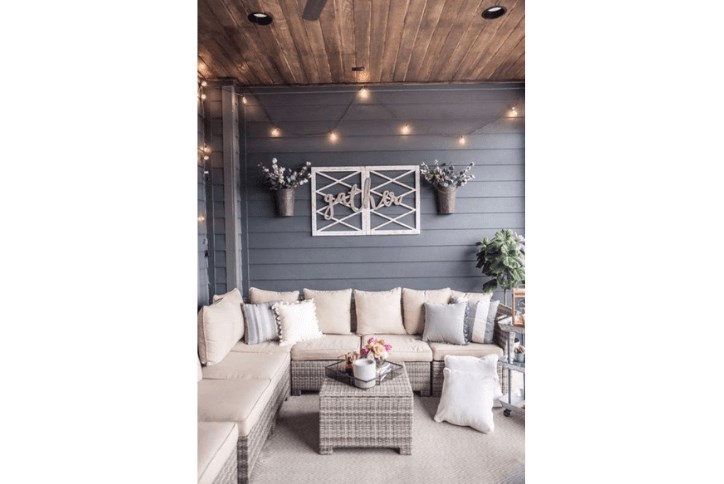 Pretty Your Porch for Summer
The fresh flowers dotting our parks and the cheery sun rays flooding our trails can only mean one thing, Spring is here! And with summer around the corner, our social calendars are already brimming with backyard barbecues, patio game nights and porch-side parties.
Looking to refresh your outdoor ambience? Check out some recommendations from our acclaimed builders, sharing their design-savvy secrets to creating the perkiest patio for summer soirees.
Plan Your Pathway
If your porch has a backdoor or an exit onto the lawn, draw a clear path of travel from your home's door to the exit. Refrain from cramping the traffic flow with large pieces of furniture or small décor that can trip your guests.
Create a Cozy Corner
Anchor your porch with a sectional and a coffee table, which are often sold together. Design experts recommend investing in high-quality pieces in a neutral color. You can then easily (and inexpensively!) change styles and color patterns with pillows, rugs and décor. Keep the table scaled appropriately, allowing room for people to navigate around it. If you have kids or are entertaining guests with kids, opt for a round coffee table without sharp edges.
Add Eye-Catching Accents
Spice up your style! Layer solid and patterned pillows, create dimension with a textured area rug, and add a pop of color with light-weight curtains on screened porches. When choosing a rug, be sure to opt for a heavy outdoor piece that won't flip in the wind and pose a tripping hazard. Include a terrarium with succulents to add vibrant greenery to your vista without the hassle of high-maintenance flowers.
Beautify Your Bar
All porches need an eye-catching bar to serve afternoon lemonade and sandwiches or evening cocktails and charcuterie. Choose a narrow credenza or a simple outdoor console that will nestle smoothly against the wall without impeding traffic. Opt for pieces with exposed legs that won't block the view of the back yard, and select hearty outdoor materials, such as teak, to ensure that your furniture lasts.
Light Up the Night
This one's a favorite of ours, if you couldn't guess by our name, RiverLIGHTS. In addition to table and floor lamps, you can create a cozy ambiance with rope lights lining the perimeter of the porch or string lights zigzagged across the ceiling. Add warmth and light with flame-less candles that also provide a safe environment for kids.
The beauty of coastal living is the perfect weather we have year-round. Take advantage of the warm days, cool nights, and mild winters by creating an outdoor living space that suits your taste and lifestyle!