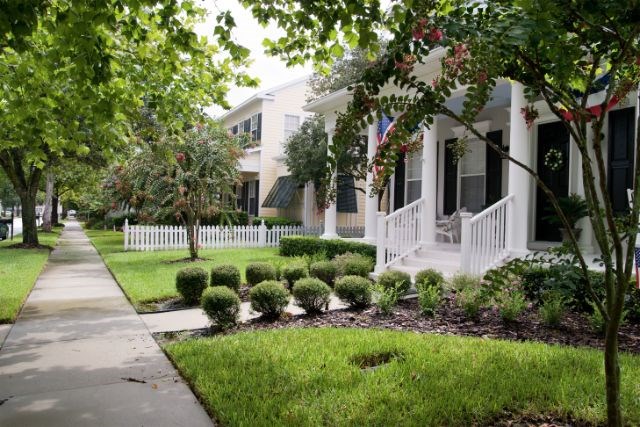 Why Newland Communities?

Everything You Need to Know
Anyone shopping for a new home today is facing a far more complex decision than even a decade ago. You have to consider home values, your work location, and availability of much-needed amenities. You also have to consider your own needs and wish list.
Newland Communities has specialized in creating attractive communities for more than four decades. It has developments throughout the United States, including RiverLights™ in Wilmington, North Carolina, as well as communities in 13 other states.
Every homebuyer has a different definition of "home." A family with teenagers will have different needs than a family just starting out. An empty nester or someone with a home business will also have their own unique requirements. Thanks to the experience Newland brings to the table, new homebuyers can craft homes to fit their unique needs.
What Newland Communities Offers
A great community is so much more than just a cluster of buildings along a few streets. Instead, it's an envisioned experience for the future residents and is built from the ground up. Newland Communities keeps in mind what schools children will attend, what types of parks should be built and what types of retail opportunities residents will want and need.
Newland has an impeccable track record of excellence in achieving its goals. In 2010, right in the midst of the housing recession, Newland Communities was named "Developer of the Year" by Builder and Developer Magazine. How does Newland do it? By having a comprehensive strategy to apply to its projects. 
The guiding principles of Newland's community creation include:
Work with the best homebuilders. Newland has been able to build outstanding communities throughout the country because it brings a diverse group of homebuilders to each project. Newland ensures the homebuilders it partners with share its vision and customer focus. They work together to provide a wide selection of designs and styles to choose from. At the core of every decision that's made, they consider the people who will one day call them home.
Plan for excellent amenities. Whenever possible, amenities are built in at the beginning of a new community. Thanks to the development process for RiverLights, it was possible to design amenities first. That means that even the first people to move in have access to swimming pools, parks, and hiking paths, all within their own community. As development continues, existing residents are often consulted about what they'd like to see. Every community that Newland creates is unique because of this process.
Develop long-term, sustainable solutions. Way before sustainability became popular, Newland Communities always looked for ways to protect or preserve the land that's being developed. Areas of ecological significance, such as natural wetlands or rolling springs, are treated with care. Newland works with homebuilders to integrate the natural ecology into the design of the community itself. Protecting the rich history of the area being developed helps provide opportunities for healthy living to future residents. Abiding by this game plan helps Newland Communities regularly create unique, attractive and compelling communities for prospective homebuyers.
Newland Communities and RiverLights Working Together
The RiverLights community is owned by a business entity of North America Sekisui House, LLC (NASH), and is being developed by Newland Communities, the master developer of the community. NASH and Newland share a deep commitment to sustainable development practices, and have deepened their intentional focus together. RiverLights is one of 30 assets the NASH-Newland partnership owns or manages together, in 14 states across the US.