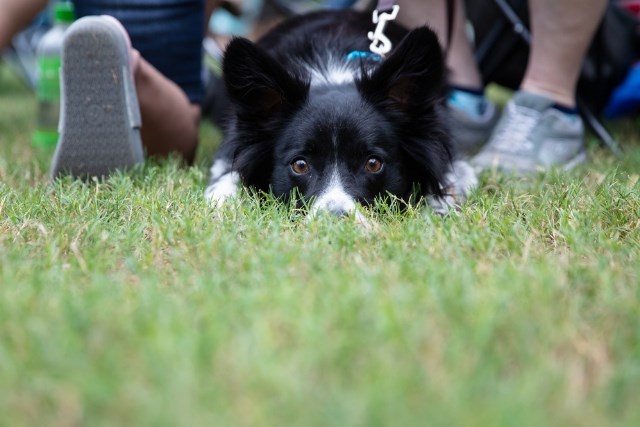 4 Reasons Why Walking Your Dog Has Tail-Wagging Health Benefits
With miles of nature trails, plenty of open spaces and a long, winding Boardwalk along the Cape Fear riverfront, RiverLights is an ideal place for active beings — both two-legged and four-legged! Though owning a pet is certainly no requirement here, pet owners are attracted to RiverLights for a variety of reasons.
For example, Live Oak Commons is full of sniff-worthy trees; the 38-acre lake is just the ticket for cooling off after rolling in the mud; and paddleboarding with paw participation is quite entertaining for those whose doggies are quite Zen. The Marina Village Marketplace is a dog-friendly environment where you can even pick up some homemade dog cookies. And, RiverLights puts you in close proximity to Wilmington beaches — perfect for frolicking in the sand and surf (though be sure to review local leash laws before you go, as they vary seasonally).
Sure enough, dog lovers choose RiverLights for its pet-friendly atmosphere and ample outdoor activity space. But beyond the obvious health and digestive benefits for your dog, there are many more reasons to get into a habit of walking Fido or Fiona every day. Ahead, we hit the top four benefits:
Dog-walking is a great way to meet neighbors.
Strolling along the sidewalks and trails in RiverLights is a great way to meet fellow community members. In a study published by the U.S. National Library of Medicine, people who walked a dog at least four times per week were more likely to report feeling a strong sense of community — a component of healthy aging. Think about it: A friendly dog is a magnet for children, conversations with fellow dog owners, and serendipitous meetings. After all, there's no better conversation icebreaker than a wet nose and a wagging tail!
It's a fun way to stay fit.
Plain and simple, having a dog forces you to get up and out in order to walk. However, there are health benefits for everyone involved. The average dog owner walks about five hours per week — not too shabby for strolling around the neighborhood! In addition to burning calories and toning your muscles, walking your dog is even associated with a lowered risk for heart disease. Now that's a serious pet perk!
You can reduce your stress levels.
Speaking of healthy habits, walking your dog has been known to lower stress levels. You know that warm and fuzzy feeling you sometimes feel when you hold a puppy? That's a real, scientific benefit! The stress hormone cortisol is the part of you that causes feelings of anxiety, and having a pet has been linked to reducing cortisol levels. For this reason it's therapeutic for people with post-traumatic stress disorder to have a dog, and it's why college campuses often host puppy-holding events during exam weeks. Scientifically speaking, a walk from your home in RiverLights to Driftwood Park can improve both your physical and mental health.
It's a way to soak in sunshine.
Two of the best things about living the coastal lifestyle are the mild climate and Carolina sunshine. Staying active and connecting with nature is easy in RiverLights, and an outdoors-centric lifestyle is especially achievable with a pet here. Walking your dog is an easy way to ensure you get enough Vitamin D, and it also serves as a much-needed outlet from our world of screens, scrolling and social media. Just make sure that you — and your pup — stay plenty hydrated and protected during the hotter summer months!  
Ultimately, there's nothing more satisfying than seeing how completely and utterly ecstatic your dog is even at the mention of taking a walk. Engaging in the activity is worth it for that feeling alone, and the additional benefits are just icing on the dog treat. Plus, your dog will sleep better and after expending some of his or her exuberant energy. More time walking probably means less chewed furniture legs!
You can boost your socialization skills, find a new route to mental and physical fitness, and breathe in the great outdoors with a dog walk. So grab the leash, spray on the sunscreen and head out the door — RiverLights is ready and waiting to be explored.
Explore all of the best parks and trails in RiverLights today!