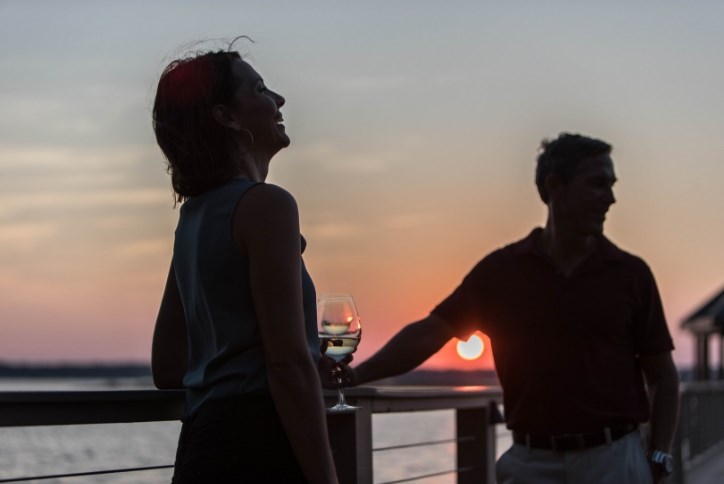 Plan a Perfect, Romantic Waterfront Date in RiverLights
Whether you're plotting a special Valentine's Day treat, gathering ideas for an anniversary outing, or looking for a laid-back venue for a Friday night date, RiverLights has what you need. No matter your interests — or your date's — RiverLights can accommodate your romantic whims. Whether you're the dinner-and-a-show type or more of an adventure-based dater, you can find the perfect fit right here in our community.
For those with traditional date night in mind:
When it comes to romantic atmosphere, delicious dining, and a breathtaking riverfront view, Smoke on the Water is second to none! Located in Marina Village in the heart of the RiverLights community, Smoke on the Water offers flavorful, fresh seafood and unbeatable sunset views.
If you're considering a nice, laid-back dining experience, this waterfront restaurant is a great option. Split an appetizer of chilled oysters on the half shell, or perhaps the eatery's famous smoked wings. Delve deep into conversation as you savor the fried seafood platter or prime rib sandwich — there's no bad decision on the menu.
For a low-pressure daytime date:
If you're just getting to know somebody or simply looking for a no-pressure scenario, a walk through Marina Village is the perfect place to start. Walk to Magnolia Social Café for a specialty coffee, then lounge in the hammocks in Live Oak Commons as you dream about the future together. A fun indoor option in Marina Village is the brand-new Club Golf. The golf simulators are fun no matter what your experience level is. And if you find you achieve more whiffs than wins, the venue also features a full bar with tasty dishes from Magnolia Social Cafe.
Should all that playing together work up your thirst, hit Southern Shores Craft Beer & Wine. With indoor and outdoor seating, it's the perfect place to grab a drink before checking out one of the numerous parks and trails in RiverLights.
For the nature-loving couple:
For some people, sitting still in a movie theater during the beginning stages of a relationship sounds like a nightmare. If you have a lot of nervous energy, one good solution is to choose an activity that requires physical movement — that way, you won't overanalyze your every move, and your adrenaline has an outlet.
In RiverLights, there are many romantic outdoor activities for two. Consider bringing bicycles and going for a leisurely cruise around the community. Or, maybe take on a new adventure together with a paddleboard excursion on the community's 38-acre lake. If you're looking for something entirely hassle-free, go for a pre-dinner stroll along the Boardwalk and get all of the jitters out of the way! Even the most tongue-tied and nervous people find that the Cape Fear River's beauty speaks for itself. With sunny weather all year long, you won't have trouble finding something active to do outdoors here.
Whether you're in the fledgling beginnings of a relationship or still going strong after 50 years together, RiverLights offers many wonderful, romantic ways to spend time together. Explore the entire community via virtual tour now, and start planning your special date now!