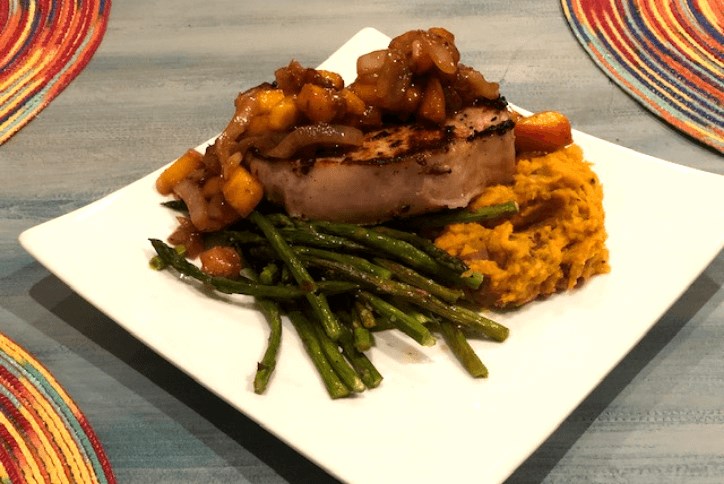 Gettin' Peachy at the Marina Village Marketplace
My name is Caitlin Hoffman, Marketing Coordinator for RiverLights, and I have a confession to make; I am a foodie.  I derive an immense about of joy from trying the latest restaurants in the Wilmington food scene, but my true passion is cooking and sharing my latest creations with my loved ones, including my always eager coworkers.  While everyone is always overjoyed when I bring in my latest masterpiece for the team to sample, I sometimes start to stress when looking for new and inventive ways to jazz up every day dishes to impress my husband and coworkers. One way I have been able to channel inspiration is by attending the Marina Village Marketplace at RiverLights. With a variety of great vendors, the market serves as a muse for curating local, farm-to-table meals to enjoy and share.
Most recently at the Marina Village Marketplace I acquired some beautiful, bone-in pork chops from Red Tailed Farms and some fresh peaches from Farmer Bob. In case you did not know, peaches and pork are a combination that is full of alliteration and flavor! Knowing this, I decided to create a caramelized onion and peach compote to adorn my pork chops and it turned out delicious!  I highly recommend you checking out Marina Village Marketplace to create this dinner for yourself and your loved ones.  Below are the steps to recreate this flavorful meal! 
For the compote:
1 to 2 Peaches (depends on how peachy you want it)
1 sliced Vidalia Onion
1 Tbsp Olive Oil
1 Tbsp Salted Butter
¾ Tbsp Molasses
¾ Tbsp Brown Sugar
½ Tsp Red Pepper Flake
Salt & Pepper to Taste
Step 1: First, put the olive oil in the pan and heat, and then add the sliced Vidalia onion. Cook on medium to high heat with onions dispersed in the pan. Cook until they begin to brown.
Step 2: Dice the peaches into 1-inch cubes and add to the pan along with the tablespoon of butter. Continue to simmer.
Step 3. Add the molasses, brown sugar, red pepper flake- salt and pepper to taste. Continue to cook for another 10-15 on medium heat, stirring occasionally.
Step 4. Top your pork chop with as much as you like! Enjoy!
For the pork chops:
2 bone-in pork chops (about 1 1/2 inches thick)
2 pinches sea salt
2 pinches black pepper
1 Tbsp olive oil 
Step 1: Pat the chops dry with a paper towel
Step 2: Season both sides of your pork chop with salt and pepper
Step 3: Heat the oil in a skillet on medium-high heat
Step 4: Once heated, sear each side of the pork chops until they start to turn golden brown (about 1-2 minutes per side)
Step 5: Reduce heat to medium and continue cooking the pork chops, flipping every 2 minutes
Step 6: Remove pan from heat. Let pork chops rest in pan for 5-7 minutes until ready to serve!
Step 7: Plate and pair with your choice of sides. I paired my pork chops and compote with whipped sweet potatoes and roasted asparagus, but rice, roasted root veggies, or a side salad would also be great choices! 
ENJOY!