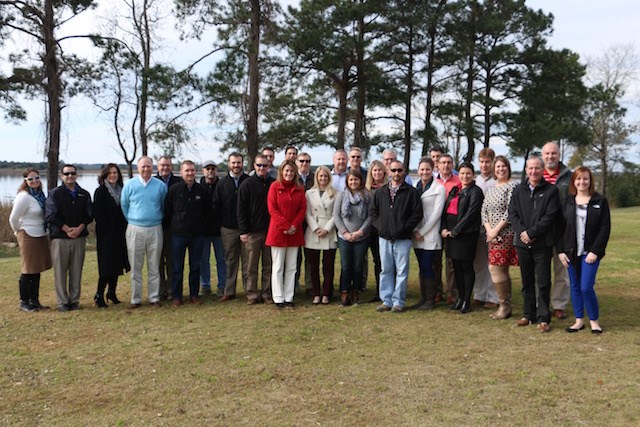 Meet the Builders of RiverLights

Newland Communities has been building award-winning communities for more than 40 years. The newest coastal home community, RiverLights, is planned to open for home pre-sales this summer in Wilmington, North Carolina.
Plans for RiverLights Wilmington, located along a three-mile stretch of Cape Fear River frontage, call for a mix of 2,700 townhomes, single-family homes, and active adult housing options. With shops, restaurants, a 30-acre lakeside amenity center, and a marina with a dock planned, the new, master-planned waterfront community is set to provide not just a home, but also a neighborhood for residents—and Wilmingtonians alike—to enjoy.
The featured coastal home builders were handpicked by RiverLights to showcase their designs and esteemed expertise, and ultimately be a part of what is sure to be a growing and thriving community.
70 West Builders
70 West Builders has been building homes in the Carolinas for over seven years. The company's focus is to allow homeowners to customize their plans with their own unique specifications, and 70 West's designs offer a variety of floor plans and layouts that cater to young residents, families, and empty nesters.
70 West's first collection will include 17 lots, all of which have views of the 38-acre freshwater lake created for kayaking and paddle boarding, as well as access to bike lanes and trails. The company's designs feature an integration of outdoor and social lifestyles by incorporating open entertainment spaces, natural lighting, and rustic aesthetics into the layouts. 70 West believes that each home carries its own personality, and the company looks forward to bringing its vision to RiverLights.
American Homesmith
A family owned and operated new home builder with more than 100 years of combined experience on its team, American Homesmith has a rich history in North Carolina for delivering on promises of integrity, expertise, and value. The company has a diverse portfolio of residential, commercial, and nonprofit projects. It invests in its people and makes the satisfaction of its homebuyers its top priority in their new home search.
American Homesmith delivers spacious floor plans for families to enjoy at an affordable price. The company's legacy continues to strengthen and will further thrive in the Wilmington area.
Charter Building Group
Charter Building Group's expert craftsmen and dedicated professionals bring peace-of-mind to the new home building experience by working closely with homebuyers and offering exceptional quality and service. They plan to build Lowcountry, coastal designs that complement the riverfront setting and outdoor lifestyle of the RiverLights Wilmington community.
Charter is always attuned to current trends and innovative products in the current market. Homeowners will have the opportunity to work closely with design professionals to personalize every aspect of their homes. Enhancements can include an outdoor kitchen, fireplace or patio, extended living space, a screened porch, or a bright sunroom. The company is excited about its partnership with RiverLights and looks forward to enhancing the greater Wilmington community with unparalleled amenities and infrastructure demonstrating superior coastal home construction.
H&H Homes
Originally based out of Fayetteville, N.C., H&H Homes was created to provide quality new home construction at an affordable price to military families serving at Fort Bragg. Today, the company services more than just military families and is expanding its offerings by creating one- and two-story homes in Wilmington that feature front porches, breezeways, and terraces.
At RiverLights Wilmington, H&H Homes will build on 34 home sites initially using a range of styles including Southern traditional, Craftsman, and Shingle. Not only are the company's homes built to be healthy and comfortable, but they will also be efficient, saving buyers money on utilities for years to come. Recognizing the city's increasing popularity and growth as a relocation destination, the H&H Homes team is eager to be your Wilmington new home builder.
Plantation Building Corporation
Plantation Building Corporation has specialized in building coastal homes throughout the Wilmington area for more than 21 years. The company is known for integrating a clean and refined aesthetic design with the traditional coastal home construction.   
Plantation believes in collaborating with its customers to create one-of-a-kind dream homes that fit clients' needs. The company's first project is the Marina Village, a new townhome community, will have 40 units of residential townhomes. Once completed, Plantation will move on to coastal homes on legacy lots. With great excitement, the company looks forward to bringing its expertise and knowledge to RiverLights Wilmington.
The Cottage Building Company
The husband-and-wife team of Scott and Michele Cook formed The Cottage Building Company 12 years ago. Their vision has always been new home construction with craftsmanship that embody a carefree and coastal lifestyle. With more than 20 years of professional experience, their team of experts is the reason The Cottage Building Company has become the leading coastal home construction company in southeast North Carolina.
Buyers love the 1920s-style Craftsman homes they create with a modern twist—homes featuring large porches, abundant windows, exquisite coastal colors, ornate fixtures, and open spaces for gatherings. Their beautiful architectural style is a perfect fit for the ever-growing Wilmington area.
Trusst Builder Group
Over the past 24 years, Trusst Builder Group has evolved into one of southeastern North Carolina's leading land-development and new home construction companies. It strives to meet each client's needs with great attention to quality and value. The company's homes feature traditional architecture characterized by Southern style and charm. The homes regularly include granite countertops, stainless steel appliances, hardwood floors, fireplaces, sound systems, and more.
Leaders at Trusst are excited to be a part of RiverLights in Wilmington and cherish the opportunity to provide the greatest quality of lifestyle and investment to their customers. 
For more information about Newland Communities, RiverLights, and the featured builders, and to sign up for email updates, click here. RiverLights looks forward to welcoming future homeowners to their new-home community in Wilmington, North Carolina.