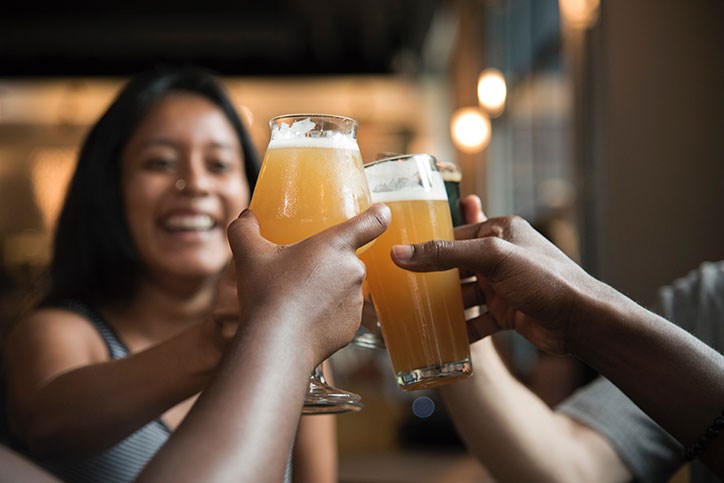 Top 10 Breweries in Wilmington
With over 16 different breweries in Wilmington (and growing), it's no wonder we were ranked in the top 15 best cities in the US for beer drinkers.
If you enjoy a cold brew,  check out our top 10  breweries, all less than 20 minutes from Riverlights. Maybe even create your own pub crawl with friends for a fun weekend or night out in the city of Wilmington.
Hi-wire Brewing is super fun and modern brewery located in Wilmington's "Soda Pop District".
They carry 21 different beers on tap as well as 3 wines. On top of their spacious warehouse set-up, they have a variety of things to do for all ages including a soccer pool, shuffleboard, foosball, table tennis, and other activities. They have a beautiful outdoor area and beer garden and host plenty of events such as comedy nights, yoga, pizza nights, etc. It's a wonderful choice if you want to grab a drink and bring your kids along!
Panacea is one of Wilmington's more unique breweries.  While they have a variety of beers on tap, they also carry hard kombucha and non-alcoholic kombucha on tap which they brew themselves! The earthy atmosphere, along with their large menu of scratch-made, healthy raw foods makes Panacea not only a great brewery but a great restaurant and lunch spot!
3) Waterline Brewing Co.
Part of historic Wilmington built in the 1930's Waterline Brewing Co. can be located right under the Cape Fear Memorial Bridge. They have a great selection of ales on tap and host a number of events such as comedy night and food trucks! This brewery offers tours of the historic building and gives an insight into the brewing process.
Front Street Brewery, located in the heart of downtown Wilmington in a great spot for history buffs.
Its historic building has standing since 1865 and is home to Front Street Brewery since 1995. It's North Carolina's 7th brewery to open and Wilmington's first!
This brewery has over 10 beers and a seasonal selection of beers on tap. They even offer tours! You'll want to check out this truly historic and original brewery!
If you are looking for another historical brewery, check out Edward Teach! Located on N Forth St, this building, originally built as a fire engine house in 1907, was renovated and opened its doors as a brewery in 2017. They feature a "20-barrel, three-vessel system", which produces 8 draft beers, and they are looking to create more.
Want to visit a brewery that feels like home? Head to Wilmington Brewing Company, owned by 2 Wilmington natives. They offer 15 drafts and other brews that come in cans, growlers, and crowlers. They have tons of fun events that they host such as food trucks, yoga at the brewery, a run club that meets every Tuesday, and homebrew demos. They certainly have a family-friendly atmosphere too!
Tru Colors Brewery has a truly unique and empowering mission. While not only making their own beer; Tru Light,  are committed to ending gang violence in the US. This brewery creates jobs and employs active gang members, after an 8-week onboarding process, to educate and create conversation. Read more about their mission on their website and be sure to check out their brewery to give this wonderful brewery some support!
Flying Machine is a  spacious brewery, located in the heart of mid-town Wilmington. They have rotating food trucks and over 30 beverages on tap, including beer, wine, and cider. They have tons of indoor and outdoor seating, as well as patios on the first and 2nd level.  Not only that, but they are right next to a pretty nature walk and bike trail if you would like to take a stroll before or after your drink.
A big attraction to the city of Wilmington is the beach! So why not enjoy a brew close to the water. Mad Mole is located near the Greenville Sound and  5 minutes to Wrightsville Beach. They power their entire brewing process through solar energy, so it's environmentally friendly! Mad Mole also has an expansive beer, wine, cider, and seltzer list so there is much to choose from.
10) Southern Shores Craft Beer and Wine
Don't want to travel far from home? Southern Shores Craft Beer & Wine is located here at Marina Village. Southern Shores offers four local rotating taps, along with cans and bottles of other brews. It has become the self-proclaimed neighborhood gathering spot- where everyone knows your name!