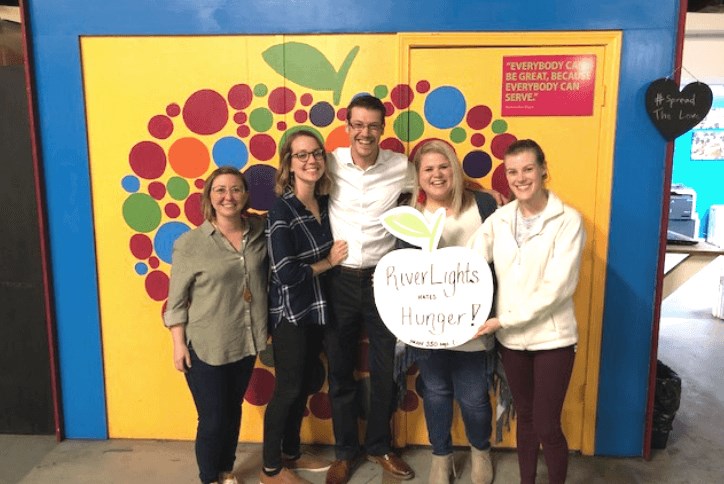 Community Outreach with Nourish NC
Newland, the developer of RiverLights, has a longstanding tradition of giving back within the communities that we are engrained in.  We pride ourselves on integrating our team members into the surrounding community through outreach and volunteering with the goal being to contribute to the well-being of the overall community, not just to the benefit of our residents. While we have worked with and donated to many area organizations, one of our favorite local non-profit partners to volunteer with is Nourish NC. Nourish NC provides healthy food to hungry children in our area. Over the past 2 years, Newland and RiverLights have contributed almost $7,000 to Nourish NC. This equates to around 200 spring break boxes, 700 weekend bags, one year's worth of produce for 90 children, or 14 children fed for an entire year.
In an effort to combat childhood hunger most effectively, Nourish NC offers a number of programs:
                Backpack Program: This is offered specifically for children grades K-5 to provide nutritional meals and snacks at home during the weekend. For those who rely on free or reduced meals at school, the stress of a weekend of hunger is greatly reduced through the backpack program. School counselors discreetly deliver these packs into a child's backpack before heading home for the weekend.
                Break Boxes: Nourish NC makes sure those longer school vacations such as winter, spring, and summer breaks, are also covered. Larger boxes are provided to families at no cost and can either be picked up at their warehouse, school, or delivered to the home by the Nourish NC team. Fresh fruits, vegetables and milk or juice are also supplemented through this program.
                Farmers MarKID: An educational component to the overall nutrition provided by Nourish NC, the Farmers MarKid is a mobile market that allows children to choose and experiment with different types of produce. Nourish NC sets these markets up wherever the need is greatest such as food deserts, high need schools, playgrounds or afterschool programs. Each child is given "Nourish Bucks" to shop for fresh produce. They leave with 5-15lbs of fruits and vegetables, as well as a book of healthy recipes so they can share and prepare at home with their family!
                Pantry Pals: Many hungry children often attend afterschool programs. Nourish NC has that covered as well! Through donations and volunteers, they offer schools and community centers food and healthy snacks. By stocking emergency food pantries for students to access as needed, this is a direct and effective way to provide children with free, nutritious food.
                For more information about Nourish NC, the programs they offer, or to donate or volunteer your time, please visit their website at https://nourishnc.org/. Keep an eye on RiverLights for future events involving Nourish NC so we can all help take care of our communities together!