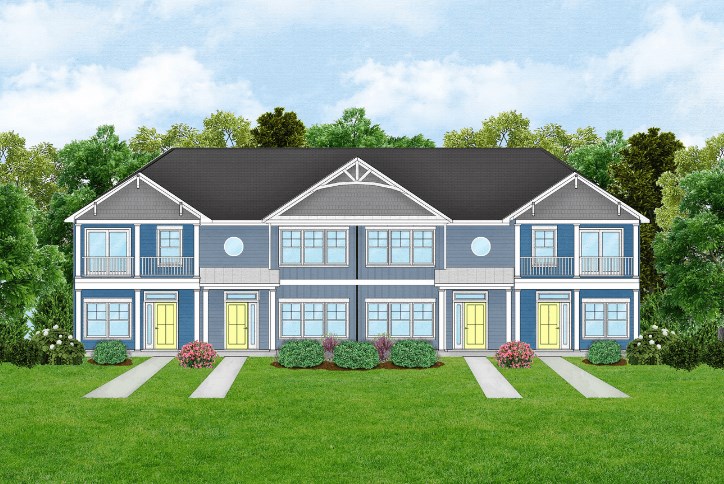 April Builder Spotlight: Laurel Homes
            RiverLights is dedicated to offering a wide range of builders for an expansive selection of floor plans and pricing that accommodate every homeowner's wants and needs. Along with many builders that offer single-family detached homes, RiverLights has also incorporated builders specializing in luxury townhomes. One such builder, Laurel Homes, has designed the Southern Gale Townhomes that embody the easy carefree lifestyle of the southeastern coast.
            With more than 60 years of experience designing homes perfect for coastal living, Laurel Homes has built all along eastern North Carolina. These quaint and comfortable two-story townhomes are perfect for a full-time Wilmington resident or those looking for a vacation home as they feature a maintenance-free lifestyle. With exterior building and landscape maintenance, master insurance and all of the RiverLights amenities included in the monthly HOA fee, residents are able to free themselves of the many tasks required to keep their home looking pristine. Their quadplex design features three floor plans to choose from - the Sloop, the Schooner, and the Clipper - with a wide range of personalizations that can be made. Homeowners have the option of a 2, 3 or 4 bedroom unit that feature master-down options, a private master bedroom balcony, a lofted living area, dual master suites, or a one car garage. 
            Laurel Homes is revered for their attention to the finer details with each of their homes; elements of the building and designing process that may be overlooked by other builders are what Laurel Homes aims to target for their homeowners. They often are able to keep new homeowners updated on the development of their individual home through various portals such as facebook, instagram and more so that their clients never feel that they're in the dark on the progress of their home. Their responsive and cooperative team is dedicated to constructing top quality townhomes at an affordable price.
            Laurel Homes offers a generous incentive to employees of New Hanover Regional Hospital, Live Oak Bank, and New Hanover County First Responders with $5,000 off of their Southern Gale Townhome purchase. Laurel Homes wants to honor the hardworking individuals of the Wilmington community by extending the opportunity to purchase one of their affordable townhomes at a discounted rate. The Southern Gale Townhomes model is the newest home to be introduced to the RiverLights repertoire available for viewing. RiverLights invites you to tour this model home any day of the week and celebrate the Southern Gale Townhomes grand opening on Sunday, April 14 from 10am-2pm. Visit the team at 4421 Indigo Slate Way to check it out!