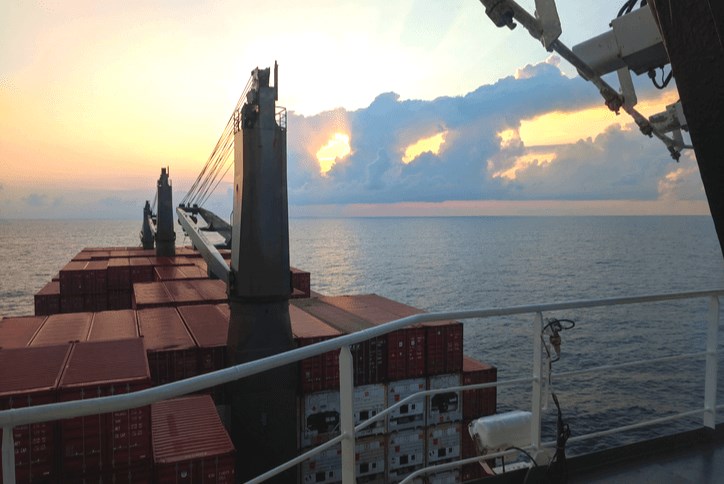 Set Sail Aboard the Independent Spirit!
Living along the Cape Fear River opens up many opportunities for exploration. Eric, one of our Riverlights residents, recently took a cargo ship from the port of Wilmington to Antwerp and we thought it would be fun for him to share his journey as a guest blogger! Follow along with his adventure below.
In the spring of 2018, I saw a friend that's been involved in the Peace Corps. posting pictures on Facebook of their travels via container ship. I was fascinated and started online searching information about cargo ship travel.  Learning it is a "thing," I found a shipping line that stops in Wilmington and takes passengers and discovered that the Independent Container Line comes to The Port of Wilmington every Friday as part of a 4-ship schedule traveling between Europe and the U.S.
I've traveled a fair amount and have reached the point where I am searching for the road less traveled. After learning I could travel from Wilmington to Antwerp, Belgium on a container ship I knew I had to do it. As the shipping line is German and uses a German travel agent to book passage, it took some work to arrange the trip. When asked which of the four container ships I wanted to travel on, I picked based on the suggestion of a friend that worked on a tug docking containers in Wilmington who advised that I travel on the Independent Spirit. It wasn't cheap. Internet travel agents suggest it costs 100 euro (almost even with the dollar) a day to travel by container ship. My trip was scheduled for 11 days but took only 9 as we made up time. It was $1900 U.S. that I wired to the travel agent.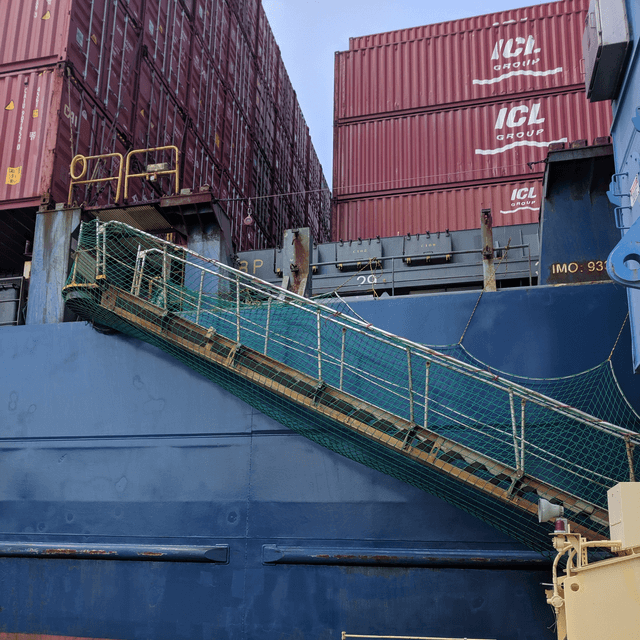 Set to depart on September 6th, I started counting down the days. But when sharing the news with friends and coworkers I was often met with, "that's hurricane season, are you sure about this?" I felt confident that since Hurricane Florence had hit around the same time last year, lightning wouldn't strike twice; However, it did. Hurricane Dorian landed in the area leaving Wilmington as a whole unharmed, but the ship was held in Philadelphia creating a lot of confusion about when I might depart. The ship arrived in Wilmington 2 days later than originally anticipated, but we luckily were able to make up time on the back end. 
To board the ship, I entered the port through Port City Taxi services; they have the required TWIC Card and I had to show my Ticket for Passage and Passport. The Port is larger than you see from Shipyard Blvd or Burnett Blvd. It runs past Winnie's Tavern to south of Shipyard Blvd. 
Because they are not passenger ships, container ships are limited in the number of passengers they are able to accommodate. The Independent Spirit had one passenger room, referred to as the Owner's Suite, and I was it's only occupant.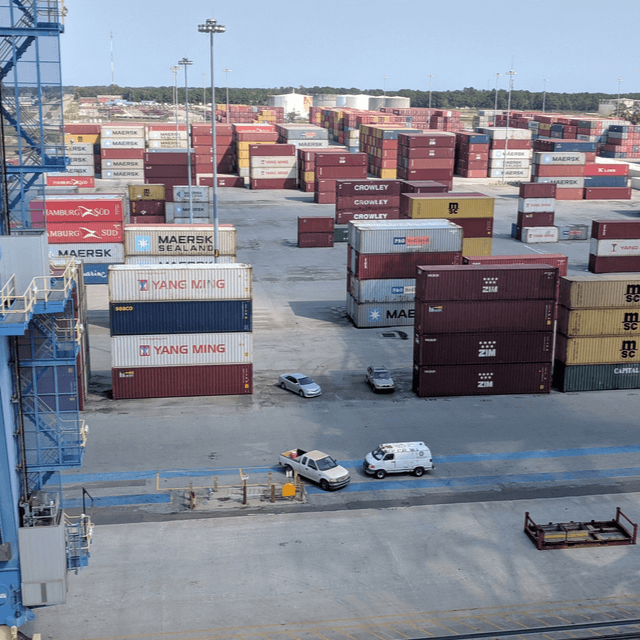 I boarded on Sunday and went straight to the bridge. A River Pilot boards and guides the ship down the Cape Fear River. Will Rabon, a local pilot from Winnabow, took us out of the Port and past RiverLights, Southport, Bald Head and out to sea.
The Owner's Suite was spacious – a table sitting area, desk, refrigerator, full size bed and private bath with shower. The ship was 12 years old and the room was a little worn and dated, but perfectly acceptable, especially considering the unlimited Beck's beer, bottled water and juice that were delivered to my cabin.
The Captain and Officers were Croatian, and the crew were Filipino. English is the official language of international shipping; some speak it better than others. I spent most of my time on the bridge fascinated with the piloting of such a huge ship. The officers made me fresh ground cappuccino daily and taught me about shipping.  They let me pilot the ship and push the Dead Man's Switch which is required every 12 minutes on the Bridge.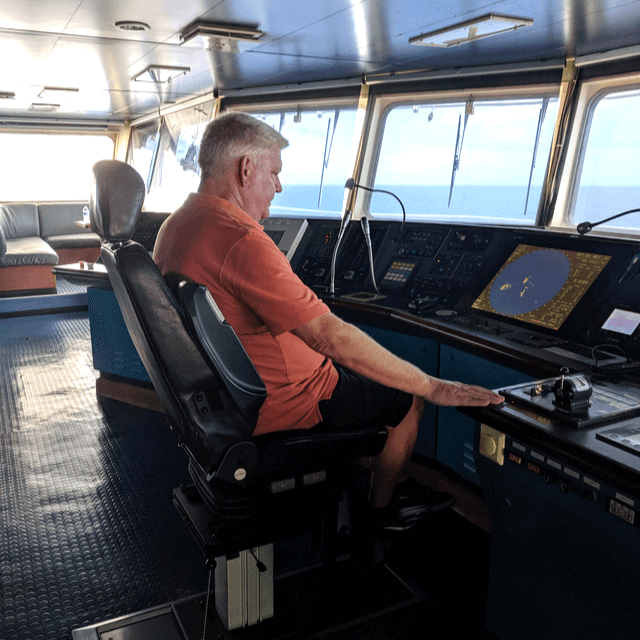 The second day was a special occasion on the ship. A cookout party for the crew – a tribute to Neptune for safe travels. Steaks cooked on the grill by the Captain, open bar and a version of Bocce played with flat coils of rope that would not roll off the ship.
What is there to do on a container ship? I brought Kindle books and Netflix movies. I was pleasantly surprised that there was some Wi-Fi internet, just enough for email and text messaging. I walked the seven stair cases between decks, visited the gym, and indoor pool that doubled as a basketball court when empty, and walked the main deck among the 1075 containers. Three meals a day I dined with the Captain and crew. I would compare it to diner food: Satisfying, but not exciting. The lasagna was my favorite and my most exotic meal was oxtail. 
As we approached Europe, we entered the Celtic Sea and the English Channel. The first land we saw was Bishop Rocks off the south coast of Wales.
Entry to the Port of Antwerp required traversing a lock. Antwerp is a huge port; 30 km long and includes an immigration office, where I reported to enter Belgium. The Port of Antwerp has a rich history.  It is where most of the 3 million European emigrants departed for a better life in the US & Canada between 1873 – 1935. I visited The Red Star Line museum in Antwerp with chills knowing my German grandparents took that often brutal voyage.
After this experience I know that I wouldn't do it again unless it was free, but I checked a box off my bucket list – a transatlantic sea voyage.  How did it end? 8 wonderful days in Belgium - Antwerp, Bruges & Brussels. Lastly, a visit to Amsterdam before flying back to Wilmington. I enjoyed some of the world's best chocolate, coffee, beer, bread & history before heading back to the Port City.