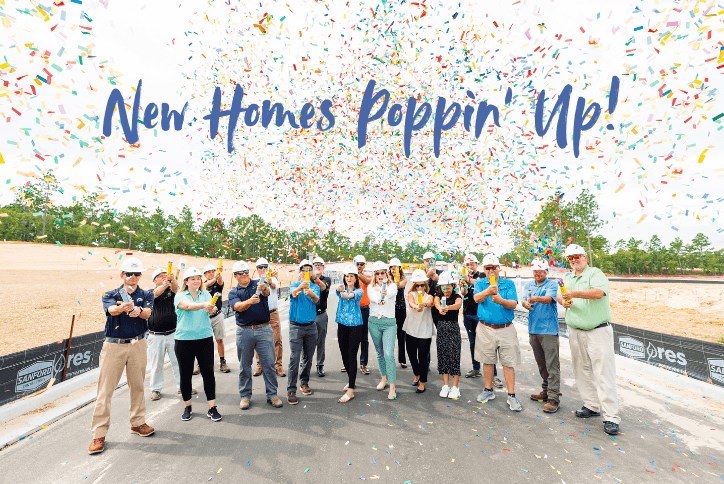 Moving into a new phase of development: Riverlights sets stage for New Model Row
With Riverlights nearing completion of its earliest phases of development, our builder teams are poised to accelerate construction of our next neighborhoods and amenities.
In May, we announced the release of 360 homesites in phases 5 and 6, the first significant property release since 2019. Not all are available at once; Phase 5 opened in June with 42 homesites offered exclusively through preferred builders: Pulte Homes, Legacy by Bill Clark, Trusst Builder Group and Charter Building Group. Eighteen have already sold! Additional homesites will be released this fall.
Also, in August, we broke ground on our new Model Row. These eight new homes will make their debut during the 2023 Cape Fear Home Builders Association Parade of Homes, for which Riverlights will again be the Showcase Community.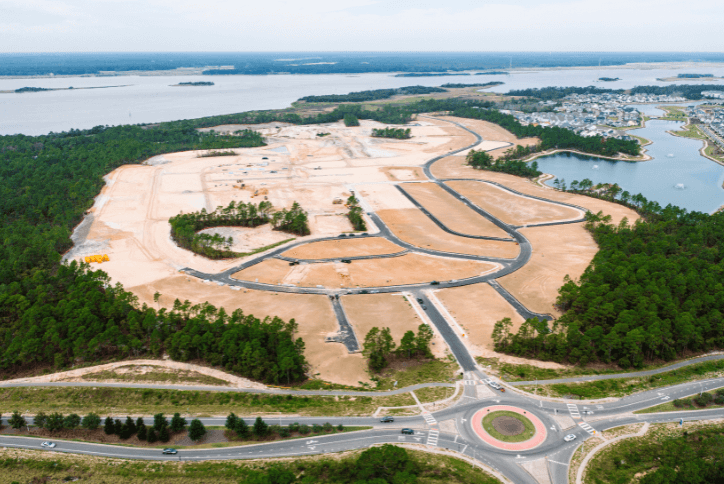 Located just inside the center roundabout on River Road, this new Model Row will anchor the next phases of development. With green space, a dog park, and a much-anticipated-and-sure-to-delight playground intrinsic to the plan, we are preparing this new area to be a welcome and walkable destination.
Builder teams are making it all happen, especially with a late April deadline! New Leaf, Trusst and Pulte are each introducing two new or revised models; Charter and Legacy by Bill Clark will each introduce one new model. All promise plans that will work to optimize space and storage and connect indoor and outdoor living areas, with interior finishes, fixtures, design and amenities that appeal to today's eclectic design styles and discerning buyers.
Together, they are offering diverse plans and sizes to accommodate the variety of lifestyles Riverlights welcomes: first time buyers, forever home buyers, empty nesters, second home seekers, luxury buyers and retirees. And they are also introducing a color palette that is naturally inspired by shades of stone, sky, sand and water – a beautiful streetscape!
We look forward to sharing sneak peeks shortly. Stay tuned for sneak peeks of each model home and full computer generated 3D tour! Interested to learn more? Register to become an insider at https://www.riverlightsliving.com/homes/coming-soon/.