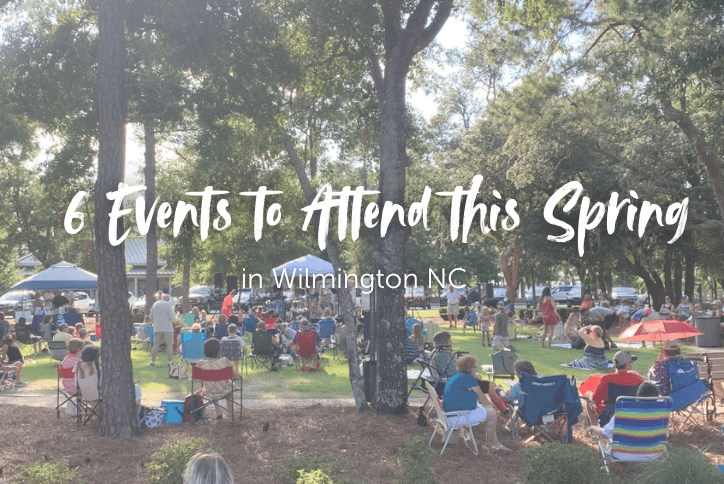 6 Events to Attend this Spring in Wilmington NC
The spring season has arrived in Wilmington, NC. Surrounded by beauty and culture there are countless events and festivals to attend while touring the Port City. Pick your favorites or try everything, either way they won't let you down. Here's a rundown of our favorites.
North Carolina Azalea Festival
Wednesday, April 12th - Sunday, April 16th 
For more than 75 years, the North Carolina Azalea Festival has reigned supreme as one of our region's biggest and best festivals. Enjoy a full weekend-plus of live music, a parade, a street festival with hundreds of vendors, an Historic Home Tour (sponsored by the Historic Wilmington Foundation) and Azalea Garden Tour (sponsored by the Wilmington Garden Club).  The festival started in 1948 and has an impressive legacy. Sponsorships assure access to some of the tonier events, but there is plenty for everyone, even non-sponsors, to enjoy.
Friday, May 19th – Sunday, May 21st
Join Wilmington's Greek community for a celebration of their culture, faith, heritage and delicious food during this three-day festival held at the St. Nicholas Greek Orthodox Church across College Road from UNCW.  Authentic Greek food prepared with time-honored family recipes is definitely the headline act, but one will also enjoy traditional music and dancing, a lively marketplace and cooking demonstrations.
Saturday, May 27th – Sunday, May 28th
A Memorial Weekend tradition since 1995, kick off the summer enjoying, and maybe purchasing, the work of Wilmington's local artists. Dozens of artists are selected to exhibit, in the Hannah Block Community Center and along Second and Dock streets. Live music and food round out a good day downtown. This annual festival is a must for art lovers.
Saturday, June 3rd
Going strong for more than 30 years, the Carolina Beach Music Festival has seeds that go even further back, into the 1940's, to a community just over the bridge from Carolina Beach called Seabreeze. Seabreeze is acknowledged as the legendary and rightful birthplace of "beach music." The genre has since become the musical soundscape of the south.
This festival offers a full day and night of great music that is billed as the "the biggest and only beach music festival actually held on the beach on the North Carolina coast." This annual festival is a great way to experience the music, dancing and all-around fun of this popular beach town.
Friday, June 9th – Sunday, June 11th
The Cape Fear Blues Festival is quickly becoming one of the most anticipated music festivals of the summer season in North Carolina. Featuring local musicians as well as national headliners, the annual Cape Fear Blues Festival lights up Wilmington with plenty of great music at multiple venues.
All summer long, on the first and third Fridays, June 2nd – September 1st
This annual open-lawn early evening casual concert series is made all the more delightful by Airlie Gardens' unparalleled beauty. Bring picnic baskets, chairs or blankets, and enjoy a family-friendly evening with live music and dancing. Tickets often sell-out, so plan ahead (though they aren't available until closer to the actual dates). Visit the Airlie Gardens website, for parking and shuttle service information, excluded items and latest updates.
Riverlights Concerts on the Square
June 24th, July 22nd, August 26th
Our own free monthly concerts hosted at Marina Village on Live Oak Commons have also earned a reputation for get-there-early! This year's concerts will feature three North Carolina bands, each with a family friendly party playlist. Beatlesque, a Beatles tribute band, performs on June 24th. Spare Change headlines the July 22 concert, and Uptown Easy will take the stage on August 26. The concerts are free; all are encouraged to bring lawn chairs or blankets to enjoy the music and the often-spectacular sunsets over the Cape Fear River. Food trucks will be parked around Marina Village, with nearby restaurants offering picnic-friendly specials. Fun!
Tis the season for good outdoor entertainment – so get on out there and enjoy!