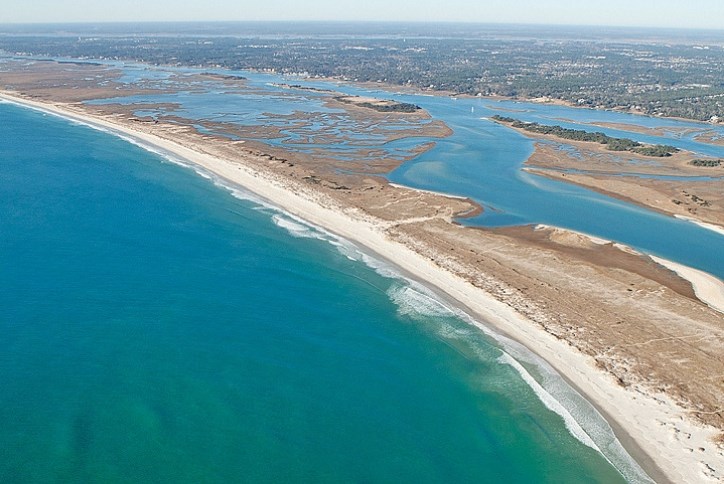 Explore Masonboro Island Reserve, the Longest Undisturbed Barrier Island Ecosystem in Southern North Carolina
A popular spot for outdoorsmen, photographers, family campers, beachgoers, and everyone in between, Masonboro Island Reserve offers something for all ages to discover. It's located just off the coast of Wilmington, only a few miles from RiverLights. A haven for long-term research, education, and stewardship, the reserve is a protected area where you can experience pristine examples of Barrier Island, salt marsh, and tidal creek ecosystems — all of which remain undisturbed by construction or development.
One reason why? The island is only accessible by boat, kayak, or canoe, meaning it's relatively rural and unspoiled. It's a rare and beautiful nature preserve, and it's full of fun for the whole family. Although no person lives here, plenty of birds, fish, and sea turtles call this little area home.
Former visitors have described the island, which offers a host of outdoor activities and natural wonder, as a place you need to "see for yourself to understand"!
How to access Masonboro Island Reserve:
Part of the charm of Masonboro Island Reserve is that it can only be reached by boat, kayak, or canoe. There are public and private boat ramps in and near Wrightsville Beach and Carolina Beach that serve as good launch points, and there are also private ferry services to the reserve property that can be arranged for a fee.
To learn more about the access points and how to get there, get an area visitor's guide.
You won't have to pay any kind of admission fee to access the reserve, but keep in mind that it is a primitive site — so there are no bathrooms or drinking water available.
What to do at Masonboro Island Reserve?
Kayaking

The network of channels, tidal creeks, and hidden paths that you can paddle along are endless near the reserve. Days spent on a kayaking excursion here are filled with plenty of wildlife-watching and naturally beautiful scenery.
Note that while kayaking to the island is very doable, kayakers should exercise extreme caution. The Intracoastal Waterway is heavily trafficked in parts of this area, and swift currents can occur. Be sure that you are properly prepared before attempting this excursion unguided.
Shelling

Because the island is so remote and has so few human visitors, interesting shells abound. In fact, it's considered one of the best places to look for shells in Wilmington's entire coastal region. From lettered olives to wholly intact whelks, hidden gems are just waiting to be found here.
Fishing

Traipse to the end of the Masonboro Inlet jetties or wade into the surf — this little island is a fun place to fish. Be on the lookout for speckled trout, flounder, sea bass, and so many more species. If you're wanting to explore the area and fish by boat, there are several local charters available for this area.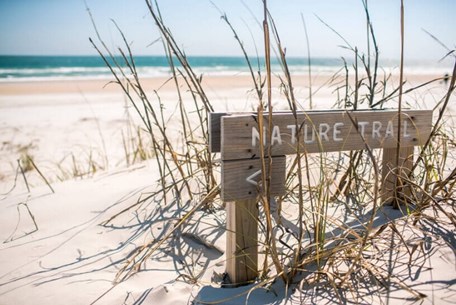 Hiking

You won't be scaling any major mountaintops here, but there are a series of winding trails that run from the north and south sides of the beach. Plus, a walk along the entire 8.4-mile stretch of the island is quite the workout in itself! If you do enter the marshy areas or woods on the island, be advised that closed-toed shoes or waders are recommended. After all, this is the home to many animals, which may include snakes.
Is camping allowed on Masonboro Island Reserve?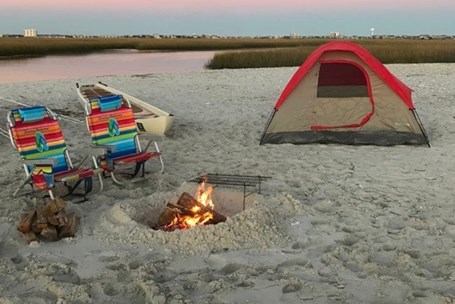 Photo Credit: Epic Excursions  https://epicexcursionsnc.com/
Yes, rustic camping is allowed on Masonboro Island — but it is quite rustic, indeed (read: no power or public restrooms). There are rules about what can go on at your campsite (pets are not permitted, for example), and the no-littering policy is enforced. Be sure to look over the rules and regulations before you embark on your overnight wilderness adventure!
What should I bring to Masonboro Island Reserve?
Definitely bring plenty of drinking water and whatever food provisions your crew needs, as there are no water fountains, restaurants, or restrooms on the island. Given that human presence is also limited, the mosquitoes can get thick, depending on the season. Bug spray is a must. The most important thing to remember, though, is to take everything back that you originally brought onto the island!
Though it may seem to have many limitations, the undeniably pure beauty of this island makes it a magnificent one to explore. You'll get a taste of true coastal Carolina beaches and have the perfect backdrop for making one-of-a-kind memories.