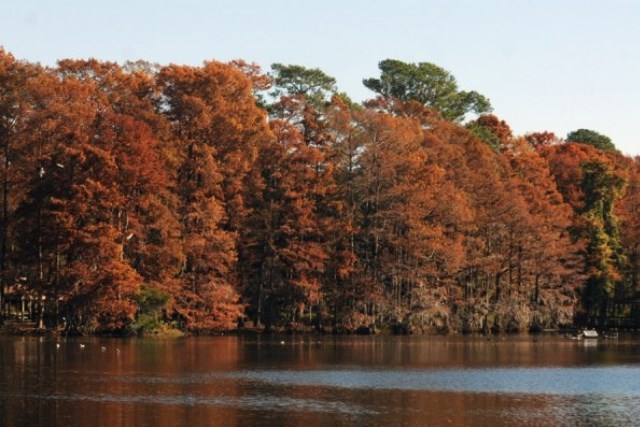 How to Spend a Fall Afternoon in Wilmington
Fall in Wilmington is full of charm and vibrant colors — from the blue hues of the Cape Fear River to the bright scarlet of the red maple trees. Among the best things about the area are the mild temperatures in the fall and winter. Autumn brings crisp mornings, afternoons filled with warm sunshine, and evenings that are perfect for gathering around a bonfire with marshmallows at the ready.
With so many wonderful cultural and historical sights to see, it can be hard to even know where to start in Wilmington. Next time you find yourself looking to fill an afternoon with fall fun, check out this recommended day-trip itinerary for a fall afternoon spent along the Cape Fear River.
First stop: Caffeine, please!
For many of us, great adventures begin with a wonderful cup of coffee. Fuel up at Magnolia Social Café in Marina Village. Located in the heart of RiverLights, this locally owned café is the perfect place to recharge with a cup of coffee and some homemade biscotti. Craving a little something more? Choose from any number of interesting savory creations like the Carolina Cheesesteak or the Shrimp Boat Salad.
Once you're fully awake and refreshed, it's time to head off to the next stop!
Next stop: Reconnect with nature
Thanks to the changing colors and low humidity, fall is one of the best times to peruse gardens and state parks in the region. One of Wilmington's most impressive examples is Airlie Gardens, which features 67 acres of walking paths, formal gardens, seasonal blooms, historic structures, mighty live oaks and contemporary art. It's a unique way to experience how the area's natural beauty is perfectly complemented by more structured, human-designed gardens. Entry to the gardens does require a small fee — get more information on hours and admission here.
Next stop: Grab a bite to eat
For a delicious meal that will satisfy the whole family, drive back over to Wilmington's historic district and hit Benny's Big Time Pizzeria. Enjoy a wood-fired pizza, or choose from an array of Italian favorites such as ravioli, risotto and more. It's the perfect place to regroup and enjoy a delicious meal after several hours spent walking around in the fresh air.
Next stop: Shop for something special
Make your way up and along the riverfront to poke around the Chandler's Wharf Shops, an eclectic mix of art galleries, shops and specialty boutiques. Located in old, refurbished warehouses that were originally built in 1884, these shops offer a fun shopping experience along the riverfront — you never know what you'll find! Best of all, free parking is available while you shop here!
Final stop: Cheers to a wonderful fall day!
If you head less than a mile farther north along the Cape Fear River, you'll find a number of cute, thriving places to grab a drink and enjoy the fall weather.
Sit outside on the patio at The George and enjoy the river views, or pop inside for a more upscale experience. There's complimentary off-street parking in the lot at the corner of South Water and Orange streets, right across from the front door.
After, head to Front Street Brewery for a unique microbrew at a great price — this small brewery won a prestigious gold award at the World Beer Cup!
And then, there's no better way to end the day than with a celebratory toast atop Cloud 9 Rooftop Bar, a premier open-air rooftop venue. Unwind as you soak in the views of Wilmington's historic harbor, and start making plans for your next fun fall day in the area!