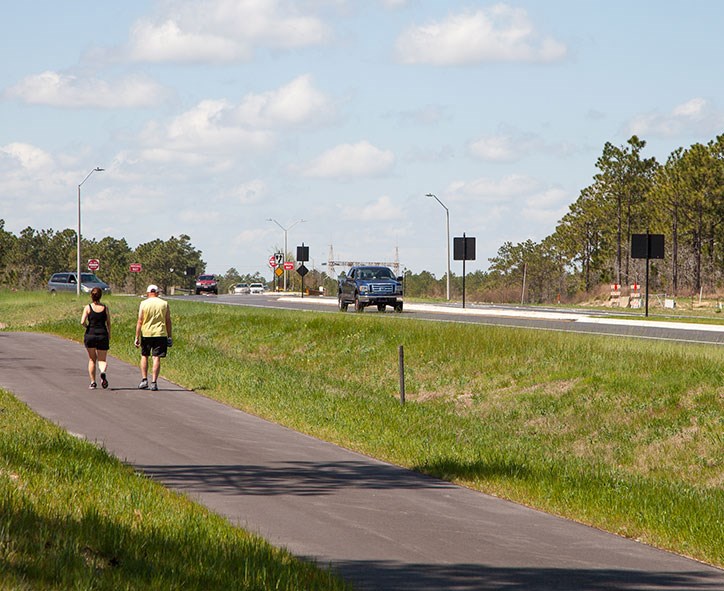 New Road, New View, New Experience for All
New Road, New View, New Experience for All
Imagine a smooth drive to work or school — the kind of commute that allows you to enjoy your coffee without having it end up in your lap. Imagine passing by vibrant trees and plants on that drive, improving your mood instantly. Now envision making this journey through a coastal community offering plenty of room and dedicated spaces for cars, pedestrians and cyclists, where everyone can exchange a nice wave. Introducing the new River Road — where you don't have to imagine this new experience any longer. It is there in reality, waiting for you.
The recent grand reopening of River Road introduced the RiverLights Wilmington Community and surrounding area to a revived thoroughfare that now includes safe passageways, lighted corridors and smooth rides. The new River Road has made way for a closer connection between commuters and the natural beauty along the Cape Fear River. And everyone — drivers, cyclists and pedestrians — can feel safe and welcomed along the new section of River Road thanks to enhancements that include:
• new lighting for better visibility
• wider lanes that aid traffic flow
• dedicated bicycle lanes
• a 10-foot-wide multi-use path
The motivation behind all of these greatly needed improvements goes beyond safety. The new pedestrian path is ADA accessible and extends 2.4 miles, making the road a truly inclusive experience. Beautiful landscaping that features robust plants suitable for the region also surrounds the new road. Further, the road's revised route allows the wetlands it once traversed to naturally reconnect, helping the river return to its natural space.
River Road, RiverLights and the Community
Before the reopening, Livian Jones, vice president of operations for Newland Communities, expressed her excitement for the project.
"Through River Road and our new RiverLights development, we are opening access for the community to better experience our natural treasure — the Cape Fear River," Jones said. "We appreciate the community's cooperation during the closing of River Road and are glad to be able to provide our city with a better, safer roadway in this area, as well as new ways to enjoy the river that makes Wilmington such a great place to live."
The city of Wilmington is committed to making improvements that benefit everyone, and the people behind the RiverLights Community share this commitment. New neighborhoods, restaurants, shops and natural spaces create more jobs, inspire a sense of community and promote a healthy lifestyle — all attributes that are contributing to Wilmington's growth and popularity. The opportunities for continued progress are endless, and everyone at RiverLights is looking forward to the future.
RiverLights Community is a 1,400-acre planned mixed-use coastal community located in Wilmington, N.C. Pre-sales for homes in RiverLights will begin this summer. To sign up for development updates, follow along with us on Facebook and Twitter.
Visit NewlandCommunities.com for more information about the largest private developer of planned residential and urban mixed-use communities in the United States — Newland Communities.