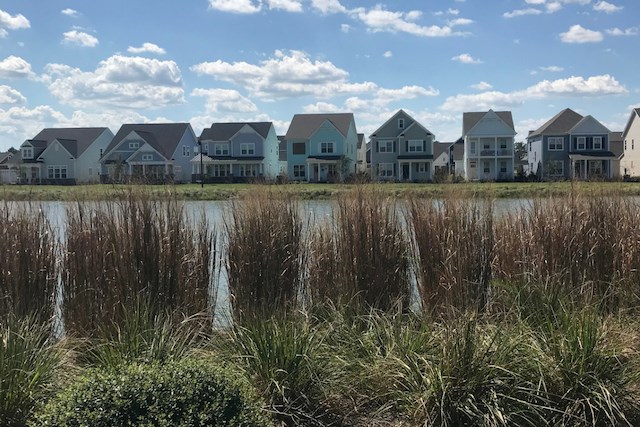 RiverLights Residents and Businesses Band Together in Hurricane Florence Aftermath
While Hurricane Florence devastated many families, homes and businesses across North and South Carolina, the community in RiverLights has been fortunate to fare the storm. We are thankful to report that there has been no flooding in our community and no major damage to any homes or businesses. But while many of our Wilmington neighbors were not as fortunate, incredible stewards within RiverLights have lent helping hands and heartfelt hope to those that were affected by the storm.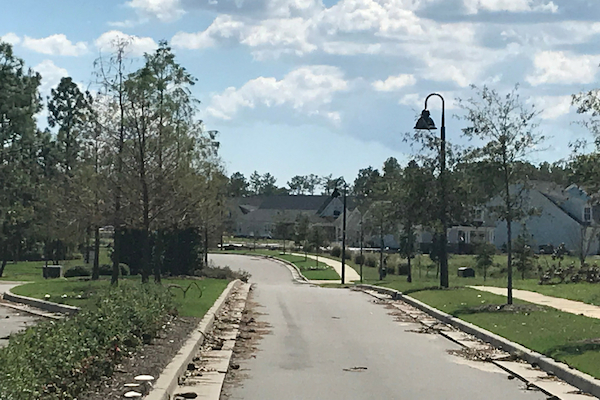 Tammy Tilghman, the owner of Magnolia Social Café rallied together local businesses and individuals to help care for families in need. Magnolia Social Café and Black Sea Grill combined their resources and set up the café in RiverLights to cook up free warm meals to first responders and Wilmington residents that were in need. Smoke on the Water was invaluable to the cause and contributed large amounts of food, while Josh Lacy, owner of Southern Shores Craft Beer & Wine Outlet, brought his generator to power the kitchen, and tireless volunteers prepared the meals. Brewster Bail Bonding donated hundreds of water bottles to also give away.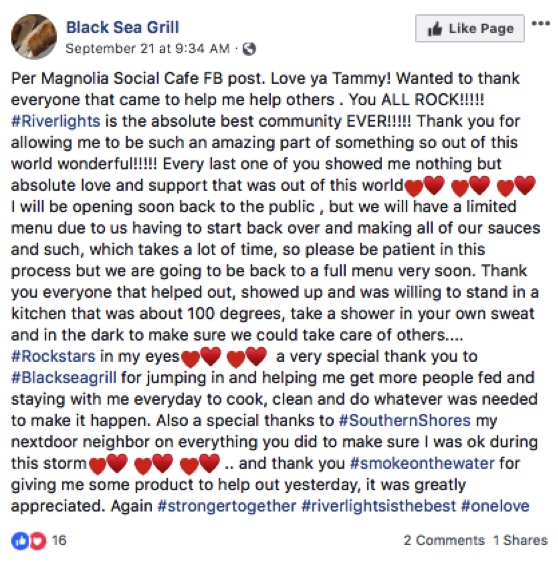 Josh also opened the doors to Southern Shores Craft Beer & Wine Outlet as quickly as possible to try to provide a sanctuary for folks that needed to get their minds off of the storms' aftermath. In fact, for every local Wilmington beer in the joint purchased, Josh will donate $1 to hurricane relief until the beer is gone! 
In a Magnolia Social Café Facebook post on September 24, Tammy said, "I know the last two weeks for most of us has been extremely stressful and for most of us there still isn't a new normal yet. Lots of people are still losing homes, cars and lives. My heart breaks for everyone affected by this storm. I had a resident from the community come in yesterday and she is one of my regulars that has become a very dear friend and she told me that she had been praying to God to let the good from this storm come on because the Florence means to bloom. That gave me chills. And that's exactly what that word means... We will bloom again as a city, as a state, as individuals. It is already happening from everyone becoming as one, opening their hearts, homes and whatever else they have to offer to help."
The sense of community in RiverLights expands beyond our community's perimeter as we help to make our beautiful city bloom again.